Regardless of the industry your business is in, it pays to maintain a clean, clutter-free working environment. This is because it can help bring in revenue, increase employee production, and even lengthen the operational life of furnishings, room elements (such as flooring), and operational equipment.
At RestorationMaster, we provide commercial cleaning services to help business owners in Frisco, TX, realize this potential.
It Pays to Utilize Professional Cleaning Services
There are a few ways in which keeping your office space in a sanitary, presentable condition can save you revenue over time. They involve potential and current business, employee production, and the useful life of assets: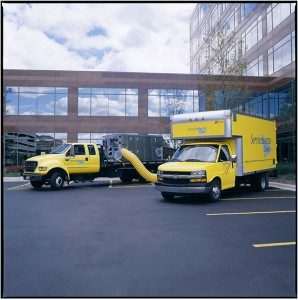 Leaving Positive Impressions: The primary way that your business will make and save money is through the development of lasting, positive impressions. This may sound optimistic at face value, but it is common for individuals to notice the quality and condition of a room and its contents. If potential business partners, clients, customers, and other important people notice anything off with the state of your working space, they may be skeptical to do business with you.
Employee Production: If your office space is cluttered with unnecessary items, polluted with allergens, or simply in a poor condition, you will inevitably sacrifice potential employee production. Contrarily, a clean, organized working environment can have the opposite effect.
Lifetimes of Assets: Assets such as operational equipment, furniture, carpeting, and more can be damaged over time by the buildup of dirt, debris, stains, and similar nuisances. Discoloration, deterioration, and corrosion are common results for a variety of materials found in commercial settings when this occurs. By utilizing professional cleaning services, the useful life of these assets can be increased.
Complete Commercial Cleaning
While making use of standard cleaning equipment is a great way to remain proactive, nothing can beat a professional cleaning. At RestorationMaster, we utilize state-of-the-art sanitization equipment, solutions, and procedures that specifically address unique cleaning challenges. As a disaster restoration and cleaning firm, we have the ability to clean and restore your property following any event. This skill set translates well to commercial cleaning, where high foot traffic, frequent accidents and spills, and more occur on a regular basis.
Depending on your current needs, we are happy to provide a one-time cleaning or regularly scheduled cleanings:
One-Time Cleaning: Many firms will hire us for a single cleaning to see the value and quality of our work. We completely understand this, and encourage you to do so if you are concerned about our services for any reason.
Regularly Scheduled Cleanings: We work with a variety of firms as their primary sanitization service provider. We can arrive on-site daily, bi-weekly, weekly, bi-monthly, etc.
Free Estimate
If you are a business owner in the Frisco, TX, area in need of commercial cleaning services, please feel free to give us a call. Our RestorationMaster representatives are available at (469) 809-4508, and are happy to answer any questions you may have, or schedule an appointment. We look forward to working with you soon.