Fire, water, smoke, soot, mold, and other elements can cause significant levels of property damage that require reconstruction. In residential situations, families can be forced to relocate. In commercial settings, property owners can be forced to suspend their services. In both cases, a swift and effective response is the only way to return to normal living conditions in a timely manner.
At RestorationMaster, this is exactly what we aim to provide through our reconstruction services in Frisco, TX. From start to finish, our project managers and technicians will work to restore your building to its original condition.
More on Severe Property Damage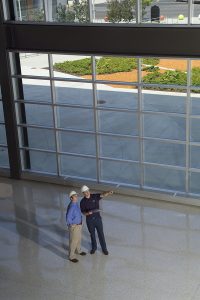 Depending on the cause of the property damage, certain procedures will need to be applied to ensure an optimal result. For example, if excess water and moisture are present, then water extraction and dehumidification services will be required. If fire and smoke have wreaked havoc, then particular sanitization solutions and cleaning methods will need to be utilized depending on the specific materials that were damaged. At RestorationMaster, we take all of these factors into account while providing our services.
Other things to consider when deciding if you would like to take advantage of our services include:
Types of Damage We Address: As a leading disaster restoration and cleaning services provider, we respond to any type of property damage, and on any scale.
Things at Risk: The stability and security of your building is of the utmost importance. So are the conditions of your building's contents and the health of those on-site.
An Appropriate Response: A swift response is the best way to limit the severity of the damage and get back to normal living conditions quickly.
Complete Reconstruction Services
At RestorationMaster, we go to great lengths to provide emergency response capabilities for when you need them the most. We offer 24/7 services to stabilize your building in the event of a disaster. Once your building is safe and secure and no longer at risk of collapse, then we can begin comprehensive restoration efforts.
The steps that you can expect from our reconstruction services include the following:
Building-stabilization and board up services
The creation of a complete restoration plan based on the findings of our inspection
Effective project management
Accurate cost estimates
Consultation and design
The acquisition of required licenses and permits
Controlled demolition as needed
Carpentry, electrical services, and plumbing
Remodeling services
Roof and siding repair
Other general construction services
To leverage our comprehensive reconstruction services, contact our RestorationMaster representatives at (469) 809-4508. We are proud to assist property owners in Frisco, TX, and look forward to working with you soon.