Fires are among the worst disasters that can occur in a home or building because they can seriously threaten the safety of you and your family and cause extensive damage. The first priorities in a fire should be to ensure the safety of your family and have the fire extinguished. However, the damage can continue to spread after the fire is put out which makes it important to call for fire damage repair immediately.
RestorationMaster provides emergency fire and smoke damage restoration services in Denton, TX to help homes and businesses recover after a fire. Our quick response will help prevent permanent damage from soot and corrosive byproducts and restore your home or building to its previous condition.
Smoke Damage Restoration
The technicians of RestorationMaster are highly trained and IICRC-certified to provide smoke and fire damage restoration services

in a variety of commercial and residential buildings. The cleaning methods, products, and equipment that we use are among the best in the industry and allow us to clean up soot and smoke damage, repair damaged structures, and remove smoke odor.
To help prevent permanent damage, it is wise to call for fire damage restoration services once the flames have been extinguished.
The fire damage repair services we offer include the following:
Initial inspection
Emergency pre-cleaning
Content cleaning
Content pack-out
Wall and ceiling cleaning
Odor removal
Final inspection
Working with insurance
Smoke and Soot Removal – What to Do:
Call RestorationMaster immediately for emergency fire damage restoration services.
Wipe off all surfaces that include porcelain, Formica, and aluminum to prevent etching.
Tape 2 layers of wet cheesecloth over the air supply and return registers.
Wipe the soot leaves from all plant leaves.
Change the HVAC filter.
Unplug the refrigerator and throw away all food inside.
Dispose of all food exposed to the fire.
Deliver clothing needed for immediate use to a restoration dry cleaning service.
Increase the air flow throughout the property by opening doors, cabinets, and closets.
Fire Restoration – What NOT to Do:
Do not touch any surfaces without gloves on.
Do not use any home remedies to clean damaged surfaces.
Do not enter any room until cleared by a firefighter.
Do not use any affected electronics until cleared by a professional.
Smoke Mitigation
Our fire damage repair services also include smoke damage repair and odor removal to remove the soot and smell caused by the smoke. We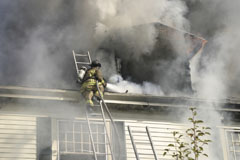 can effectively remove soot from delicate surfaces such as porcelain, marble, brass, aluminum, stainless steel, tile, and fabrics including carpet and upholstery with potent chemical combinations.
As soon as a fire is put out in your home or business in Denton, TX 76201 area, contact RestorationMaster for fire and smoke damage restoration services. We can help repair and restore your home after a fire and remove odors left by the smoke.
You can reach us 24 hours a day at (469) 809-4508 for fire damage emergencies in Denton, TX area.
In addition to Denton, TX, RestorationMaster is also available to service the following counties:
Dallas county, TX
Rockwall county, TX
Collin county, TX
Denton county, TX
---
Related Smoke and Soot Removal Services