We may forget that we have a crawl space in our home but keeping it clean is a very important part of maintaining your home. It contains structural and foundational elements of the home such as pipes, wooden structural elements, and foundational walls. It is easy for the crawl space to become wet and cause extra water and flooding to get inside your home. You should have your crawl pace inspected and cleaned regularly to prevent any damage to your home.
RestorationMaster offers crawl space cleaning and inspection services for homeowners in the Denton, TX area. Our highly trained staff will look for any issues in your crawl space and make sure to advise you on the best way to remediate them. We also offer cleaning of your crawl space that may be affected by extra moisture.
Inspecting your Crawl Space
Twice a year, once in the spring and once in the fall, you should have your crawl space inspected. This will help ensure that there is no flooding, extra moisture, mold, mildew, or pests in the space.
Crawl spaces can easily flood due to wet ground or bad water control. If it does happen that the crawl space gets too moist, it can crack your foundation and cause leaks inside the home. When you have a crawl space inspection, our staff will let you know of a potential issue so that you can avoid costly repairs that come with flooding of your home. To make sure you do not have flooding in your home, you should always clean your gutter and downspouts, and you should keep them at least 4-6 feet away from the foundation of the home.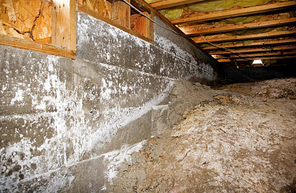 Crawl space inspections include identifying the following:
Bad odors such as mustiness and wetness
Discoloration or staining of wood or other materials
Visible damage to your siding, foundation, vapor barriers etc.
Pipes that are broken or leaking
Any signs of mildew or mold
Signs of presence of rodents or pests
Cleaning and Restoring Your Crawl Space
When we inspect your crawl space, we will ensure that there is no damage to your pipes, or the structure of the home, and if we do notice damage, we will recommend a repair company or a plumber that can fix it. In the case we discover extra moisture or mold, we will help you clean and restore the crawl space.
Our highly trained technicians have special hi-tech equipment and methods to get rid of extra moisture from your crawl space. Getting rid of extra water helps you prevent structural and foundational damage and mold. We eradicate mold and mildew with our specialized cleaners and make sure it does not come back. Keeping your crawl space clean and moisture free is important so that you can avoid costly issues to your foundation and structure.
Contact Us
Do not hesitate to contact RestorationMaster for your crawl space cleaning and inspection needs. We will check if your crawl space has structural or foundational damage, mold, mildew, or pests. If there are any issues, we will let you know and ensure that you know how to remediate them. Give us a call at (469) 809-4508 for your crawl space cleaning and restoration needs in Denton, TX.