A fire is one of the most dangerous disasters that can happen to a home or building and it can cause significant damage in very little time. Even after the flames are put out, the damage will continue to spread as corrosive byproducts and dangerous chemical emissions can cause the etchings to become permanent.
This makes it important to take action immediately after the fire is extinguished. RestorationMaster provides fire damage restoration and repair services to help homes and businesses in Plano, TX recover after a fire. We can help limit the spread of the damage and repair affected surfaces before the damage becomes permanent.
Smoke Damage Cleanup Process
Our technicians at RestorationMaster have each received IICRC certification in fire damage restoration and we have the training and experience to provide fire damage cleanup in commercial and residential settings. We use the best cleaning products and equipment available in the industry which allows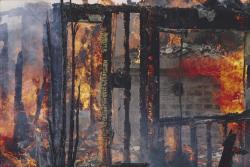 us to effectively remove soot and smoke damage and repair structural damages caused by the fire.
It is crucial to call for fire damage restoration and repair as soon as the fire is put out to prevent permanent damage.
Our fire damage cleanup and repair process includes:
Emergency pre-cleaning
Content cleaning and pack-out
Wall and ceiling cleaning
Odor removal
Working with insurance company to assist with open claims
Fire Damage Tips
Smoke Damage Cleanup – What to Do:
Call RestorationMaster right away for immediate smoke and soot cleanup services.
Wipe off all Formica, aluminum, and porcelain surfaces to prevent etching.
Unplug the refrigerator and throw away all food.
Place 2 layers of damp cheese cloth over all air registers.
Dispose of all food items that were exposed to the fire.
Wipe off all plant leaves.
Fire Damage Repair – What NOT to Do:
Do NOT use any electrical appliances until cleared by a professional.
Do NOT enter any room with severe electrical or structural damage.
Do NOT touch any walls or try to clean materials yourself.
Soot and Smoke Removal
In addition to cleaning up and repairing fire damage, our staff is also trained to clean up soot and smoke damage from household surfaces. We have an expert understanding of chemical combinations that can be safely used to remove soot from marble, tile, aluminum, porcelain, stainless steel, and brass as well as carpet and upholstery.
Fires can cause extensive damage to a home or building and just because the fire is out, that does not mean the damage has stopped spreading. Contact RestorationMaster immediately after the flames are extinguished for fire damage restoration and repair in Plano, TX. We can help clean up and repair soot and smoke damage to restore your home or office to its original condition.
We can be reached 24 hours a day at (469) 809-4508 for fire damage emergencies in Plano, TX.
We also service the following cities:
Dallas, TX
Garland, TX
Frisco, TX
Denton, TX
Grand Prairie, TX
---
Related Fire Damage Cleanup Services: