When a construction project has been done on a home or building, oftentimes there's a mess left behind that needs to be cleaned up. Dust and other debris like screws and nails are still present when construction has been completed which can present a safety hazard within the property. With our post construction cleaning services, ServiceMaster Fire and Water Restoration helps homes and businesses located in Wheat Ridge, CO, by removing debris from construction sites.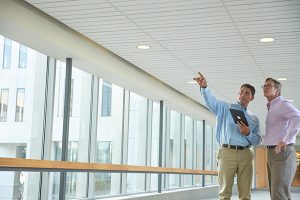 When working on a construction project, various building materials and tools are used, but they aren't always cleaned up when the project is done. Rather, some debris may be left behind, scattered throughout the construction site which can make the area unsafe to be in and walk through. If dust is left behind, it can get into the HVAC system and spread through the breathing air, causing health concerns to any inhabitants of the property. With our services, we thoroughly clean up and remove debris that has been left behind following a construction project. To do this, we use the industry's best equipment and cleaning products while abiding by insurance requirements and local codes.
The following steps are included within our post construction cleaning services:
Air diffuser dusting
Bathroom fixture damp cleaning
Hard surface floor damp mopping
Light fixture cleaning
Paint overspray cleaning
Vacuuming and carpet spot treatment
Wall and interior glass spot cleaning
To begin, we evaluate the construction site's condition and develop a complete cleaning plan, making sure to cover any client needs. We will provide you and your insurance provider with the cleaning plan to ensure everyone involved has been informed. The work will be overseen by a field supervisor, ensuring the cleaning plan is conducted in its entirety.
Call ServiceMaster Fire and Water Restoration at (303) 800-3404 for more information regarding the post construction cleaning services that we provide for construction sites located in Wheat Ridge, CO. We will make sure construction sites that have been insufficiently cleaned get thoroughly cleaned up so they are safe to use.
---
Recent Reviews
---
Review by Tjty James
Disaster Restoration
Rating

"Cassie and her crews were incredible. She truly made me feel like the patient who finally meets the doctor who can cure his or her ailment. She was prompt, knowledgeable, friendly and professional. Servicemaster is very fortunate to have such a wonderful employee."
---
Review by Courtney Clark
Disaster Restoration
Rating

"Super professional and on time. Recommend them to anyone."
---
Review by Joseph Steffens
Disaster Restoration
Rating

"Was moving out of my home and called ServiceMaster to clean our carpets. They did an amazing job and their technician was very detailed and a true expert! Would highly recommend this company."
---
See All Reviews