A lot of natural disasters have the power to cause significant damage to building structures. This damage can be enough to require construction services to stabilize the structure and guarantee that it is properly repaired. A lot of planning and work goes into reconstruction, and not all restoration companies are capable of providing such a service themselves. This then forces property owners to seek help from two different professional services after a disaster strikes.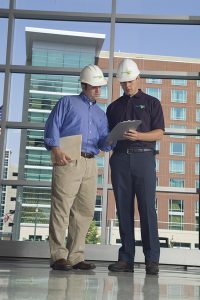 With our construction services, ServiceMaster Fire and Water Restoration helps homes and businesses located in Wheat Ridge, CO by rebuilding properties that are heavily damaged in a disaster. With our services, we will provide you with thorough restoration and reconstruction for your property and manage the project in its entirety.
The technicians we employ at ServiceMaster Fire and Water Restoration will completely repair, restore, and renovate your property — whether it's a home, office, high-rise, multi-tenant building, retail building, or other type of building — no matter the level of damage. We know the importance of coming back to your home or building as soon as possible, so our technicians conduct their work in an efficient manner. We're also available throughout the reconstruction process, so you can come to us with any concerns or questions you may have.
With our construction services, you can expect the following:
Free estimates
Evaluation of the damage
Managing, planning, and scheduling the entire construction process
Demolition in a controlled manner
Consultation and design
Detailed scope of repairs
Stabilizing the building
With our emergency disaster restoration services, we provide the following:
Emergency power supply
Emergency damage mitigation
Project management and consultation
Building stabilization
Board-ups
Dehumidification and water removal
Sublimation drying
Controlled renovation
Antique and fine art restoration
Deodorization
Electronics restoration
Data and document recovery
When your residential or commercial property has suffered significant damage by a disaster, it's crucial to get help right away. You can contact ServiceMaster Fire and Water Restoration 24 hours a day at (303) 800-3404 if your Wheat Ridge, CO, home or business has been damaged by a natural disaster. Our technicians can perform emergency stabilization and construction services to quickly get your property stabilized and repaired.
---
Recent Reviews
---
Review by Tjty James
Disaster Restoration
Rating

"Cassie and her crews were incredible. She truly made me feel like the patient who finally meets the doctor who can cure his or her ailment. She was prompt, knowledgeable, friendly and professional. Servicemaster is very fortunate to have such a wonderful employee."
---
Review by Courtney Clark
Disaster Restoration
Rating

"Super professional and on time. Recommend them to anyone."
---
Review by Joseph Steffens
Disaster Restoration
Rating

"Was moving out of my home and called ServiceMaster to clean our carpets. They did an amazing job and their technician was very detailed and a true expert! Would highly recommend this company."
---
See All Reviews