Coming across the presence of mold in your residential or commercial property is troubling, and understandably so. Not only can mold growth result in severe property damage as it eats away at affected building materials, but it can also result in a musty odor and negative health effects for you and anyone else who inhabits the space. For mold to grow, it needs an organic food source and a moisture source, so it doesn't take much for mold to appear. Once it does begin to develop, it will keep spreading and cause further damage to your property until the problem is addressed.
With our mold remediation services, ServiceMaster Fire and Water Restoration helps homes and businesses located in Wheat Ridge, CO, with complete mold removal and replacement/repairs for any surfaces affected by the fungi. Furthermore, our technicians are skilled enough to locate all mold — including where it originated — remove the mold and prevent it from coming back.
Mold Removal Process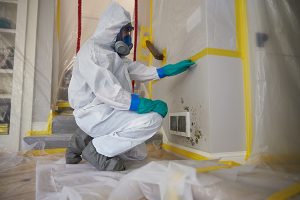 The technicians we employ at ServiceMaster Fire and Water Restoration are all well trained and properly equipped to perform mold remediation in both residential and commercial settings. Additionally, we use advanced testing equipment to test for and find hidden mold growth. Once we uncover all mold growth, we use specialized cleaning products and equipment to remove the mold from your property in its entirety. We will also work with your insurance provider to file claims for the damage.
With our mold remediation services, the following can be expected:
Evaluation of mold growth and the damage it caused
Report of the evaluation results to your insurance provider
Isolating and containing the mold contamination
Creating a plan for mold remediation that is based on the mold type and evaluation
Completely removing the mold and restoring damaged surfaces
If you come across mold growth in your home or business, then you need to act quickly to have it removed. At ServiceMaster Fire and Water Restoration, we will remove mold from your home or business located in Wheat Ridge, CO, through our mold remediation services. For more information about our work, we can be reached on a 24/7 basis at (303) 800-3404.
---
Recent Reviews
---
Review by Tjty James
Disaster Restoration
Rating

"Cassie and her crews were incredible. She truly made me feel like the patient who finally meets the doctor who can cure his or her ailment. She was prompt, knowledgeable, friendly and professional. Servicemaster is very fortunate to have such a wonderful employee."
---
Review by Courtney Clark
Disaster Restoration
Rating

"Super professional and on time. Recommend them to anyone."
---
Review by Joseph Steffens
Disaster Restoration
Rating

"Was moving out of my home and called ServiceMaster to clean our carpets. They did an amazing job and their technician was very detailed and a true expert! Would highly recommend this company."
---
See All Reviews