Fires are potentially the most detrimental disasters a property can go through as they occur quickly and cause extensive damage. This damage even continues after the flames have been extinguished. Knowing this, it's important to seek restoration for fire-damaged properties right away. Soot from smoke and corrosive byproducts from burnt synthetic materials will cause damage — such as etching and tarnishing — that will become permanent. With our fire and smoke damage restoration services, ServiceMaster Fire and Water Restoration helps homes and businesses affected by fires in Wheat Ridge, CO. To prevent the damage from worsening and spreading, we respond immediately and use advanced cleaning equipment to restore your property.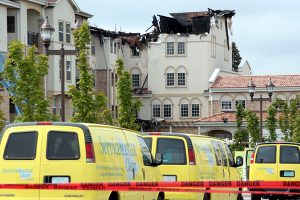 A great deal of the building materials and objects in a home or business are made using synthetic materials. These materials, when burned, produce chemical emissions such as soot and residue that will keep spreading even after the fire has been extinguished. The soot and chemical emissions cause damage by tarnishing and etching various surfaces: aluminum, brass, carpeting and upholstery, chrome, marble, porcelain, tile, and more. If not restored quickly enough, the etching and tarnishing will become permanent. ServiceMaster Fire and Water Restoration can help by repairing and restoring the damaged structural elements, furnishings, and other objects.
The following five steps are included within our complete fire damage restoration services:
Emergency pre-cleaning
Cleaning contents
Content pack-out
Cleaning ceilings and walls
Deodorization
What to Do After a Fire
Get in touch with ServiceMaster Fire and Water Restoration once the fire has been extinguished so that restoration can begin promptly, limiting the potential for permanent damage.
If the temperature outside is at least 60 degrees, air out your home by opening up doors and windows.
Clean off aluminum chrome, Formica, and porcelain surfaces to prevent any tarnishing from becoming permanent.
If your furnace uses forced hot air, replace the air filter.
To filter out loose soot lingering in the air, tape damp cheesecloths on every return and supply vent.
Any open food containers must be thrown away.
If the power is out, leave the refrigerator door open, and clean it out.
Smoke-damaged clothing should be brought to a professional that conducts restoration dry cleaning.
What NOT to Do After a Fire
The oils in your hand can worsen soot damage done to drywall, upholstery, or wood, so don't touch these surfaces.
Improper cleaning methods aggravate soot damage, so don't attempt to wash soot-damaged walls. Likewise, don't clean soot-damaged carpeting or upholstery either.
If electrical appliances haven't been inspected, don't use them.
If the ceiling is wet, don't use ceiling fixtures.
Contact ServiceMaster Fire and Water Restoration at (303) 800-3404, where we can be reached 24/7, if your home or business in Wheat Ridge, CO, has suffered fire damage. The damage can become permanent, so it's important to seek professional help immediately. We will use the industry's most advanced equipment and cleaning products when containing the damage and restoring your property.
---
Recent Reviews
---
Review by Tjty James
Disaster Restoration
Rating

"Cassie and her crews were incredible. She truly made me feel like the patient who finally meets the doctor who can cure his or her ailment. She was prompt, knowledgeable, friendly and professional. Servicemaster is very fortunate to have such a wonderful employee."
---
Review by Courtney Clark
Disaster Restoration
Rating

"Super professional and on time. Recommend them to anyone."
---
Review by Joseph Steffens
Disaster Restoration
Rating

"Was moving out of my home and called ServiceMaster to clean our carpets. They did an amazing job and their technician was very detailed and a true expert! Would highly recommend this company."
---
See All Reviews