ServiceMaster Restoration by Complete
Choosing a Fit Restoration Provider
One of the biggest steps in preparing for a natural disaster is pre-selecting a qualified restoration provider. You can also use the disaster pre-loss planning guide to make the best decisions for your company if a natural disaster were to occur. This will be extremely beneficial as you will be faced with numerous decisions that must be made quickly and will have a large impact on the future of your business. In this guide, you will learn how to select the appropriate provider that will restore your property as quickly and effectively as possible. In addition, it is important to ensure that the vendor has all of the information that is needed about your facility so that they can work productively in restoring the property. Ultimately, by taking these steps, you can minimize the damage and costs associated with disaster restoration.
How to Choose the Best Vendor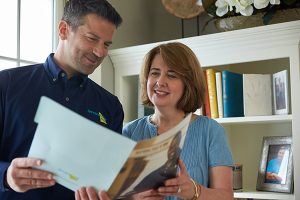 There are two methods of choosing a qualified disaster restoration service. The first and most frequent occurs after a disaster has hit and the company searches rushes to find a provider. When this happens, the customer is not prepared and may not be aware that restoration services exist. Ultimately, they rush to make decisions that may negatively impact their business as a result of feeling under pressure and stress.
The owner of the building or home is the primary individual in charge of choosing the best restoration vendor for their property. Often, they may not have time to research or do not know which provider they need to restore their facility. As a result, they will rely on the advice of their insurance company. The provider will then contact several restoration companies and choose the cheapest bid available. However, it is important to analyze each bid and compare them closely; one may be more expensive but include a service that is needed for the property, ultimately saving them money in the long run. In the case that the bids are similar, the services will most likely be similar as well. But a large variety of services provided is a key indicator of the difference in prices of each vendor, unless a miscalculation was made.
When the property owner chooses the second method, "pre-selection," they have already saved themselves hours of valuable time that can be used to focus on other business matters during an emergency. But in the pre-selection process, ServiceMaster Restoration by Complete suggests to have an employee choose a qualified vendor that responds right away and guarantees to have the entire property restored effectively and efficiently. Although it is extremely important, this initiative has been frequently overlooked in disaster planning; therefore, it can have a disastrous effect on the business during the recovery process.
Multiple Restoration Services
While your insurance claims agent will want you to contact a third-party vendor for legal reasons, the agreement must be approved by the owner of the property and restoration provider, such as ServiceMaster Restoration by Complete.
The vendor will establish the agreement, have it approved and signed by the appropriate representative, finally authorizing them to perform the services. The agreement is also considered a contract between the property owner and vendor, stating that both parties will commit to their terms. On the contract, the following should be stated, the duration of services, the cost, and how the procedures will be performed. For more information regarding the specific services of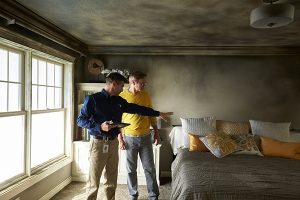 ServiceMaster Restoration by Complete, please visit our pages on disaster restoration, water damage restoration, and fire and smoke damage restoration. In return for these services, the contract will state that you and your insurance provider (if involved) will compensate for the services listed.
In addition to performing the services, the vendor is responsible for reporting all progress and submitting all required documentation to the client. This is an essential part of the overall service as clear and open communication must be maintained to ensure the complete understanding of all parties. In the event of a large loss, "process payments" may be necessary. All restoration companies, including ServiceMaster Restoration by Complete will have their own policies and procedures in the event that this occurs as well as provide clear communication to the insurance provider and disaster victim and insurance company.
Unique Restoration Services of Each Vendor
Similar to other industries, vendors will differ in their services and resources, catering to specific businesses. For large companies, it is imperative to search for restoration companies that accommodate large-scale businesses and have a wide-spread service area. The contingency planner must also consider a "worse case" scenario when choosing a fit provider.
When a commercial property has been severely damaged, the restoration service must be available 24/7 to restore all areas of the building and content. Finally, it is important to keep in mind that commercial restoration is exceedingly more involved than residential services.
In regards to content restoration, the vendor must also be able to handle the restoration of unique items, such as electronics and automated production equipment. These will substantially differ from the items within a home; therefore, it is important to ensure that the company is certified and skilled in this area. While the vendor must be able to accommodate a large-scale project, be sure to consider the steps and integrity taken in their services. They must be willing to provide clear and open communication when informing you of the extent of the damage, rather than "sugar-coating" the truth during an emergency situation.
Taking the Proper Steps When Selecting a Vendor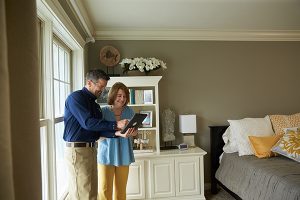 In the process of choosing a qualified restoration vendor, it is crucial that they provide a quality service and cater to your needs. ServiceMaster Restoration by Complete highly suggests that the guidelines provided below are followed in order to restore your property as quickly and effectively as possible:
The vendor must use a variety of resources as well as have experience for the restoration of specific surfaces. All of the technicians at ServiceMaster Restoration by Complete undergo both classroom and on-the-job training to remain updated on the latest trends and techniques of the industry. This is to guarantee the ongoing quality of our services. The vendor must also be experienced in handling large-scale commercial losses that is either equal to or more than the vendor's annual production. While the differences in damages between residential and commercial properties are too extensive to be explained, experience, skill, and a 24/7 availability in both types of properties are imperative.
It is also important to research the values and mission of the restoration company to ensure that they match those of your own. For large businesses, it is common that they will have more than one location; therefore, the vendor should be able to service both if they are within the same region. For locations that are further apart, it is important to choose a vendor that has a nationwide coverage to avoid confusion during the procedures and when making the payment.
The basic information of the restoration provider must also be researched before making a purchasing decision. Be sure to read over the testimonials as well as the provider's references to ensure that they are a credible provider. While the experience of the overall company is important, what matters most is the experience of the technician of the individual. In regards to this, you will want to know their response time, what services they focus on, and their guarantees.
If you would like more information in regards to ServiceMaster Restoration by Complete, you can learn more about our staff or values by calling us at (347)380-8388. We are available in the Staten Island, NY and the surrounding areas, including Brooklyn, New York, NY, Franklin Township, Monroe Township, and Essex County, NJ.
---
Recent Reviews
Review by

Shayon M.
for
Disaster Restoration
Rating

"The project manager and his team were very efficient and knowledgeable. Quick turnaround on all the issues we had at home."
---
Review by

Daniel C.
for
Disaster Restoration
Rating

"Work was excellent. Your people are very hardworking and conscience. I am very satisfied and would certainly recommend service master to friend and neighbors"
---
Review by

Valarie B.
for
Disaster Restoration
Rating

"All who worked did a great job, but there was a lack of communication between the various parties (insurance companies, condo association) about what work needed to be done to address the situation. The carpet was never removed. I'm not sure why."
---
ServiceMaster Restoration by Complete Reviews
Review us on Google