Window Cleaning Detergents And Tools
In this guide we will cover the basic principles of window cleaning, like tools and materials; washing technique and some important information regarding time, weather etc. Just remember to keep it safe (window cleaning accounts for the majority of accidents related to cleaning) and don't rush yourself when it is not needed. Proper window cleaning is a slow and arduous process, which requires a certain level of caution.
Safety First
It doesn't matter if you live on the first, second or on the top floor – window cleaning is dangerous regardless of height! All people can get dizzy, sick, light-headed, and often such occurrences lead to bad, sometimes even tragic consequences. Never attempt to do any window cleaning if you are under the influence of alcohol, or are taking prescription medication. Always make sure to secure your ladder properly, and if the window is too difficult to approach, it is better to just call for professional help.
Tools
Note that some of the tools mentioned here are optional. Some of the equipment is expensive to buy, but renting can be cheap, fast and easy. Squeegees are simple and effective tools that are perfect for all sorts of window cleaning. But because their usage is pretty much intuitive, we will cover some practical alternatives that have become popular in recent years.
Pure Water Window Cleaning System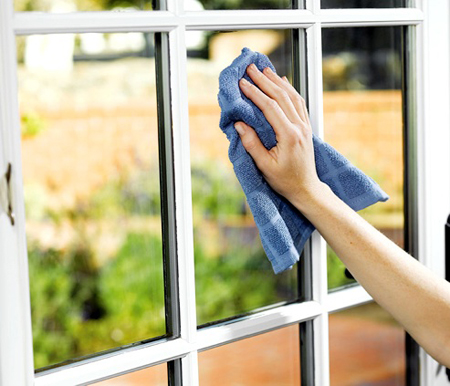 This high-pressure pure water dispenser is ideal for cleaning windows that are far off the ground and inaccessible by other means of window cleaning. The high-pressure water flow is more than enough to remove even congealed/saturated dirt with ease. Pure waster is used because tap water contains large amounts of minerals, which help dirt/dust/sand to accumulate much faster.
"Smart" Brush
A "smart" brush is a device which incorporates elements of both manual scrubbing and water cleaning. Basically, you will be looking for a "regular household brush" that connects to a hose system dispersing fresh water between the brush and the glass. This makes it easier to clean windows while being on a ladder, a ledge or even a scaffold. Different manufacturers use different names for this tool. Typically, it is referred to as a "water fed brush", and it can easily be purchased online.
Microfiber Sleeve
The microfiber material used to make this sleeve is perfect for cleaning windows without using chemicals or even water!
Detergents For Better Window Cleaning
Most windows won't even require a detergent as a base solvent. But in some cases, where the dirt build-up is beyond your capacity to clean by hand, the utilization of commercial detergents is the only way to go. There are many window cleaning solutions available in stores, I personally recommend the brand Windex, for it has been proven to clean even very dirty windows.
Author Bio: July Minor works at http://www.perfectcleaning.org.uk/deep-cleaning-eltham-se9/ as a cleaner for many years and has clever and useful tips and tricks to share.