What to Expect from Commercial Mold Remediation
A mold infestation is a potential liability issue for commercial property owners. The health problems of customers, employees, and visitors that stem from mold exposure can balloon into major controversy. Indoor environmental quality should be a primary consideration for business owners.
Identifying Mold in a Commercial Setting
A mold infestation in a building is a serious issue, but identifying the cause is hardly an easy task. Toxic mold may develop in various ways. Construction defects, substandard materials, failure to disclose a mold issue and improper architectural design are probable causes of a building's mold problem.
Commercial property owners may address an unsightly mold invasion by understanding the nature of spores, the ideal conditions for mold growth and how the spores can be fully eliminated. A successful mold remediation process usually prevents the mold from returning.
What is mold?
Mold spores are a type of fungus. Spores are prevalent in the natural environment, and airborne spores can find their way into the interior of commercial and residential buildings. Mold needs only a consistent source of water, oxygen, and an organic food source to thrive.
What Causes Mold?
A building that has an unaddressed moisture problem will likely develop a mold issue. The spores commonly latch onto places that lack sunlight and an adequate airflow, such as behind non-porous wallpaper, on walls, along the windowsills, and on ceilings.
While water leaks provide dependable nourishment to mold spores, indoor humidity levels higher than 60 percent also contribute to the flourishment of mold colonies. A building's wooden materials, damp carpeting, and drywall provide ample sustenance to growing mold clusters.
How do you choose a mold remediation company?
Once mold is apparent via the unsightly splotches, musty odors, and increasing health issues of employees, hiring a mold remediation company is the first step. Cleaning mold with store-bought products is incomparable to the professional services a mold remediation company provides.
Different types of mold grow in various geographic areas. Southwestern mold remediation companies, for example, treat mold that is frequently found growing in the Southwestern regions of the US. Plus, a mold remediation company may specialize in assessment, testing, treatment, or all three.
How do mold remediation experts start?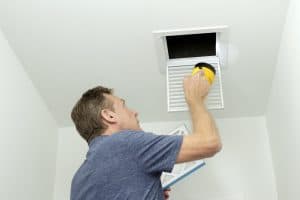 The mold removal specialists will arrive at the infested site and conduct a thorough assessment of the extent of damage caused by the growth. Business possessions that have been damaged by mold growth are evaluated. Mold testing and a lab analysis of results are also performed.
An assessment of the damage begins with a visual inspection. However, at times, mold spores will fail to be visible. Hidden mold growth can occur within HVAC systems and wall cavities. The professional will engage in sampling to determine the root cause of mold growth and identify mold species.
The first rule of mold remediation is to stop the water source. Since mold feeds off moisture, any leaks in windows, roofs or doors must be repaired during the initial phases of the mold remediation process. A quality mold removal expert will locate the water source and fix it.
What equipment do mold cleanup specialists use?
In order to conduct proper testing of the moisture levels inside the building, the remediation pro will utilize various instruments and technology. Humidity meters alert the specialist to indoor humidity levels. HVAC system filters are used to filter the tiny mold spores.
Moisture meters are invaluable tools of the trade. The meters help detect the moisture content of building materials, such as carpet, brick, wood and concrete, after water damage. Moisture meters are also useful for measuring the moisture levels of drying materials.
A borescope camera eliminates the need to cut through drywall to identify mold growing inside walls, crawl spaces and similarly enclosed areas. The handheld tool features a video camera on one end, which gives the expert the ability to see potential mold issues.
What steps does mold remediation involve?
In order to prevent contamination to other areas in the building, the mold remediation experts seal off the contaminated space. Poly sheeting is affixed to the walls, ceilings, and floors. HEPA-equipped air filtration units then filter the contaminated air in the mold-infested areas.
Affected building materials undergo a detailed cleaning so that zero traces of mold are visible. Damaged surfaces are either repaired or replaced by the remediation company. Upon completion, the site is revisited to ensure the mold growth has not reappeared and there are no signs of water damage.
Selecting a Mold Remediation Company
A successful mold remediation project allows the employees and other occupants to return to the commercial property without further health complaints or physical symptoms. It is very important to deal with a mold remediation company that local business owners rely upon.
Consult a mold remediation professional as soon as you notice the pesky mold growth. This will stop the outbreak before it has a chance to spread. Remember that mold growth can occur within 24 to 48 hours after water damage. Therefore, swift action is critical to avoiding building mold issues.
Mold cleanup services by professionals include not only a thorough assessment, testing in partnership with nationally recognized testing facilities, cleanup and prevention, but also a report of the results of their assessment to your insurance company to accelerate the property claims process.