How to Prepare your Home for the Winter
When it comes to you and your family, preparing for cold weather means bundling up with heavy jackets and wearing weatherproof boots, scarves, hats, and gloves. But it's important to remember that your home needs to be prepared for the winter weather as well.
Prevent Winter Weather Damage
Below freezing temperatures can lead to several issues in your home, including inefficient heating and frozen pipes. In addition to cold temperatures, snow and ice can threaten your home and cause it damage. The weight of snow can cause damage to the roof or gutters, and icicles can cause ice dams which will damage the roof and lead to significant water damage.
Such damage can be expensive to repair, especially if there is structural damage and water damage involved.  However, if you are proactive and take the necessary steps to prepare your home for the severe cold before it hits, then you can save money by preventing damage to your home.
The following tips include various things you can do when preparing your home for the winter.
Home Exterior Protection
Roof Evaluation
Get your roof checked before the snow comes. Have any missing or damaged shingles replaced to ensure your roof is in good condition to support snow and prevent leaks. It's also smart to invest in a roof rake to brush the snow off your roof.
Roofs can only support so much snow before the weight is too much, causing the roof to cave in and collapse. You'll want to prevent the snow from putting too much weight on your home, and a roof rake is an easy way to do that.
Clean Gutters
Clean your home's gutters so that they can properly drain water away from your home. If the gutters are clogged, they can freeze and cause further blockages which contribute to ice dams. Any melted snow and ice will not be able to drain properly from the roof and it will refreeze at the edges, putting extra stress on the roof and gutters and preventing additional snow melt from draining.
Landscape Maintenance
Trim tree branches that are too long or too close to your home or electrical lines. When there are strong winds and large amounts of snow, these branches could break and fall onto electrical lines or your home.
Additionally, bring any cold-sensitive plants inside so they last through the winter.
Home Interior Preparation
Cleanings and Inspections
Hire professionals to perform inspections and cleanings for your home's furnace, fireplace, and/or chimney. You'll want to make sure these are all working properly before you need them so you are not stuck in the cold. It is also important to have these things checked and serviced to reduce the risk of a fire. Fireplaces and chimneys especially are major fire hazards if they are not cleaned out and prepared for use.
Weather Stripping
Weather stripping your home's doors and windows will help prevent air leaks, making it a good way to ensure that warm air is kept inside the home while cold air stays outside. You can get weather stripping supplies at most hardware stores. In addition to doors and windows, check for any drafts or air leaks by vents, air conditioners, fans, gas and electrical lines in your home. Any air leaks or improper sealing will make it more difficult to heat your home and significantly raise your heating costs.
Pipe Protection
Exposed Pipe Insulation
During the winter, water pipes are known to freeze up in sub-freezing temperatures, which is a major concern because they can burst and cause water damage. When temperatures are cold enough, water inside the pipes will freeze and expand which puts pressure on the pipe from inside. Eventually, the pressure becomes too much and causes the pipe to burst. When a pipe bursts, hundreds of gallons of water can quickly spill into your home.
Knowing this, it is essential to properly insulate exposed pipes to prevent them from freezing and bursting. Among the types of insulation available for water pipes are foam rubber insulation and fiberglass sleeves — both of which are easy to install.
Faucet Dripping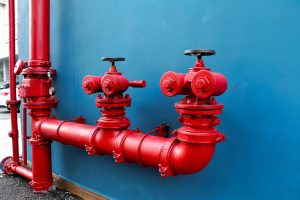 To further prevent pipes from freezing up, let your home's faucets drip. Turn the faucets in your home on slightly so that water is consistently dripping from the faucet. Even a minimal amount of water flow will keep the water moving within the pipe enough to prevent it from freezing.
Outside Faucet Maintenance
Cover outside faucets with insulated foam covers to prevent them from freezing up. Additionally, turn the water off for your outside faucets and drain your garden hose. If you have a sprinkler system, turn that off as well and drain it using compressed air. Garden hoses and sprinklers should be brought inside for the winter.
Maximize Efficiency
By following these home winterization tips, you will maximize the heating efficiency of your home and reduce the risk of issues that can lead to property damage. This will not only help you keep your home comfortable during the coldest months, but also save you the money and trouble of dealing with property damage in the middle of the winter.
If you still have problems with water damage during the winter either from a leak or a burst pipe, you should get professional assistance from a water damage restoration company immediately. Professional technicians know how to properly remove the water from the property, make repairs, and prevent mold growth.