Looking for Signs of Water Damage in the Bathroom
The bathroom is the one place in your home where you can refresh yourself, shake off your weariness, regain your positive energy or just enjoy some privacy while relaxing in a fragrant wash-tub. Whether just for taking a quick shower or for performing time-consuming cosmetic procedures, you need a lovely bathroom in impeccable condition.
So, make no compromises! Whatever efforts or money are required to create the perfect atmosphere that will allow you to relax, clean your body, and purify your spirits, be willing to spare them. Enjoy a fancy towel rack, a colorful rug on the floor, living plants in the bathroom, tiles forming pictures of magnificent swans or shower curtains with floating clouds pierced by bright sunrays, magic rainbows, and kaleidoscopic raindrops in a playful dance – whatever pleases your senses and works for your inner harmony.
To preserve this haven, however, you need to appropriately maintain your bathroom in a careful and responsible manner. Leakage must be prevented at all costs. It takes a lot of time, energy, and money to dismantle the already installed equipment or break down the new tiles in order to find the cause of bathroom water damage. So, be sure to have the plumbing system regularly inspected and then to repair and renew every part that shows even the slightest signs of damage in order to save costly endeavors in the near future.
Mind the fact that finding the signs of water damage is not always easy, especially in the bathroom which is the domain of water. You have to know what to look for in order to prevent bathroom flooding and similar problems. The first signs of water damage are usually well hidden and easily overlooked. However, if you manage to discover them in time, this will save you from great headaches later on. And let's not forget loads of money for water damage restoration.
What are the first hints of a water damage threat?
Musty Smell
Even if there are no visible problems yet, a persistent damp smell in the bathroom should raise the red flag for you. If you can sense the specific nasty smell even when the bathroom seems to have completely dried up or after a thorough cleaning, then be convinced that moisture is building up and mold is probably growing behind the surface. A hidden leak or water accumulation in some cracks is causing excessive moisture in your bathroom that never has chance to dry. If you do not succeed in quickly finding and removing the reason behind the musty smell, this lurking threat will soon develop into serious water damage. So, your best shot is to call professional help to locate the problem quickly and thus to help you avoid many inconveniences and unnecessary expenses.
Suspicious Walls
Crumbling plaster or blistering paint is just the initial step of an approaching disaster. If water is dripping behind the walls, you will probably have to deal with a leaking pipe. When drywall absorbs water, it swells and feels softer, even slightly wet to the touch. The process is usually slow, so at first the walls will appear just a little uneven or crooked. Uncertainty as to the nature of the problem may cause you to lower your guard thus allowing very serious problems to develop. However tempted you may be to just neglect the warning signs, mind the fact that any delay will only aggravate the situation and will cost you dearly.
If you feel some movement pressing upon the tiles in your bathroom, notice many gaps in your grout or caulk, or cracks that get deeper, then it is time to address a hidden water damage issue. Especially if you notice inexplicable stains or the walls have started to warp, look for immediate help, for you still have a chance to prevent troublesome bathroom water damage.
Damaged Floors
The bathroom floors are designed to be covered in water so they will be in a good condition unless a leak develops. However, persistent moisture below the floor will cause cracking, buckling, and staining, so if any of these appear in your bathroom, the alarm should be sounded. More often than not, the subfloor of your bathroom will be made of plywood which begins to rot if exposed to moisture. The floor will gradually become softer, maybe even somewhat unstable and spongy. The moisture source must be repaired at the earliest or water damage cleanup will be soon required in your home.
Visible Mold
When you can see mold growing on the walls, or spreading on the ceiling, or crawling in the corners, it is usually too late for preventive measures. Mold or mildew develops from the inside out, so when it becomes visible in your bathroom, there can be only one explanation. Regardless of your cleaning efforts, mold will not go away unless you eliminate the leaking source that provides plenty of moisture and creates the perfect environment for it to thrive. After fixing the leaking problem, you'd still better opt for professional water damage cleanup because mold is extremely difficult to remove completely and can pose very serious dangers to your health.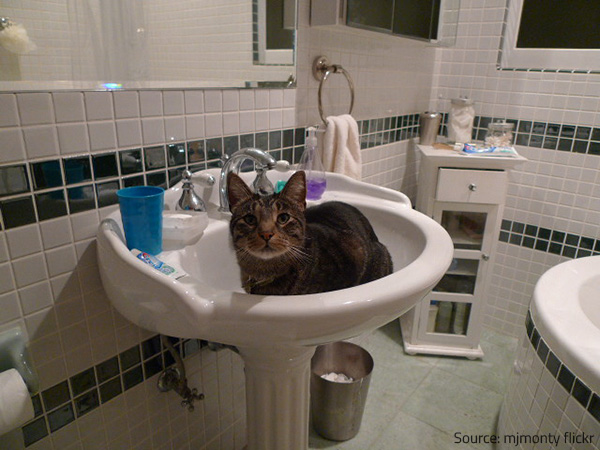 Bathroom water damage can be successfully prevented if you:
Regularly inspect the shower area and check all spots around the sink. Remember that cracked tiles or missing grout will allow water to leak into the floor or the walls, so repair them immediately and seal everything as well as you can. Ensure that the shower head and all the faucets are tightly placed and do not drip.
Maintain all the pipes and valves, as well as the entire plumbing system. Fix noticeable leaks immediately and replace any rusty old parts. Pay attention to the drainage areas, too – keep them clean and unclogged.
Mind the condition of your toilet. Minor leaks at the base of the toilet can eventually lead to major problems.
Use quality exhaust fans. They will help lower the levels of humidity and effectively prevent excessive moisture accumulation.
Bathroom flooding is no fun to deal with and even coping with the minor foregoing problems is rather tedious and time-consuming. If you are not up to the task, refer to water damage restoration experts for a skillful and speedy handling of the problem.