Crime Scene Cleanup FAQ
Crime scenes are intense and emotionally overwhelming situations to deal with and if the scene involves biohazard materials such as blood or body tissues, then it needs to be cleaned up by a specialized professional.  These types of scenes are not common occurrences for most people and the emotional intensity of the situation can make crime scenes particularly difficult.  There are trusted and compassionate service providers available that can effectively clean crime scenes and many people may have questions about what these services entail.  The following is a crime scene cleaning FAQ:
Is crime scene cleaning covered by homeowner's insurance?
The short answer to this question is yes.  Most of the time homeowner's insurance will cover the crime scene cleaning costs and trauma cleanup for scenes that contain biohazard materials from death or serious injury.  Only the insurance provider can determine your specific benefits and they cannot ask you to use a specific company to get coverage.  Many companies that provide this service will work with your insurance company to discuss payment options and coverage.


How fast will a crime scene cleanup crew arrive?
Many crime scene cleaning companies are on call 24 hours a day and dispatch technicians to arrive on the scene immediately.  Most areas have local branches of the major crime scene cleaning companies that will provide an immediate response and work within your schedule to help restore your property.
Why call a crime scene cleaning professional?
Crime scene cleanup is highly specialized and the technicians are trained to follow certain protocols for crime scenes to avoid contaminating the scene and interrupting the investigation.  It also takes special training to properly handle any biohazard materials that may be present such as blood and body tissues.  You should never attempt to clean these scenes yourself because you could possibly interrupt the investigation if it is a crime scene and if you are not trained to handle biohazard materials, you risk exposing yourself to infections.  It may also be very difficult emotionally to clean up a crime scene in which a family member or loved one was the victim.
Will the area be safe after the cleaning process?
The main priority of crime scene cleaning companies is to completely restore the scene to its natural state and make it safe to enter and use.  These companies will not only remove all biohazard materials and any visible stains left behind, but also the odors that may linger.  A reliable company will clean and sanitize the entire area, including fabrics and baseboards that may have absorbed some biohazard material.
How long does crime scene cleanup take?
The time it will take to restore the scene depends on the extent of the work needed and will differ from case to case.  Most crime scene cleaning   companies will assess the scene and provide the client with a complete plan of action including a timetable for when you can expect the work to  be done.  They should also keep you informed through every step of the cleaning process.
What credentials should I look for in a crime scene cleaning company?
Here is a list of some important credentials that you should look for in a crime scene cleaning company:
Years of experience in biohazard cleanup
eHereProof of insurance which should include liability and workers compensation insurance
License for transport of bio-medical waste
Compliance with OSHA standards
Training and certification from an independent facility
Good references and solid reputation
Experience with insurance claims
Local service and quick response
Continuing education with the IICRC or other reputable association
Showing compassion towards their clients
Must I be present during the crime scene cleaning?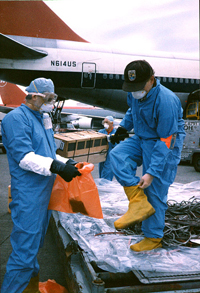 You do not have to be present for the cleanup process and it is entirely up to you whether you want to be there.  Crime scene cleaning professionals treat the property of their clients with respect and approach every job with a sense of compassion to help provide some piece of mind to the clients following the tragedy.  Most companies have a certified and insured staff that has earned the respect of previous clients and whether you are present on the scene or not, they will provide you with an update of their progress.
Discovering a crime scene or trauma scene involving serious injury or death on your property can be a very stressful and overwhelming experience but hiring a trusted crime scene cleaning company will provide some peace of mind and help start the recovery process.  These situations are not common occurrences and these FAQ's should provide you with some answers to common question of what you can expect if you must call for crime scene cleaning services.
Related Links: Aftermath Crime Scene Clean Up Services.