Carpet Cleaning – Cost and Fall Cleaning Tips
The carpets in your home may not be the first thing guests notice, but if they are dirty they will give your entire home a grungy, run-down look. Keeping your carpets looking clean and new requires some simple ongoing maintenance.
Carpet Cleaning

Regular carpet cleaning is key to maintaining the look of your home. Vacuum once a week, and more often in high traffic areas such as hallways and entryways. Once a month, use the hose attachment to clean around the baseboards, under the furniture, and in other hard to reach places.
Once or twice a year, you should have your carpets steam cleaned. This lifts out ground-in dirt that the vacuum cleaner cannot remove.
Carpet Cleaning Cost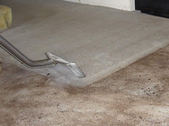 Most professional carpet cleaners use one of two pricing models: they charge by room or by square foot. A carpet cleaning company that charges by room can give you an accurate estimate over the phone, while one that charges by the square foot will need to come to your home to measure before they can tell you how much your carpet cleaning cost will be.
Get estimates from several carpet cleaning companies before making a decision, and be sure to factor in extra costs such as furniture moving. A less expensive company may expect you to remove all of your furniture from the room before they arrive, while a slightly more expensive company may provide more complete service.
Fall Cleaning Tips
As the seasons transition from summer to fall, it is a good time to do a deep clean, beginning with your carpets. This will ensure that your home is ready for holiday guests and entertaining. Try to have your carpets cleaned in early fall, while the weather is warm enough to keep the windows open. This will help the carpets dry more quickly.