(732) 722-5858
Tile and grout are popular in locations commonly exposed to adverse conditions. Whether it is in a kitchen, bathroom, or entryway, these elements are famous for their durability. However, long-term exposure to these rough areas inevitably causes damage over time. This is why we offer full tile and grout cleaning services here at ServiceMaster of the Shore Area for homes and businesses in Manasquan and Brick, NJ.
As your tile and grout grows old, it will become increasingly vulnerable to the very outside elements for which it was selected to handle in the first place. Tile finishes will fade, grout lines will fill with dirt and other debris, and the overall area will begin to lose its appeal. If left untreated, discoloration will not be the only result, as major damage is the next consequence.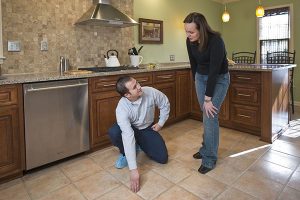 The primary weakness of tile is actually in its finish. This finish eventually wears thin, which leaves the door open to dirt and stains making their presence known. Grout lines, on the other hand, become vulnerable to mildew and debris as crevices deepen. As we stated before, this leads to discoloration and eventual damage. This damage often begins with loose tiles, but it only gets worse from there.
Mold only needs a moist environment and organic food source in order to thrive, and grout lines are masters at trapping moisture when damaged. Pair this with the fact that tiles are often found in areas full of organic food sources, and you can see the issue. This is yet another reason why it is vital that you take care of tile and grout damage swiftly.
Here at ServiceMaster of the Shore Area, we are experts at restoring your tile and grout to their original condition. We do this through our state-of-the-art cleaning equipment and methodologies. More information on our processes can be viewed below:
Timely Response: Our representatives are available by phone 24 hours a day, and will get a service team to your location swiftly.
Initial Inspection: When we arrive, we will perform a full inspection to analyze the extent of the damage, and determine an optimal plan of attack.
Pre-Treatment: Utilizing eco-friendly cleaning products, we will begin our cleaning process by treating spots and stains.
Primary Cleaning: Our professional-grade cleaning equipment, solutions, and procedures are then utilized to fully rid your tile and grout lines of dirt and other unwanted debris.
Post-Cleaning: Once your tile and grout has been cleaned, we will proceed to sanitize corners and baseboards.
Drying and Sealing: In order to leave your tile and grout as durable as possible, we fully dry tile surfaces and re-seal grout.
Final Inspection: Lastly, we will perform a final inspection to make sure that your tile and grout is left as good as new.
While professional cleaning is recommended from time to time, you can remain proactive by sweeping and mopping your tile and grout on a regular basis.
To take advantage of our professional tile and grout cleaning services here at ServiceMaster of the Shore Area, simply call (732) 722-5858. We are available 24 hours a day, and proudly service home and business owners in the Manasquan, NJ, and Brick, NJ, areas.
---
Related Tile and Grout Cleaning Services
Tile and Grout Cleaning in Ocean City and Egg Harbor Township, NJ
Tile and Grout Cleaning in Wildwood, NJ
---
Recent Reviews
Review by

J.S. Columbus, NJ
for
ServiceMaster of the Shore Area
Rating

I called Service Master when my parents had a pipe break and it flooded the 1st floor of their home. They showed up quickly. have been very professional and are doing a great job!
---
Review by

J.S.A. Brick, NJ
for
ServiceMaster of the Shore Area
Rating

Friendly workers who were very polite.
---
Review by

D.R. Toms River, NJ
for
ServiceMaster of the Shore Area
Rating

ServiceMaster checked on the area of water spill every day until the area was dry.
---
More Reviews