RestorationMaster
Especially during the spring and fall season, increased amounts of dust and dirt can circulate through the air and become easily trapped within your property's air duct system. While the EPA states that around 40 pounds of dust and dirt can become trapped within the HVAC system, your heating and/or cooling system is working harder than necessary to reach optimal temperatures. In addition, the overall indoor air quality will decrease due to significant dust and dirt circulating throughout the home or building.
As these can provoke health risks, professional duct cleaning is a must. RestorationMaster is available in Duluth, MN to effectively clean your property's HVAC system, providing a safe and fresh environment for you and your family or staff.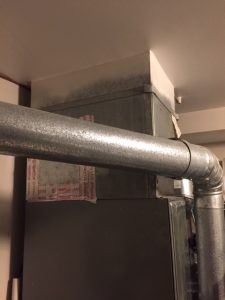 Air Duct Cleaning
When you are looking for a residential duct cleaner to improve the indoor air quality of your home, it's important that you secure a contractor that specializes in air duct cleaning.
It is generally recommended to have a professional cleaning of your HVAC system every two to five years; however, more frequent cleanings may be necessary under certain conditions. If you are experiencing one or more of the following situations, you may be due for your next air duct cleaning:
Dusting is required more often than usual
People within the home or building are experiencing severe allergies or respiratory problems
An accumulation of dust is frequently building on the supply and return registers
The vent grills contain black marks
There is a strange odor that is produced by the air duct system
Increased amounts of air duct cleaning may be needed due to the following:
Pets
Water, fire, smoke, or mold damage in the HVAC system
Dust or debris leftovers after a remodeling or renovation project
Cigarette or cigar smokers
Those living with severe allergies or respiratory issues
The following is provided by our effective air duct cleaning services:
Each opening is cleaned separately while keeping the remaining openings sealed to prevent additional dust from entering the breathing air
Complete examination of the entire HVAC system
Preserving the carpet and furniture throughout the process
Use of equipment that exhausts the dust-filled air outside the property or using a High-Efficiency Particulate Air (HEPA) vacuum that exhausts clean air inside the property
Complete cleaning and reinstallation of return and supply registers
Use of contact vacuum cleaning and brushing to remove all dust and debris
Preserving the HVAC system through re-insulating air registers
Final inspection of the air duct system
Contact Us
Given the complexities and differences in the cleaning of HVAC systems, it is important to find a company with the right mix of training and residential air duct cleaning experience. We have performed duct cleaning for residential applications. Combined with that experience, we are certified for mold remediation through the Institute of Inspection Cleaning and Restoration Certification (IICRC).
If you notice any of the signs mentioned above, be sure to call RestorationMaster at  (218) 461-4434 to schedule your air duct cleaning system to not only remove all traces of dust, but also to improve the overall indoor air quality of your property in Duluth, MN and the surrounding areas.