Sewage backups are certainly not fun for anyone to find, but taking immediate action to have them cleaned up is crucial. Because of the contaminants within the water, this type of water damage is the most damaging, and even dangerous of all; therefore, never hesitate to call the professionals for this job.
Innovative Cleaning & Restoration LLC is available 24/7 in the Collinsville, IL area to provide effective sewage cleanup services. As soon as we receive your first call, our technicians will be on their way with all equipment and cleaning products needed to safely restore a clean and healthy environment.
Sewage Backups and Property Damage
Restoring a property from a sewage backup can be a dangerous job due to the bacteria, pathogens, and biohazards contained within the wastewater. But regardless of whether the backup had occurred outside or in, the mess must be cleaned up immediately. This is because the damage will continue to spread into other rooms and even floors on the property.
When it comes to sewage backups, Innovative Cleaning & Restoration LLC has all the necessary equipment and cleaning agents to restore the affected area to its original condition. Our specialists use personal protective equipment (PPE), including masks, eye wear, and gloves, along with commercial-grade cleaning agents to completely eliminate all bacteria. We will also provide controlled demolition to remove all soiled porous materials while ordering replacements to prevent the risk of mold growth.
All of the following procedures are included within our sewage cleaning services:
24/7 Availability and Open Communication: Innovative Cleaning & Restoration LLC has always been and will be available 24/7 to handle sewage backups. We will also provide timely updates as well as answer any questions throughout the process.
Emergency Pre-Cleaning and Initial Inspection: As soon as we arrive, we will immediately extract all standing water to prevent it from contaminating other areas. The affected area will then be inspected to identify the scope of the damage.
Controlled Demolition: After the initial inspection, we will remove all soiled porous materials, including carpeting, insulation, and drywall and order replacements.
Decontamination and Drying Process: Our technicians will decontaminate the entire area to eliminate the remaining bacteria and install professional drying equipment to eliminate excess moisture.
Deodorization: We will use powerful deodorizers to remove any lingering odors from the sewage water.
Work with Insurance Adjuster: If you chose to file a claim, we will work with your insurance adjuster to ensure a seamless claims process.
Contact Us for Sewage Backup Cleanup in Collinsville, IL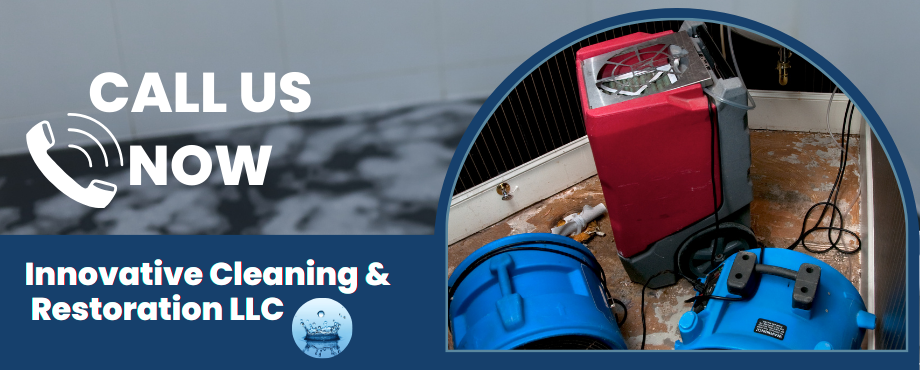 Regardless of the extent of the damage from sewage water, a professional cleanup company must be called as soon as possible to prevent the damage from spreading even further. To protect the health and safety of you and everyone on the property, it is crucial to avoid all contact with the water until the sewage service arrives. Innovative Cleaning & Restoration LLC will provide the peace of mind you need to fully restore a safe and healthy environment again.
Innovative Cleaning & Restoration LLC is available 24/7 in the Collinsville, IL area to provide emergency sewage backup cleanup services for both homes and buildings. We work with insurance companies.
---
Related Sewage Water Damage Cleanup Services:
Sewage Backup Cleanup in St. Charles, MO
Sewage Cleaning in St. Louis, MO
Sewage Contamination Cleaning in O'Fallon, MO
Raw Sewage Cleanup in Festus, MO
Emergency Sewage Flood Restoration Services in Florissant, MO
Sewage Cleanup – Restoration Company in Ballwin, MO
Emergency Sewage Water Removal & Cleanup in Chesterfield, MO 
---
Recent Reviews
Review by Nicole Swoboda
Rating

"Nick was absolutely amazing! He was the only company to come in my home and respectfully bid the job in a matter of minutes. He thoroughly broke down the important factors that needed addressed and answered all of my questions I had the day of the initial bid. The crew and himself used all proper containment needed to ensure my home was not damaged further by any demo they had to perform. After the job was complete, he has since returned correspondence and double checked to ensure I was happy with the completed work they had performed. They are the most professional and customer appreciative company I have come in contact with. I RECOMMEND INNOVATIVE CLEANING AND RESTORATION LLC. TO EVERYONE WITH A 5 ☆ RATING. they are great!"
---
Review by Matthew Bales
Rating

"Nick and his worker were fantastic in finding my burst pipes in the dry wall, cleaning the water damaged areas, and going above and beyond to take care of what needed to be done. He went to multiple stores to get needed parts and lit my pilot light in my water heater (which I didn't even think of as a necessary fix). Highly recommend their services."
---
Review by Callie Ingram
Rating

"Innovative cleaning & Restoration is a company in which you wish all companies were like to have work for you. Nick the owner, makes his clients feel like they are important to him. He is willing to go beyond to complete the job for you. He is honest and very considerate. He makes it a point to make sure his customer is satisfied and try to make sure that you understand what he is telling you and that you understand him. Nick welcomes the customer to call him anytime with concerns or questions. I highly recommend Nick to anyone who needs to hire someone in his field. You will not be disappointed and you will be glad that you chose to hire Nick. The work that he does is very thorough and to your satisfaction."
---
See All Reviews