When life hits you with the unexpected, such as a natural disaster causing severe destruction to your property, it can be hard to recover from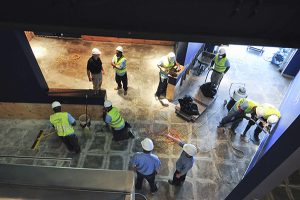 such a traumatic event. For a family, it can mean days or weeks without a home, and weeks or even months without revenue for a company. As both of these situations can be unbearable to handle, taking the proper steps right away can save hundreds and even thousands of dollars in future repairs.
But when you have found yourself not knowing where to turn after finding that your property left in ruins, call RestorationMaster in the Collinsville, IL area for emergency reconstruction services. Our technicians know and understand that the property can be left in an unstable condition, which is why we will arrive away to immediately board up and repair the property.
Spreading Damages from Natural Disasters
The reason the construction staff from RestorationMaster arrives right away is because the damages continue to spread even after the disaster has passed. Whether you have endured a flood or fire, many building materials are at risk of either becoming soiled from the water or covered in smoke and soot residue. Either of these damages can cause enough damage to put the entire structure in danger of collapsing.
But as soon as our team arrives, we will immediately board up the entire home or building to stabilize its condition. They also have years of experience in professionally restoring any damage caused by fire, water, or storms, effectively returning the structure to its original condition.
Reconstruction and Repairs
As soon as the property has been boarded up, the RestorationMaster construction team will conduct the initial inspection in order to develop a unique plan that will return the property to its pre-existing condition.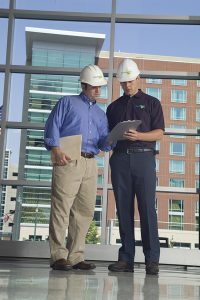 In addition to years of experience, each construction technician attends continuous training sessions in order to remain updated on the latest trends and equipment of the industry. This has allowed us to continue providing the highest quality services for all victims of natural disasters.
With our team, each member specializes in a specific area, including: carpentry, handiwork, and general contracting. This allows the most efficiency during the repair process as everyone is able to focus on their assigned task. A project manager will also be assigned to oversee the progress, keeping you informed and answering any questions you may have along the way.
Our reconstruction services effectively cover the following procedures:
Immediate Response and Open Communication: Immediately after receiving your first call, our team of construction staff will be on their way to stabilize the condition of your property. The assigned project manager will then be available to provide you with updates of the repair process and answer all questions you may have.
Emergency Board Up and Custom Plan Development: As soon as our construction team has arrived, they will quickly board up the property to prevent it from collapsing. They will then develop a custom plan after an initial inspection to ensure the most efficiency and effectiveness throughout the recovery process.
Complete Reconstruction: With years of experience and training in all aspects of construction, RestorationMaster is able to provide all repairs for the home or building so you don't have to worry about hiring multiple companies or contractors. You can expect us to handle all of the following procedures:

Custom wall and flooring repairs and replacement
Wallpapering
General contracting
Custom woodwork, carpentry, and framing
Fire, water, and water damage cleanup
Painting and staining
Architectural planning and blueprints
Smoke sealing
Stair repairs
And more!

Final Inspection: After all repairs to the property have been made, we will conduct a final inspection with you to ensure your satisfaction. You will then be able to move back in knowing that your property provides a safe and clean environment again.
Working with Insurance Providers
Often times, an insurance claim is filed to help pay for reconstruction services. But in order to provide as much peace of mind for you as possible, we are more than happy to work with your provider during the claims process. RestorationMaster knows and understand that this is an extremely stressful time for you and your family or staff, which is why we want to help as much as we can.
If your property is left in a severe condition after sustaining serious damage from a flood, fire, storm, tornado, or other catastrophic event, it is crucial to act right away in order to limit the spread of damage. RestorationMaster is available 24/7 at (618)623-0065 in the Collinsville, IL area to provide emergency reconstruction services to both residential and commercial properties.
Related Reconstruction Services
Emergency Demolition and Reconstruction in St. Charles, MO
Construction and Remodeling in O'Fallon, MO