Just when you thought it couldn't be any worse suffering through a natural disaster, there's an odor spreading throughout the entire property from the affected area. Or maybe you just bought a new house and noticed the previous odor was a heavy smoker – not all paint jobs will seal the smell.
But Innovative Cleaning & Restoration LLC provides professional odor removal services in the Collinsville, IL area to remove stubborn smells once and for all. Of course, odors wafting throughout the property isn't an emergency, but you may feel the need to have them removed ASAP. Our technicians can have them removed as early as within the first treatment, and can also provide additional treatments if needed.
Professional Deodorization
Odors can be derived from a number of different sources, but the equipment used by Innovative Cleaning & Restoration LLC is designed to remove all types of odors, regardless of where they came from. Our equipment consists of hydroxyl, ozone, thermal fogging and Nano carbon technology that will ensure to penetrate each odor particle and eliminate it from the inside. We can also remove their source, whether it be water damage, biohazardous materials, fire and smoke byproducts, or dead animals.
Our deodorization equipment can handle all of the following smells:
Fire and smoke odors
Biohazard odors
Mold and water damage odors
Pet odors
Cigarette odors
Sewage wastewater odors
Animal nuisance odors
Innovative Cleaning & Restoration LLC uses a multi-step process for removing odors, including all of the following procedures:
First inspection
Removal of odor source (if necessary)
Deodorizing affected area using powerful deodorizing equipment
Sealing of all porous surfaces, including drywalls, carpeting, and furniture
Treatment of air space and contaminated surfaces
Final inspection
Detailed report of service performed
Contact Us for Odor Removal in Collinsville, IL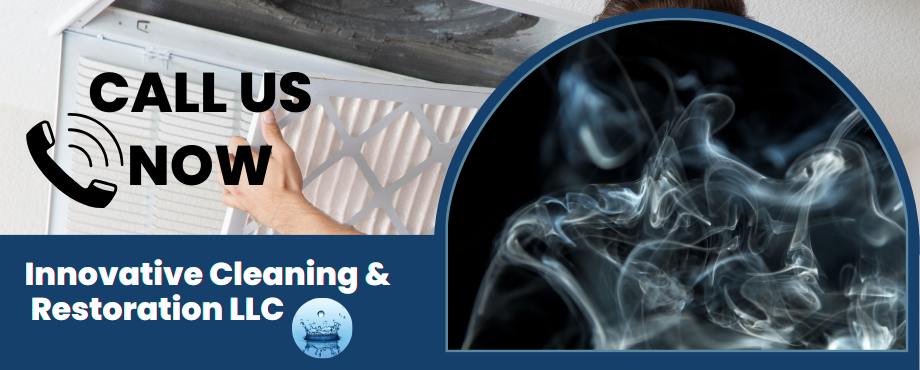 It can be nice to move back into a home or building after the damage was finally restored after a natural disaster. But to come back to a lingering odor can pose a whole new set of problems, such as triggering allergies, asthma symptoms, headaches, and other health effects. It can also deter visitors and potential clients from returning to the home or building. When you have found yourself in this situation, be sure to call Innovative Cleaning & Restoration LLC and we will handle the problem accordingly with professional deodorization services.
Innovative Cleaning & Restoration LLC is available at (636) 492-3030 in the Collinsville, IL area to professional deodorization services. We provide free estimates.
---
Related Deodorization Services
Professional Odor Removal in St. Charles, MO
Deodorization in St. Louis, MO
Odor Elimination in O'Fallon, MO
Odor Removal – Restoration and Cleaning Service in Florissant, MO
---
Recent Reviews
Review by Nicole Swoboda
Rating

"Nick was absolutely amazing! He was the only company to come in my home and respectfully bid the job in a matter of minutes. He thoroughly broke down the important factors that needed addressed and answered all of my questions I had the day of the initial bid. The crew and himself used all proper containment needed to ensure my home was not damaged further by any demo they had to perform. After the job was complete, he has since returned correspondence and double checked to ensure I was happy with the completed work they had performed. They are the most professional and customer appreciative company I have come in contact with. I RECOMMEND INNOVATIVE CLEANING AND RESTORATION LLC. TO EVERYONE WITH A 5 ☆ RATING. they are great!"
---
Review by Matthew Bales
Rating

"Nick and his worker were fantastic in finding my burst pipes in the dry wall, cleaning the water damaged areas, and going above and beyond to take care of what needed to be done. He went to multiple stores to get needed parts and lit my pilot light in my water heater (which I didn't even think of as a necessary fix). Highly recommend their services."
---
Review by Callie Ingram
Rating

"Innovative cleaning & Restoration is a company in which you wish all companies were like to have work for you. Nick the owner, makes his clients feel like they are important to him. He is willing to go beyond to complete the job for you. He is honest and very considerate. He makes it a point to make sure his customer is satisfied and try to make sure that you understand what he is telling you and that you understand him. Nick welcomes the customer to call him anytime with concerns or questions. I highly recommend Nick to anyone who needs to hire someone in his field. You will not be disappointed and you will be glad that you chose to hire Nick. The work that he does is very thorough and to your satisfaction."
---
See All Reviews