If mold is discovered within a home, don't hesitate to take action right away. As it eats away at your building materials, it also poses a number of threats to your health, such as triggering severe allergic reactions and breathing problems. If an inspector finds it, they will disallow the property to be put on the market until the fungus is fully removed and all areas are restored to their original condition.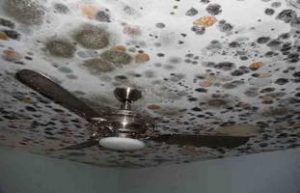 RestorationMaster offers professional mold remediation services in the Collinsville, IL area to restore any affected surface to its original condition and even prevent it from returning in the future. Using professional products to penetrate deep within the mold's surface to destroy it's source, our technicians will ensure that all spores are effectively removed.
Damages Caused by Mold
Mold is a fungus that grows on organic substances, such as wood, carpet, paint, and insulation. While it thrives in conditions with high moisture levels, it can grow anywhere within the property. After it has affected one area, it will disperse its spores – especially when sensing danger – that travel throughout the air to affect other surfaces. If these spores become inhaled while airborne, they can cause a number of negative health effects, including breathing problems, sneezing, itchy and watery eyes, inflammation of the throat, and other allergic reactions. As soon as you notice these signs, don't hesitate to give us a call to take care of the problem right away.
Common areas for mold growth include all of the following:
Attics
Basements
Crawlspaces
Bathrooms
Window seams
Air ducts
Air registers
Others areas with high levels of moisture
Mold Remediation Process
RestorationMaster begins mold remediation by locating the source. Our technicians will then remove and dispose of all soiled porous materials in sealed bags or sheets. All hard-surface building materials are then dried and disinfected using personal protective equipment (PPE) and commercial cleaning products; we will ensure the source is removed after restoring the surface to its original condition. Finally, all areas will be secured to prevent future growth and negative health effects.
The mold remediation services provided by RestorationMaster focus on restoring all areas of the property to ensure that your home or building provides a safe and clean environment for you and your family or staff again.
Be sure to contact RestorationMaster at (618)623-0065 if you discover mold on your property in Collinsville, IL or the surrounding areas.
Related Mold Removal Services
Mold Restoration in St. Charles, MO
Mold Damage Cleanup in St. Louis, MO