Finding a scene covered in blood and bodily tissue can surely be a disturbing and even traumatic experience. But these materials are also extremely dangerous when having direct contact as they are covered in bacteria and pathogens that can cause severe illness. Instead of cleaning this mess up yourself, don't hesitate to reach out to a professional cleaning service.
Innovative Cleaning & Restoration LLC is available 24/7 to provide emergency biohazard and trauma cleanup services in the Collinsville, IL area. Each of our technicians is professionally trained to remove all biohazards, bacteria, stains, and odors from the affected materials.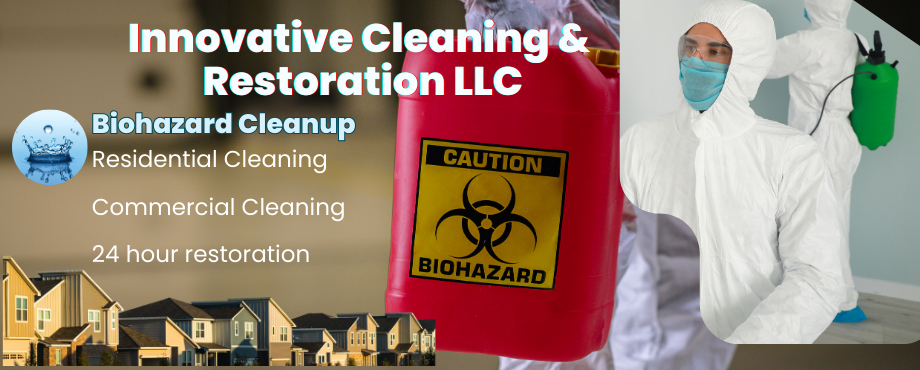 Finding a Trauma Scene
Nothing can describe the pain and trauma involved when finding a severe injury or death of a loved one. But the bacteria and pathogens from the biohazards can spread to other areas, infecting additional parts of the property without immediate treatment. For the health and safety of you and everyone else living or working in the home or building, don't hesitate to call for professional help.
The technicians of Innovative Cleaning & Restoration LLC are not only licensed and experienced, they attend ongoing training sessions to remain updated in the latest cleaning trends and products. They will also arrive with all necessary equipment within 2 hours of your first call. Working with law enforcement to receive clearance before cleaning, the affected area will first be contained before beginning the cleaning. All biohazards will then be removed, and the stains, bacteria, and odor are next to follow.
All of the following is included within our trauma and crime scene cleanup services:
Removal of Blood, Tissue, and Bodily Fluids: All biohazardous materials will be removed using protective equipment and approved containers.
Decontamination: The affected materials will be thoroughly cleaned and sanitized while removing spots and stains to restore healthy living conditions.
Deodorization: We will remove any foul odors caused by the biohazards with powerful hydroxyl technology.
Proper Disposal: All biohazardous materials will be transported in approved containers to a medical waste facility for proper disposal.
Working with Insurance: We will work with your insurance company – if you had chosen to file a claim – through the claims process to allow you to focus on family matters.
Family Assistance and Support: We ensure to work around the schedules of grieving families and to not disturb them during the cleaning process. We can also provide the contact information of local, recommended counselors, if needed.
Contact Us for Biohazard Cleanup Services in Collinsville, IL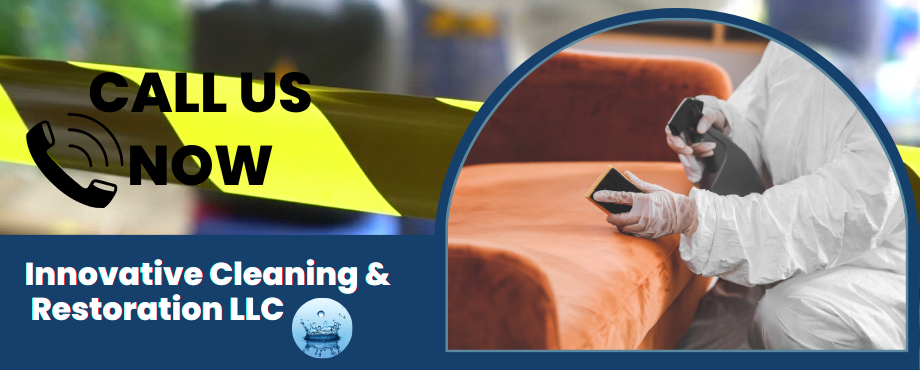 Our technicians understand the stress and trauma involved in encountering a biohazardous scene, which is why we work with compassion and respect towards grieving families. But don't hesitate to give us a call to have the scene professionally cleaned and restored to its original condition.
Innovative Cleaning & Restoration LLC is available 24/7 at (618)623-0065 in the Collinsville, IL area to provide emergency biohazard cleaning services.
---
Related Biohazard and Trauma Scene Cleanup Services
Trauma and Crime Scene Cleanup in St. Charles, MO
Crime Scene Cleaning in O'Fallon, MO
Biohazard and Crime Scene Cleanup in St. Louis, MO
24/7 Biohazard Cleanup in Festus and Arnold, MO
Biohazard Remediation in Florissant, MO
Crime Scene & Death Cleanup in Ballwin, MO
---
Recent Reviews
Review by Nicole Swoboda
Rating

"Nick was absolutely amazing! He was the only company to come in my home and respectfully bid the job in a matter of minutes. He thoroughly broke down the important factors that needed addressed and answered all of my questions I had the day of the initial bid. The crew and himself used all proper containment needed to ensure my home was not damaged further by any demo they had to perform. After the job was complete, he has since returned correspondence and double checked to ensure I was happy with the completed work they had performed. They are the most professional and customer appreciative company I have come in contact with. I RECOMMEND INNOVATIVE CLEANING AND RESTORATION LLC. TO EVERYONE WITH A 5 ☆ RATING. they are great!"
---
Review by Matthew Bales
Rating

"Nick and his worker were fantastic in finding my burst pipes in the dry wall, cleaning the water damaged areas, and going above and beyond to take care of what needed to be done. He went to multiple stores to get needed parts and lit my pilot light in my water heater (which I didn't even think of as a necessary fix). Highly recommend their services."
---
Review by Callie Ingram
Rating

"Innovative cleaning & Restoration is a company in which you wish all companies were like to have work for you. Nick the owner, makes his clients feel like they are important to him. He is willing to go beyond to complete the job for you. He is honest and very considerate. He makes it a point to make sure his customer is satisfied and try to make sure that you understand what he is telling you and that you understand him. Nick welcomes the customer to call him anytime with concerns or questions. I highly recommend Nick to anyone who needs to hire someone in his field. You will not be disappointed and you will be glad that you chose to hire Nick. The work that he does is very thorough and to your satisfaction."
---
See All Reviews