Air ducts are one of those property essentials that provide many benefits but are not often thought about. As they are used daily for heating and cooling, significant amounts of dirt and debris can build up quickly from the air passing through the system. As there are signs you may notice that it needs to be cleaned, a dirty HVAC system can cause major inconveniences for you and everyone on the property. From poor indoor air quality, higher energy bills, and even mold, you will want to get these problems taken care of quickly.
Innovative Cleaning & Restoration LLC provides complete air duct cleaning services in the Collinsville, IL area. Our technicians have years of experience and are trained to remove all dirt and debris from the ductwork.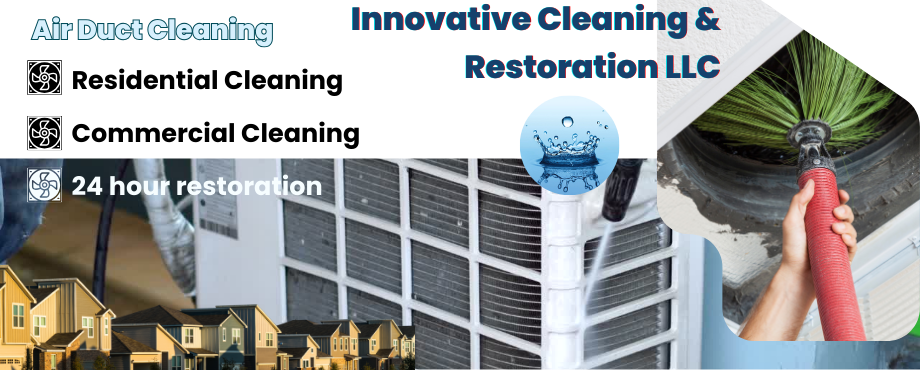 Don't hesitate to give us a call if you notice any of the following:
Pet hair, dander, and odors
Water, Fire, or mold damage in the HVAC system
Respiratory or allergy issues
Cigar or cigarette smoke odor
Professional HVAC Cleaning
Available for air duct cleaning for both residential and commercial properties, you will notice the difference in the indoor air quality within the property. As there will no longer be any floating dirt or debris particles, allergies and breathing problems will subside. You might also notice the drop in your monthly electricity bill as your dryer is not working as hard to dry the clothes.
All of the following are included within our air duct cleaning service:
Initial inspection of air duct system
Full cleaning of air supply and return registers
Individual cleaning of air vents while sealing others to prevent additional debris from seeping in
Professional cleaning of ductwork using a High-Efficiency Particulate Air (HEPA) vacuum that removes dust from the air within the property
Reinstallation of air vents after cleaning
Contact vacuum brushing and cleaning to remove all remaining debris particles
Final inspection of HVAC system
Contact Us for Professional HVAC Cleaning Services in Collinsville, IL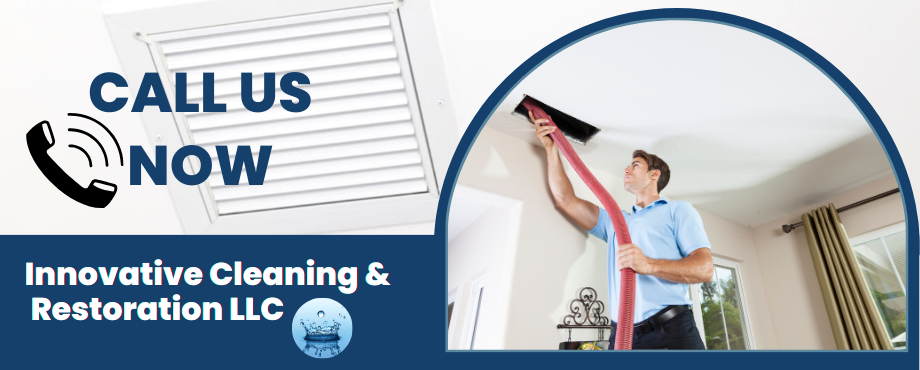 While air ducts can often go unnoticed, it is important that they are cleaned when necessary. As you have now seen the number of problems associated with dirty ductwork, such as higher electric bills and allergy issues, frequent cleanings are essential. Innovative Cleaning & Restoration LLC, a proud provider of the service, recommends a cleaning once every 3 – 5 years, or when experiencing these issues.
Give us a call at (636) 492-3030 for a free estimate or to schedule your appointment in the Collinsville, IL area.
---
Related Air Duct Cleaning Services
Air Duct Cleaning Company in St. Charles, MO
Air Duct and HVAC Cleaning in St. Louis, MO
Professional Duct Cleaning in O'Fallon, MO
Duct Cleaners in Festus and Arnold, MO
Home Air Duct Cleaning in Florissant, MO
---
Recent Reviews
Review by Nicole Swoboda
Rating

"Nick was absolutely amazing! He was the only company to come in my home and respectfully bid the job in a matter of minutes. He thoroughly broke down the important factors that needed addressed and answered all of my questions I had the day of the initial bid. The crew and himself used all proper containment needed to ensure my home was not damaged further by any demo they had to perform. After the job was complete, he has since returned correspondence and double checked to ensure I was happy with the completed work they had performed. They are the most professional and customer appreciative company I have come in contact with. I RECOMMEND INNOVATIVE CLEANING AND RESTORATION LLC. TO EVERYONE WITH A 5 ☆ RATING. they are great!"
---
Review by Matthew Bales
Rating

"Nick and his worker were fantastic in finding my burst pipes in the dry wall, cleaning the water damaged areas, and going above and beyond to take care of what needed to be done. He went to multiple stores to get needed parts and lit my pilot light in my water heater (which I didn't even think of as a necessary fix). Highly recommend their services."
---
Review by Callie Ingram
Rating

"Innovative cleaning & Restoration is a company in which you wish all companies were like to have work for you. Nick the owner, makes his clients feel like they are important to him. He is willing to go beyond to complete the job for you. He is honest and very considerate. He makes it a point to make sure his customer is satisfied and try to make sure that you understand what he is telling you and that you understand him. Nick welcomes the customer to call him anytime with concerns or questions. I highly recommend Nick to anyone who needs to hire someone in his field. You will not be disappointed and you will be glad that you chose to hire Nick. The work that he does is very thorough and to your satisfaction."
---
See All Reviews