While many property owners are unaware of the effect a dirty carpet can have on the look and feel of the entire room, embedded dirt and debris will also accelerate the deterioration process. Frequent vacuuming can pick up the majority of dirt particles, but only professional cleaning will restore that brand-new look. A clean carpet can also alleviate allergic reactions as the dust and dirt are no longer being kicked into breathing air from constant foot traffic.
When it comes to professional carpet cleaning, the technicians at Innovative Cleaning & Restoration LLC in Collinsville, IL are experts in removing embedded dirt and debris from the fibers. Using advanced equipment and innovative techniques, you can be sure that your carpet will be returned to its like-new condition within 24 hours of the service.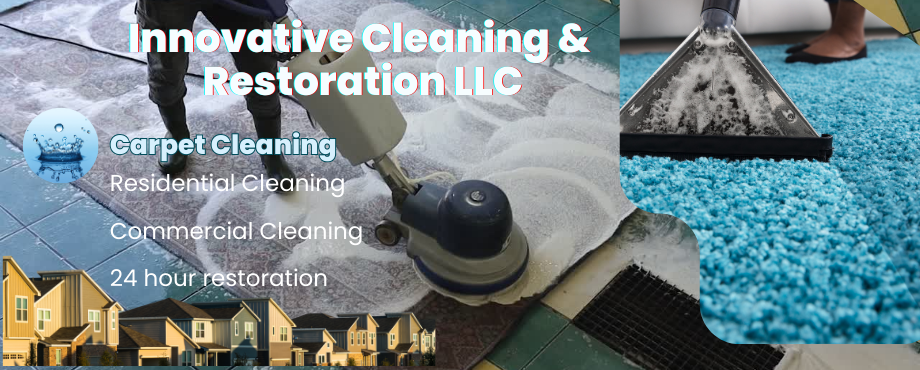 Professional Cleaning
While a dirty carpet can detract from the entire room, a clean one will give the area a fresh and comforting look. Our professionals recommend cleaning at least once each year in order to maintain a clean appearance. Commercial and residential carpeting will also require specific treatments as the fibers are short to endure significantly higher traffic than those in residential properties.
Innovative Cleaning & Restoration LLC will focus on high-traffic areas, such as the living room, hallways, and stairs to ensure the best results. Any spots and stains will also be removed, such as those caused by pets, red wine, mud, and others.
All of the following are included in our carpet cleaning procedures:
Deep soil removal
Pet odor removal
Anti-static protection
Scotchguard
Contact Us for Professional Carpet Cleaning in Collinsville, IL
Our technicians focus on providing quality carpet cleaning services, which includes using an advanced cleaning process that has left carpets looking spotless after the service. Known as the hot water extraction method, this procedures involves utilizing a cleaning wand to deposit warm water deep within the fibers to loosen the dirt particles. Within a few seconds, the water is extracted with the debris into a holding tank. While the drying process will require 24 hours to produce the best results, the cleaning procedure will only take a few hours of your time.
Once the service is complete, you can look forward to a brand new look and feel of the room. In addition, the life of the carpet will also be extended as you won't have to worry about the dirt and debris causing fading and discoloration within the fibers.
Call Innovative Cleaning & Restoration LLC today at (636) 492-3030 to schedule your appointment or to request a free quote in the Collinsville, IL area.
---
Related Carpet Cleaning Services
Effective Carpet Cleaning in St. Charles, MO
Trusted Carpet Cleaning in St. Louis, MO
Residential and Commercial Carpet Cleaning in O'Fallon, MO
Professional carpet cleaning in Florissant, MO
---
Recent Reviews
Review by Nicole Swoboda
Rating

"Nick was absolutely amazing! He was the only company to come in my home and respectfully bid the job in a matter of minutes. He thoroughly broke down the important factors that needed addressed and answered all of my questions I had the day of the initial bid. The crew and himself used all proper containment needed to ensure my home was not damaged further by any demo they had to perform. After the job was complete, he has since returned correspondence and double checked to ensure I was happy with the completed work they had performed. They are the most professional and customer appreciative company I have come in contact with. I RECOMMEND INNOVATIVE CLEANING AND RESTORATION LLC. TO EVERYONE WITH A 5 ☆ RATING. they are great!"
---
Review by Matthew Bales
Rating

"Nick and his worker were fantastic in finding my burst pipes in the dry wall, cleaning the water damaged areas, and going above and beyond to take care of what needed to be done. He went to multiple stores to get needed parts and lit my pilot light in my water heater (which I didn't even think of as a necessary fix). Highly recommend their services."
---
Review by Callie Ingram
Rating

"Innovative cleaning & Restoration is a company in which you wish all companies were like to have work for you. Nick the owner, makes his clients feel like they are important to him. He is willing to go beyond to complete the job for you. He is honest and very considerate. He makes it a point to make sure his customer is satisfied and try to make sure that you understand what he is telling you and that you understand him. Nick welcomes the customer to call him anytime with concerns or questions. I highly recommend Nick to anyone who needs to hire someone in his field. You will not be disappointed and you will be glad that you chose to hire Nick. The work that he does is very thorough and to your satisfaction."
---
See All Reviews