While clean carpets can significantly add to the aesthetics within a room or building, a worn-down, deteriorating furnishing can detract from the overall appearance. Depending on the amount of daily foot traffic, the condition of the carpeting can become easily ruined if professional cleanings are not made on a frequent basis.
The technicians of RestorationMaster are available to provide professional carpet cleaning services to homes and businesses in the O'Fallon, MO area. We use a perfected method that has been known to remove most stains, dirt, and debris within the fibers to restore a like-new condition.
Trusted Carpet Cleaning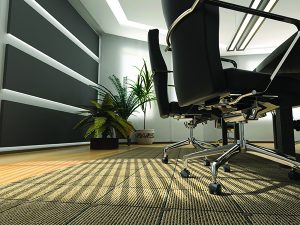 While it is not often that carpets need to be professionally cleaned, they are highly recommended at least twice each year. Doing so can even extend the lifespan of the carpet, allowing it to maintain a fresh look that will last all year long.
On the other hand, if professional cleaning isn't performed, stains, dander, and debris can accumulate, wearing down the fibers. Regular vacuuming can remove the majority of dirt and debris, but won't be able to touch those that are deeply embedded within the fibers.
Hot Water Extraction
When conducting carpet cleaning, RestorationMaster uses a perfected method and commercial cleaning method to restore a clean and like-new looking carpet. Known as the hot water extraction method, our technicians use a cleaning wand to apply a warm, sanitizing solution within the fibers to loosen the debris. The solution is then extracted back out along with the dirt to restore a clean look.
For most homes and buildings, the job will require a few hours, but only 24 hours to allow the fibers to dry completely. As this technique has been known to provide the best results, our technicians continue to use it on all types of carpeting.
All of the following steps are included within our carpet cleaning services:
Pre-cleaning of carpeting
Spot treatment and initial vacuuming to remove loose debris
Spraying of the fibers to loosen embedded dirt
Professional cleaning using hot water extraction method
Post-treatment to remove leftover stains
Grooming of carpet fibers
Last inspection and satisfaction guarantee
While there are many benefits of having a clean carpet, nobody wants to deal with one filled with dirt, stains, and debris. Visitors and potential clients can also become deterred from coming back as a result of seeing the furnishing in this condition. But regular vacuuming can only do so much. Give RestorationMaster a call for a free estimate on our professional cleaning services.
RestorationMaster is available at (636) 492-3030 in the O'Fallon, MO area for professional carpet cleaning services. Free estimate.
Related Effective Carpet Cleaning Services
Carpet Cleaning in St. Charles, MO
Deep Carpet Cleaning in St. Louis, MO