While the damage caused by a fire is devastating for everyone in the home or building, it is crucial to call for fire damage repair services to minimize the losses as soon as it is extinguished. With the smoke and soot residue causing and etching and tarnishing to the building materials and contents, emergency cleaning is mandatory for returning them to their original conditions.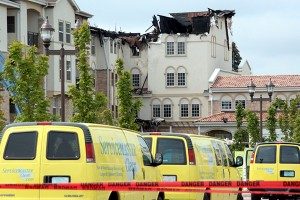 The fire damage restoration specialists of RestorationMaster are available 24 hours a day, 7 days a week to respond to emergencies in Collinsville, IL as well as Madison, Monroe, Jersey and St. Clair counties. Upon arrival, we will apply advanced products to remove the oily smoke and soot residue from all affected surfaces.
Our years of experienced and ongoing training has allowed us to work quickly and effectively when cleaning residential and commercial properties of all sizes. Whether an apartment or a warehouse is covered in fire and smoke damage, we will handle the project from beginning to completion.
Emergency Smoke and Soot Damage Restoration
We will begin our fire restoration services within 2 hours of the initial call, working with you throughout the entire cleanup process to ensure that the best decisions are made regarding repair, restoration, or replacement of property. Our fire damage cleanup services start with a structural evaluation of the major components, including the roof, walls, flooring, and insulation. We will also restore any water damage caused by the firehose, drying out the building materials from excessive moisture.
Our smoke damage cleanup process includes all of the following:
24/7 availability and emergency response. Our technicians will be on their way soon after getting the first call. We will arrive within 2 hours with all necessary products and restoration equipment that will restore your property to its previous condition.
Professional restoration. We use advanced products and equipment designed to remove soot and smoke residue from deep within the compromised structure without causing additional damage. Focusing on the most heavily damaged items and building materials first, we will work our way throughout the property until all surfaces are returned to their original condition.
Working with insurance. RestorationMaster understands that this is a traumatic and stressful time for you, which is why we are focused on providing as much peace of mind as possible while you focus on other matters. We will work with your insurance company during the claims process to save you the stress of coordinating with 2 companies.
Full inspection. Our technicians will conduct a full inspection both before and after the service to ensure that all damaged areas are addressed and completely restored to their original condition. We will also address any concerns and guarantee your satisfaction during this phase to ensure that your property provides a safe and clean environment for you and your family or staff once again.
Fire Damage Cleanup
In addition to restoring major structural components and removing smoke and water damage, we will restore personal items that have sustained fire damage. Our staff has the training and expertise to know which cleaning method or restoration technique can best restore specific items.
We are highly trained to restore all damage caused by smoke and fire and we work with local insurance companies to coordinate claims and payment. Be sure to call us as soon as the fire is put out to minimize losses and control the spread of the damage. The fire damage restoration professionals of RestorationMaster are available 24/7 at (618) 623-0065.
Related Smoke Damage Restoration Services
Smoke Mitigation in St. Charles, MO
Fire Damage Cleanup in St. Louis, MO