While mold is certainly not a pretty thing to discover, especially on your property, it can also be frustrating to remove. However, it is highly recommended that you not make contact as there are numerous types of mold that are known to be dangerous to humans.
As normal household cleaning products will not remove mold, they will only make it more "angry" as it retreats further into the affected surface.  But Innovative Cleaning & Restoration LLC provides professional mold removal services in the St. Charles, MO area, using advanced products to remove fungi from any surface. Our technicians have years of experience in effectively removing all sources of mold as well as ensuring that it does not return in the future.
Preventing mold growth requires controlling the moisture source. This may be as simple as using a dehumidifier or fixing a simple leak. If the mold issue has started to grow beyond solving with household cleaners, then it is time to bring in a professional.
Restoration from Mold
Within our mold removal services, Innovative Cleaning & Restoration LLC ensures to eliminate all cases while preventing them from returning in the future. Our technicians use advanced products and equipment, including personal protective equipment (PPE) to ensure their safety during the process.
Finally, you won't have to worry about any cases of mold returning in the future as all building materials and content will be completely free of all mold and mildew spores.
Mold Cleanup – What to Do:
Call Innovative Cleaning & Restoration LLC for immediate mold removal services in St. Charles, MO.
Increase air circulation throughout the home by turning on the fan or A/C system.
Lower the moisture/humidity levels in the home by turning on the dehumidifier or fan.
Wipe down any walls containing condensation that are not moldy.
Close any exterior windows and doors if outside conditions are wet to prevent additional moisture from seeping in.
For more information on mold removal and remediation, watch RestorationMaster video:
Mold Cleaning – What NOT to Do:
Do not try to clean any of the mold yourself
Do not place a fan directly in front of the mold
Do not paint or caulk over any moldy surfaces
Do not touch the mold
Our mold removal process consists of the following steps:
Containing and preventing the mold from spreading
Removal of mold from all affected surfaces and restoration of building structure and content
Report documentation and coordinating with insurance
Although mold loves to grow in hidden areas, you may notice some signs as those living with allergies may cough or sneeze more often. For those living with breathing problems, they may also experience additional issues. This is why having a professional mold remediation company remove all cases is crucial.
Innovative Cleaning & Restoration LLC provides complete mold removal services (636)492-3030 in the St. Charles, Clayton, and Westport, MO areas.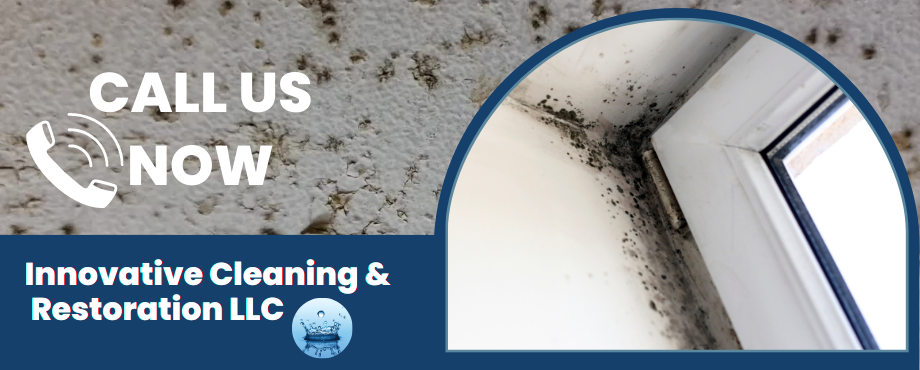 ---
Related Mold Damage Restoration Services
Mold Testing and Removal in O'Fallon, MO
Mold And Mildew Removal in St. Louis, MO
---
Related Mold Removal Tips and Information:
Mold manifests in various colors and textures, such as black, white, green, gray, and brown. It flourishes in environments with excessive moisture, making it common in places like bathrooms, kitchens, and basements. This article offers useful tips to assist you in managing the moisture level in your basement and safeguarding against the growth of mold.
If you've ever noticed an unusual taste when drinking from your water bottle, there's a possibility that mold might have been thriving inside it. While it's easy to overlook the importance of ensuring the safety of something as ordinary as drinking water, regularly cleaning your water bottle is crucial in minimizing the potential health risks associated with consuming mold-contaminated water. In this article, we will provide a detailed guide, outlining step-by-step instructions to help you identify mold in your water bottle, effectively remove it, and implement preventive measures to avoid future outbreaks.
Clean with soap and water
Scrub the inside
Eliminate mold and bacteria
Understanding the growth and impact of mold on your home's structure is crucial. Mold tends to thrive in areas with high moisture levels. Standard paper-faced drywall is particularly susceptible to mold damage, especially when it remains wet for extended periods. While there are various types of mold that can develop on your property, the installation of mold-resistant drywall in specific areas can significantly reduce the risk altogether.
---
Frequently Asked Questions about Mold Removal and Remediation
Is the landlord responsible for mold in Missouri?
Based on Missouri Business Alert, despite more than 30 states taking steps to regulate indoor mold conditions, neither Missouri law nor federal law has established a statute specifically addressing mold. Consequently, tenants in Missouri often encounter difficulties in compelling landlords to address mold problems in their homes.
Can I withhold rent for mold in Missouri?
Based on Missouri Legal Services,  in the event of an issue or problem, your landlord must either fail to repair or address it within 14 days of being notified, or as promptly as necessary in the case of an emergency.
Do you have to move out if you have black mold?
The final answer to this question will hinge on the specific extension of mold growth, the scope of the mold removal project, and the location of mold within the property. For safety reasons, it is advisable for you to vacate the property during the project's duration. Most mold removal and remediation companies will suggest leaving the premises, especially if multiple rooms and hallways are affected. Additionally, if there are young or elderly residents or individuals with compromised immune systems living on the property, it is highly recommended to seek alternative housing during the process.
Why and How People Choose a Professional Contractor After a Home Disaster?
---
Recent Reviews
Review by Nicole Swoboda
Rating

"Nick was absolutely amazing! He was the only company to come in my home and respectfully bid the job in a matter of minutes. He thoroughly broke down the important factors that needed addressed and answered all of my questions I had the day of the initial bid. The crew and himself used all proper containment needed to ensure my home was not damaged further by any demo they had to perform. After the job was complete, he has since returned correspondence and double checked to ensure I was happy with the completed work they had performed. They are the most professional and customer appreciative company I have come in contact with. I RECOMMEND INNOVATIVE CLEANING AND RESTORATION LLC. TO EVERYONE WITH A 5 ☆ RATING. they are great!"
---
Review by Matthew Bales
Rating

"Nick and his worker were fantastic in finding my burst pipes in the dry wall, cleaning the water damaged areas, and going above and beyond to take care of what needed to be done. He went to multiple stores to get needed parts and lit my pilot light in my water heater (which I didn't even think of as a necessary fix). Highly recommend their services."
---
Review by Callie Ingram
Rating

"Innovative cleaning & Restoration is a company in which you wish all companies were like to have work for you. Nick the owner, makes his clients feel like they are important to him. He is willing to go beyond to complete the job for you. He is honest and very considerate. He makes it a point to make sure his customer is satisfied and try to make sure that you understand what he is telling you and that you understand him. Nick welcomes the customer to call him anytime with concerns or questions. I highly recommend Nick to anyone who needs to hire someone in his field. You will not be disappointed and you will be glad that you chose to hire Nick. The work that he does is very thorough and to your satisfaction."
---
See All Reviews