Innovative Cleaning & Restoration LLC
Hoarding has gotten more attention in the last several years as we have gained an overall better understanding of the disorder and why it results in certain behaviors.  Issues of anxiety are often at the root of hoarding which explains why those affected develop an inability to part with any objects that they have collected in their homes.  This causes random objects such as food containers, newspapers, appliances, and many others to accumulate within the home which can lead to restricted access and the appearance of mold, bacteria, and other harmful substances.  Innovative Cleaning & Restoration LLC provides hoarding cleaning services to fully clean and disinfect the homes of hoarders in St Charles, MO.  Our technicians are experienced to provide deep and effective house cleaning and we also take a compassionate approach and involve the affected individual in the cleaning process.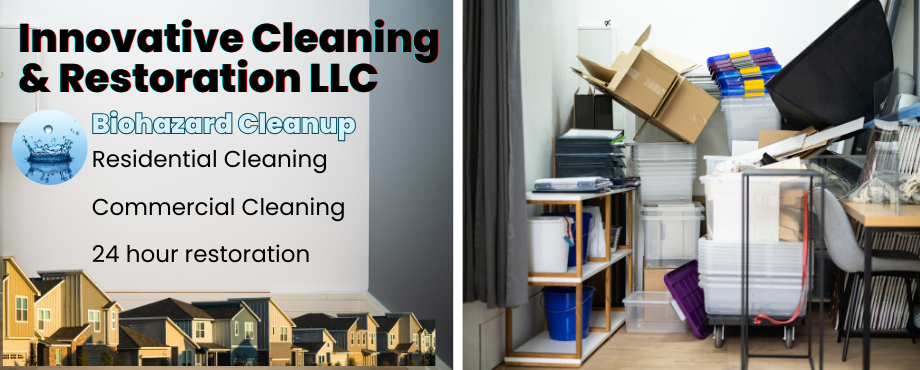 Trusted Hoarding Cleaning
It is very difficult for those who struggle with hoarding to get help themselves because they are usually embarrassed by their situation.  A trusted friend or family member has to convince the individual of the urgency to get their home restored and help initiate the process.  Parting with the hoarded objects can be difficult for those affected and we leave the final decision of what to do with the objects to the individual and their family so that they maintain an element of control.  Our technicians are certified, licensed, and insured to fully clean up homes after extreme cases of hoarding and we use state-of-the-art cleaning products and equipment to thoroughly clean and disinfect the home.
The hoarding cleaning services we provide are done within the rules and regulations of the Department of Transportation, the EPA, and OSHA and they consist of the following steps:
Decontamination: We can safely remove any biohazard materials we encounter and completely disinfect the home once all unwanted items and debris are removed.
Deodorization: We can eliminate strong odors with our odor removal process.
Proper Disposal: We make sure to dispose of, donate, or recycle unwanted items and biohazard materials are transported to a licensed medical waste facility.
Contact Us for Hoarding Cleanup in St Charles, MO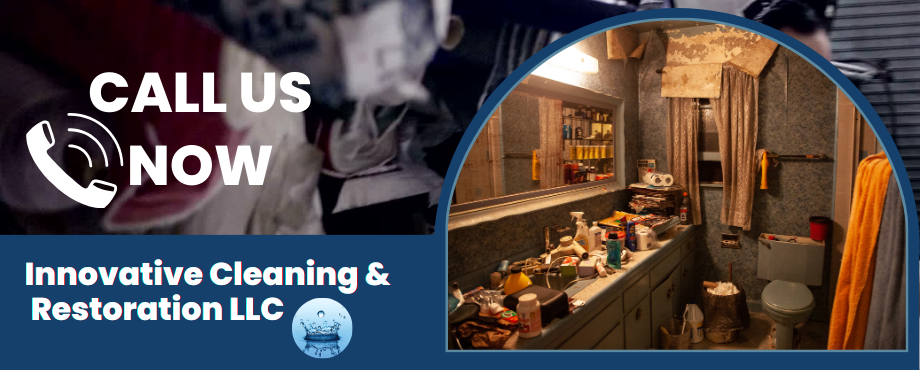 Hoarding can have very serious effects on the health and property of the individual so if you know someone in St Charles, MO exhibiting signs of hoarding, reach out to them for help.  Innovative Cleaning & Restoration LLC is ready to help those who struggle with hoarding clean and disinfecting their homes to create a safe living environment.
You can call us 24 hours a day for hoarding cleaning services at(636) 492-3030.
---
Related Hoarding Cleanup Services
Hoarder Cleaning Services in O'Fallon, MO
Hoarding Cleanup Help in Florissant, MO
Hoarding Cleanup Experts in Ballwin, MO
Hoarding Cleanup Service in Chesterfield, MO
---
Recent Reviews
Review by Nicole Swoboda
Rating

"Nick was absolutely amazing! He was the only company to come in my home and respectfully bid the job in a matter of minutes. He thoroughly broke down the important factors that needed addressed and answered all of my questions I had the day of the initial bid. The crew and himself used all proper containment needed to ensure my home was not damaged further by any demo they had to perform. After the job was complete, he has since returned correspondence and double checked to ensure I was happy with the completed work they had performed. They are the most professional and customer appreciative company I have come in contact with. I RECOMMEND INNOVATIVE CLEANING AND RESTORATION LLC. TO EVERYONE WITH A 5 ☆ RATING. they are great!"
---
Review by Matthew Bales
Rating

"Nick and his worker were fantastic in finding my burst pipes in the dry wall, cleaning the water damaged areas, and going above and beyond to take care of what needed to be done. He went to multiple stores to get needed parts and lit my pilot light in my water heater (which I didn't even think of as a necessary fix). Highly recommend their services."
---
Review by Callie Ingram
Rating

"Innovative cleaning & Restoration is a company in which you wish all companies were like to have work for you. Nick the owner, makes his clients feel like they are important to him. He is willing to go beyond to complete the job for you. He is honest and very considerate. He makes it a point to make sure his customer is satisfied and try to make sure that you understand what he is telling you and that you understand him. Nick welcomes the customer to call him anytime with concerns or questions. I highly recommend Nick to anyone who needs to hire someone in his field. You will not be disappointed and you will be glad that you chose to hire Nick. The work that he does is very thorough and to your satisfaction."
---
See All Reviews