Discovering a severe injury or death on your property can be overwhelming, especially if you recognize them. On the other hand, nothing is more important than protecting your safety; therefore, maintaining a safe distance away from biohazardous materials is crucial. If covered in bacteria and pathogens, it is best to allow the cleanup job to be handled by professionals.
Innovative Cleaning & Restoration LLC is available 24/7 in the St. Charles, MO area to provide emergency biohazard and trauma scene cleanup services. Our technicians are both trained and experienced in using commercial cleaning products to restore the affected area of the property to its original condition. They will also work with your insurance company as well as law enforcement, if involved, to not disturb the investigation.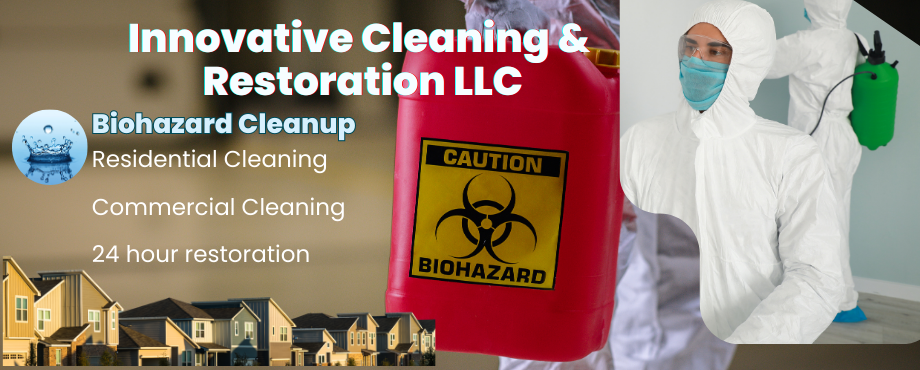 Professional Biohazard Cleanup
Upon encountering a trauma scene gruesomely filled with biohazards and blood, the sight can be scarring, not to mention the emotional and mental trauma. On the other hand, it is crucial to avoid contact with these materials. The first step is to call law enforcement to start the investigation right away, followed by your insurance company to ensure that the cleanup job can be covered under a claim.
They will then direct you to call a biohazard cleanup company like Innovative Cleaning & Restoration LLC. Upon calling our professionals, we will respond right away with all products and equipment needed to clean and decontaminate the affected area. Using professional cleaning agents to remove pathogens and kill harmful bacteria, our technicians will ensure that all stains are removed. In the situation of a crime scene, we will work with law enforcement to not disturb any uninvestigated evidence.
Our trauma scene cleanup services cover all of the following:
Licensed and Experienced: In addition to their training, our technicians are familiar with all government laws, ensuring to restore of the affected area to a condition that exceeds their regulations.
Removal and Proper Disposal of Biohazards: As soon as we arrive, our technicians will remove all biohazards, including blood, bodily fluids, and harmful pathogens. They will be placed into approved containers where they will be transported to a medical facility for proper disposal.
Decontamination: The entire affected area will be cleaned and sanitized to kill all harmful bacteria as well as remove all tough stains.
Odor Removal: Any lingering odors will be removed using powerful hydroxyl technology to eliminate the particles from within.
Working with insurance: After the cleanup job is complete, our technicians will work with your insurance company during the claims process to provide additional peace of mind.
Family Assistance and Support: If you have recently lost a loved one, Innovative Cleaning & Restoration LLC can provide referrals to recommended family counselors. We will also work with compassion and respect toward grieving families.
Our biohazard, trauma, and crime scene cleanup may be needed for any of the following situations:
Car accidents
Unexpected deaths
Suicides
Hoarding
Violent homicides and crimes
Major injuries and accidents
Contact Us Now for Biohazard And Trauma Cleanup In St. Charles, MO
While we certainly don't expect to find an area full of biohazards, let alone it being on our property. But the unfortunate reality is that it does happen and it can be traumatic for the affected family and loved ones. But it is extremely crucial that you do not try to clean the area yourself as the biohazards are full of bacteria and harmful pathogens. Leave this job to the professionals.
Innovative Cleaning & Restoration LLC is available 24/7 at (636) 492-3030 in the St. Charles, MO area to provide emergency biohazard and trauma cleanup services. We work with law enforcement and insurance companies.
---
Related Biohazard Cleaning Services:
Crime Scene & Death Cleanup in Collinsville, IL
Death, Crime & Trauma Scene Cleaning in St. Louis, MO
Emergency Response for Biohazard Cleanup in O'Fallon, MO
Biohazard Crime Scene Clean-up in Festus and Arnold, MO
Blood, Trauma & Death Cleanup in Florissant, MO
Crime Scene Cleanup in Ballwin, MO
Crime Scene & Biohazard Cleanup Services in St. Peters, MO
Household Hazardous Waste Collection and Cleaning In Chesterfield, MO
---
Frequently Asked Questions about Biohazard Cleanup
What does biohazard cleanup include?
A biohazard refers to any material or substance that poses a threat to the health of humans and other living beings. Biohazard cleanup typically involves dealing with toxic chemicals, medical waste, and materials commonly found in laboratories. However, in everyday life, there are various situations where you might come across a biohazard. It is essential to always steer clear of potential biohazards. If a trauma scene occurs on your property, it is crucial not to attempt to clean it up yourself. Leave such cleanup to trained professionals to ensure proper handling and safety.
What to do in case of biohazard?
In the event of encountering any form of biohazard on your property, it is crucial to steer clear of the scene and immediately contact a biohazard removal company. Biohazards and trauma scenes present significant health risks, making it essential to entrust the disinfection, sanitization, and cleanup to professional experts. Crime scene cleaners are not only skilled but also compassionate, dedicated to restoring your property to its original state before the biohazard or trauma occurs. We understand the importance of returning to a sense of normalcy after a distressing event, which is why our technicians will promptly and efficiently handle the cleanup of all biohazardous waste.
What is biohazard in a crime scene?
A crime scene can encompass various incidents, ranging from serious accidents to homicides, suicides, or other violent crimes that lead to severe injuries or fatalities. Encountering such scenes can be emotionally distressing and pose potential dangers. It is crucial to prioritize your safety by calling law enforcement or emergency services and avoiding the scene, particularly if blood and bodily fluids are present. Crime or trauma scenes are considered hazardous due to the risk of exposure to these fluids, which can lead to the transmission of diseases or infections.
---
Recent Reviews
Review by Nicole Swoboda
Rating

"Nick was absolutely amazing! He was the only company to come in my home and respectfully bid the job in a matter of minutes. He thoroughly broke down the important factors that needed addressed and answered all of my questions I had the day of the initial bid. The crew and himself used all proper containment needed to ensure my home was not damaged further by any demo they had to perform. After the job was complete, he has since returned correspondence and double checked to ensure I was happy with the completed work they had performed. They are the most professional and customer appreciative company I have come in contact with. I RECOMMEND INNOVATIVE CLEANING AND RESTORATION LLC. TO EVERYONE WITH A 5 ☆ RATING. they are great!"
---
Review by Matthew Bales
Rating

"Nick and his worker were fantastic in finding my burst pipes in the dry wall, cleaning the water damaged areas, and going above and beyond to take care of what needed to be done. He went to multiple stores to get needed parts and lit my pilot light in my water heater (which I didn't even think of as a necessary fix). Highly recommend their services."
---
Review by Callie Ingram
Rating

"Innovative cleaning & Restoration is a company in which you wish all companies were like to have work for you. Nick the owner, makes his clients feel like they are important to him. He is willing to go beyond to complete the job for you. He is honest and very considerate. He makes it a point to make sure his customer is satisfied and try to make sure that you understand what he is telling you and that you understand him. Nick welcomes the customer to call him anytime with concerns or questions. I highly recommend Nick to anyone who needs to hire someone in his field. You will not be disappointed and you will be glad that you chose to hire Nick. The work that he does is very thorough and to your satisfaction."
---
See All Reviews