Encountering your home or building in ruins can cause great devastation within a family or company. As this property is home to either a family or business (or even both), it can leave those affected in desperate situations. However, it is crucial to call a professional reconstruction team right away as the structure may not be in a stable condition and can collapse at any time.
Innovative Cleaning & Restoration LLC is available 24/7 in the St. Charles, MO area to provide emergency reconstruction services to both commercial and residential properties. Our technicians know and understand that these are traumatic times, which is why we arrive right away to stabilize and repair the property.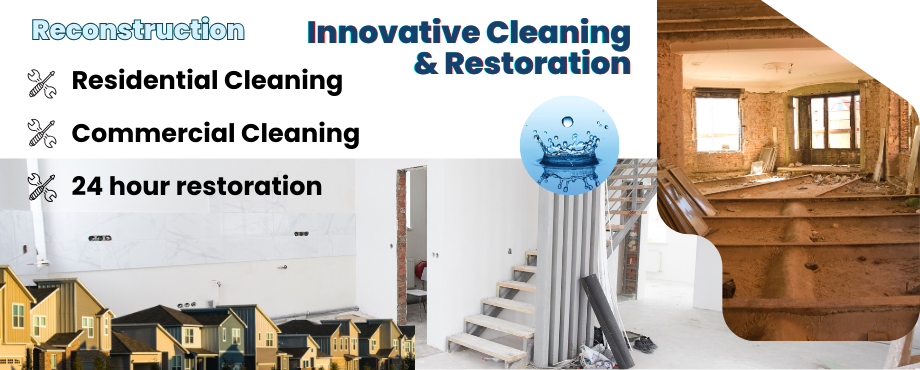 Damage Caused by Natural Disaster
Whether you have experienced a severe flood, fire, storm, tornado, or other type of natural disaster, your property can be left in a dangerous condition that faces the risk of collapsing. Even after the disaster has dissipated, the damage can spread, depending on the source and extent.
This is why it is important to call for help as soon as possible. While the smoke and soot left from a fire will spread to cover the building materials and compromise their structure, water from a flood will spread throughout porous materials, soiling them to the point beyond repair. Even if you can't see the damage spreading, the source can be hidden as the disaster is still occurring within the structure.
Emergency Stabilizing and Construction
The technicians at Innovative Cleaning & Restoration LLC will be on their way right after receiving your first call. This is because our technicians know that the property may be in an unstable condition and face the risk of collapsing. Upon arrival, they will board up the home or building, stabilizing the structure.
A custom plan will then be developed to ensure the most efficient and effective recovery throughout the construction process.
Our team of construction specialists are comprised of handymen, general contractors, and carpenters. Each member holds years of experience in addition to undergoing frequent training sessions to remain updated on the latest construction methods of the industry.
In addition, you can expect to be updated throughout the repair process from an assigned project manager.
The following procedures are included in our reconstruction services
Immediate Response and Frequent Updates: Our technicians arrive immediately to stabilize the property with board up services. You will be updated throughout the process as well as stay informed of any setbacks, such as any outside weather conditions.
Development of Custom Plan: As soon as the property has been stabilized, the construction team will develop a unique plan that will allow for the most effective and efficient repair process. This will also include a timeline of the duration of the project.
Complete Reconstruction: As our construction team has experience in all aspects of construction and general contracting, we are able to handle the project ourselves so you don't have to worry about hiring an additional company or contractor. The following procedures are included, but not limited to the following:

Custom blueprints and plan development
Carpentry, installation of floors, framing, and custom woodwork
Roof replacement and repair
Smoke sealing
Custom window replacements and repairs
Wallpapering
General contracting
Staining and painting
Stairwell repairs
Storm, fire, water damage restoration
And more!

Post-Inspection: Once the reconstruction process is complete, a final inspection will be conducted to ensure that all repairs have been made. We will also guarantee your satisfaction, ensuring that the property provides a healthy, clean, and safe environment again.
Contact Us for Reconstruction Services in St. Charles MO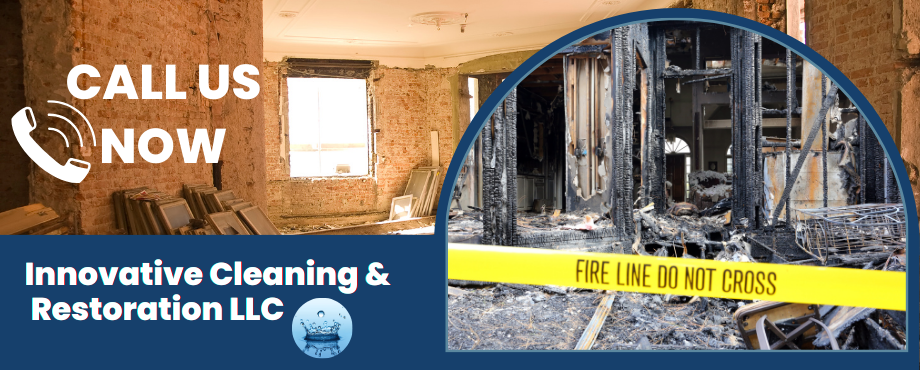 In addition to guaranteeing the quality of our reconstruction services, we will work with your insurance provider through the initial inspection and the claims process. This is to allow you to focus on other matters and avoid working with two separate companies during a traumatic and stressful time.
If your property in the St. Charles, MO area has received significant structural damage from a natural disaster, it is important to call for help right away.
Call Innovative Cleaning & Restoration LLC right away at (636)492-3030 for emergency reconstruction services.
We are also available to service the following areas:
Monroe county, IL
Jersey county, IL
St. Clair county, IL
Madison county, IL
St. Charles county, MO
St. Louis county, MO
Lincoln county, MO
---
Related Remodeling and Reconstruction Services
Reconstruction Services in St. Louis, MO
Emergency Construction and Demolition in O'Fallon, MO
---
Recent Reviews
Review by Nicole Swoboda
Rating

"Nick was absolutely amazing! He was the only company to come in my home and respectfully bid the job in a matter of minutes. He thoroughly broke down the important factors that needed addressed and answered all of my questions I had the day of the initial bid. The crew and himself used all proper containment needed to ensure my home was not damaged further by any demo they had to perform. After the job was complete, he has since returned correspondence and double checked to ensure I was happy with the completed work they had performed. They are the most professional and customer appreciative company I have come in contact with. I RECOMMEND INNOVATIVE CLEANING AND RESTORATION LLC. TO EVERYONE WITH A 5 ☆ RATING. they are great!"
---
Review by Matthew Bales
Rating

"Nick and his worker were fantastic in finding my burst pipes in the dry wall, cleaning the water damaged areas, and going above and beyond to take care of what needed to be done. He went to multiple stores to get needed parts and lit my pilot light in my water heater (which I didn't even think of as a necessary fix). Highly recommend their services."
---
Review by Callie Ingram
Rating

"Innovative cleaning & Restoration is a company in which you wish all companies were like to have work for you. Nick the owner, makes his clients feel like they are important to him. He is willing to go beyond to complete the job for you. He is honest and very considerate. He makes it a point to make sure his customer is satisfied and try to make sure that you understand what he is telling you and that you understand him. Nick welcomes the customer to call him anytime with concerns or questions. I highly recommend Nick to anyone who needs to hire someone in his field. You will not be disappointed and you will be glad that you chose to hire Nick. The work that he does is very thorough and to your satisfaction."
---
See All Reviews