Water damage is known as one of the most common types of damages incurred by a home or building. While it can be unsightly, it can also spread to cause additional and even cause permanent damage. In addition, porous materials, such as wood, drywall, and paint, will be affected faster than others. This is because their spongy material will quickly soak up the water. While this seems costly enough, it gets worse. Due to the high amounts of moisture, these will harbor the perfect conditions for mold growth. As this will cause additional problems in the future, the health of you and your family or staff is at risk.
However, Innovative Cleaning & Restoration LLC is available 24/7 to provide flood cleanup services in St. Charles, MO area. Our technicians use advanced drying equipment and products to effectively extract the excess water and restore the property to its original condition.
Responding to Water Damage
While water damage is not always dangerous, it has the potential to start small and grow quickly, spreading to other areas. It can also become dangerous if it is not treated right away because mold growth can occur, dispersing its spores into the air. If they become inhaled, they can cause serious health effects.
This is why Innovative Cleaning & Restoration LLC treats every water damage case as an emergency. Our technicians are on call 24/7 to ensure that you are never alone during a time of emergency. They are also trained and experienced to provide the highest quality water cleanup services of the industry. This is done with the use of high-velocity air movers as well as dehumidifiers to remove all excess water from the affected materials and air. Within a few days all of your building materials will be completely dried and returned to their original conditions.
Our water damage specialists will provide the following:
Emergency Response
Initial inspection and estimate of the damage
24/7/365 Availability
Flood Extraction and Dehumidification
Application of Microbial
Controlled Demolition and Debris Removal
Reconstruction
Final inspection
Assistance with insurance claims
Flood Extraction Process:
Step 1: Emergency Response – Innovative Cleaning & Restoration LLC will arrive right away to assess all damaged materials.
Step 2: Water Cleanup and Drying Process: High-Velocity Air Movers and Dehumidifiers will be set up to remove all moisture from the floors, walls, and air (to prevent water damage on the ceiling).
Step 3: Cleaning and Reinstallation – Once dried, the materials will be properly cleaned and sanitized. All porous materials will be replaced and installed.
With a fast response, our technicians are able to successfully limit the spread of the damage, ultimately saving you money and time in the long run. We will also handle the insurance claims process to allow you to attend to other matters during the water restoration process. Finally, with our services, you can expect to have your home or building to provide a safe, dry environment for you and your family or staff once again.
For more information on water damage restoration, watch RestorationMaster video
Water Damage Mitigation – What to Do:
Call Innovative Cleaning & Restoration LLC right away for immediate water damage restoration.
Remove as much water as you can yourself by mopping or blot-drying the affected areas.
Wipe down any wet furniture and upholstery with a dry towel.
Prop up any damp or soaked sofa cushions and pillows to enhance the drying process.
Hang up any paintings, pictures, or wall fixtures in a safe, dry location.
Pack books tightly on the shelves to prevent any warping.
Increase air circulation throughout the home by opening the windows, drawers, and cabinets.
Place any draperies, such as area rugs and curtains, through a coat hanger for efficient drying.
Water Restoration – What NOT to Do:
Do not enter any room with severe structural or electrical damage.
Do not clean any mildew or mold growth yourself.
Do not remove any carpeting that is tacked down to the floor.
Do not try to extract any water with a household vacuum cleaner.
While water damage is very common, it is crucial to call water damage restoration services if the amount becomes overwhelming. If you discover any flood or water damage in your St. Charles, MO property, our technicians are always on call to arrive immediately and prevent the damage from spreading. With advanced cleaning products and equipment, you can finally have the peace of mind you deserve with a quality cleanup.
Contact Us right away for Water and Flood Cleanup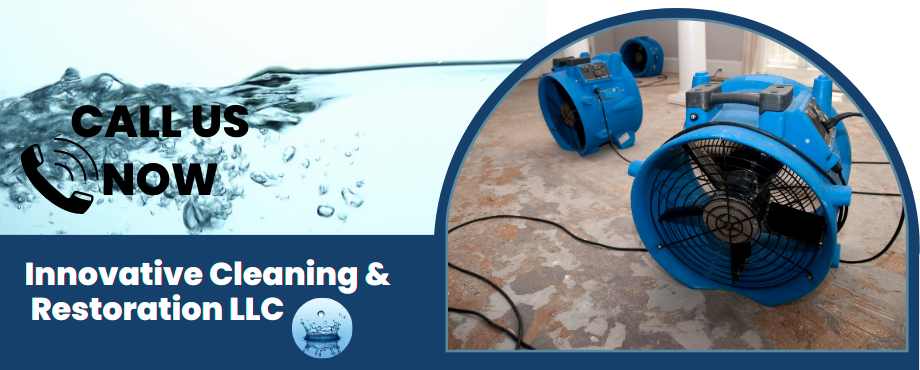 Innovative Cleaning & Restoration LLC provides water damage cleanup services for both homes and businesses in St. Charles, MO, area. We also work with all insurance and will help coordinate payment with your insurance company.
Innovative Cleaning & Restoration LLC is available 24/7 to provide emergency water damage restoration services in St. Charles, MO area at (636)492-3030.
---
Related Water Damage Info
Water Damage FAQ
Click above to read the full list of questions and answers, courtesy of Innovative Cleaning & Restoration LLC.

Related Water Extraction Services
Water Damage Cleanup in St. Louis, MO
Flood Extraction in O'Fallon, MO
---
Frequently Asked Questions about Water Damage Cleanup & Repair
How to maximize water damage claims?
1. File a Claim Promptly: The initial step upon discovering any water damage in your home is to promptly file a home insurance claim. Early reporting is crucial for a smoother claims process.
2. Protect Undamaged Possessions: Move undamaged belongings out of harm's way to prevent further deterioration or potential damage during the restoration process.
3. Thorough Documentation: Carefully document all damages, both in writing and through photographs or videos. Detailed records significantly aid the claims assessment.
4. Dry the Water-Damaged Areas: Take immediate action to dry out the affected areas. Swift mitigation helps minimize further damage and may reduce restoration costs.
5. Preserve Damaged Items: Keep all damaged items as evidence for the claims process. These items may be assessed by adjusters to determine compensation.
6. Initiate the Recovery Process: Begin the process of restoring your home. Contact a professional water damage restoration expert like Innovative Cleaning & Restoration LL to repair the damages and return your home to its original glory.
How to repair water damaged drywall?
1. Remove the Affected Portion of Drywall: Start by carefully cutting out the damaged section of drywall. This step is crucial to prevent the spread of moisture and mold.
2. Fit a Drywall Patch to the Wall: Fit a drywall patch piece into the opening created in the previous step. Ensure it aligns with the surrounding wall surface for a seamless repair.
3. Install New Drywall: Secure the patch in place with screws or adhesive, ensuring it is level and flush with the existing wall. This step restores the structural integrity of the wall.
4. Paint to Match the Surrounding Wall: Finish the repair by painting the patched area to match the color and texture of the surrounding wall, achieving a uniform and visually appealing finish.
What to spray to prevent mold after water damage?
Apply a mixture of 10% fresh bleach and 90% water onto any visible mold. Allow the solution to sit for 10 minutes, then rinse the area thoroughly and let it dry.
Why and How People Choose a Professional Contractor After a Home Disaster?

---
Recent Reviews
Review by Nicole Swoboda
Rating

"Nick was absolutely amazing! He was the only company to come in my home and respectfully bid the job in a matter of minutes. He thoroughly broke down the important factors that needed addressed and answered all of my questions I had the day of the initial bid. The crew and himself used all proper containment needed to ensure my home was not damaged further by any demo they had to perform. After the job was complete, he has since returned correspondence and double checked to ensure I was happy with the completed work they had performed. They are the most professional and customer appreciative company I have come in contact with. I RECOMMEND INNOVATIVE CLEANING AND RESTORATION LLC. TO EVERYONE WITH A 5 ☆ RATING. they are great!"
---
Review by Matthew Bales
Rating

"Nick and his worker were fantastic in finding my burst pipes in the dry wall, cleaning the water damaged areas, and going above and beyond to take care of what needed to be done. He went to multiple stores to get needed parts and lit my pilot light in my water heater (which I didn't even think of as a necessary fix). Highly recommend their services."
---
Review by Callie Ingram
Rating

"Innovative cleaning & Restoration is a company in which you wish all companies were like to have work for you. Nick the owner, makes his clients feel like they are important to him. He is willing to go beyond to complete the job for you. He is honest and very considerate. He makes it a point to make sure his customer is satisfied and try to make sure that you understand what he is telling you and that you understand him. Nick welcomes the customer to call him anytime with concerns or questions. I highly recommend Nick to anyone who needs to hire someone in his field. You will not be disappointed and you will be glad that you chose to hire Nick. The work that he does is very thorough and to your satisfaction."
---
See All Reviews