While sewage backups are not covered in the general homeowner's policy, they must be taken care of immediately. Due to the amount of damage, they can cause and the dangers they pose to personal safety, the cleanup service is not something to pass on.
Innovative Cleaning & Restoration LLC is available 24/7 in St. Charles, MO area to provide emergency sewage cleanup services for both homes and businesses whose property structure has been compromised by wastewater. Our specialists use advanced cleaners and professional equipment to cover all aspects of the cleanup process, leaving the affected area just as it was before the damage occurred.
Effective and Efficient Cleanup
While it can be stressful to see valuable items consumed by sewage wastewater, it is crucial to avoid all contact. Because it contains significant amounts of pathogens, bacteria, and biohazards, attempting to rescue any personal belongings can cause serious health issues. However, the water will continue to spread throughout the home or building if not extracted right away.
When it comes to sewer backups, Innovative Cleaning & Restoration LLC treats all situations as emergencies. We ensure to respond immediately, arriving promptly with all personal protective equipment (PPE) and commercial cleaning products to restore the area to its original condition. We will first extract the excess water, remove any soiled debris, set up drying equipment, and sanitize the remaining surfaces. Our technicians can also assist with open insurance claims to expedite the process.
All of the following steps are included within our sewage cleanup services:
Immediate Response: Innovative Cleaning & Restoration LLC is available 24/7 to respond to all commercial and residential sewage backups in St. Charles, MO. We will arrive within 2 hours of your initial call to start the cleanup process.
Water Removal: As soon as we arrive, we will immediately begin removing excess water, containing the area to prevent the damage from spreading.
Controlled Demolition: All soiled drywall, insulation, and carpeting will be removed and replacements will be ordered.
Decontamination: All remaining hard, non-porous surfaces will be sanitized to eliminate all bacteria.
Drying Process: Our technicians will set up professional air movers and dehumidifiers to remove excess moisture from the materials and air, prohibiting mold growth.
Deodorization: Innovative Cleaning & Restoration LLC will use advanced technology, including thermal fogging, hydroxyl, and Nano carbon equipment to eliminate all lingering odor particles.
Installation of Replacement Materials: Drywall, carpeting, and insulation replacements will be installed.
Working with Insurance Claims: We can provide any needed information in order to expedite open insurance claims.
At any time when finding a sewage backup on your property, it is crucial to avoid all contact. In order to protect the health and safety of everyone on the property, it is essential to allow a professional cleanup company handle the job. Our technicians are available 24/7 and will ensure the area is restored efficiently and effectively.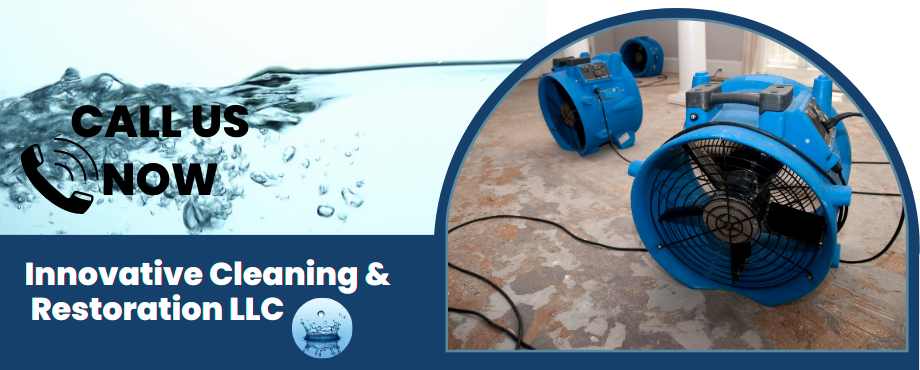 Innovative Cleaning & Restoration LLC is available 24/7 at (636) 492-3030 in the St. Charles, MO area to provide emergency sewage cleanup services. We work with open insurance claims.
Related Sewage Cleaning Services
Sewage Backup Cleanup in St. Louis, MO
---
Recent Reviews
Review by Nicole Swoboda
Rating

"Nick was absolutely amazing! He was the only company to come in my home and respectfully bid the job in a matter of minutes. He thoroughly broke down the important factors that needed addressed and answered all of my questions I had the day of the initial bid. The crew and himself used all proper containment needed to ensure my home was not damaged further by any demo they had to perform. After the job was complete, he has since returned correspondence and double checked to ensure I was happy with the completed work they had performed. They are the most professional and customer appreciative company I have come in contact with. I RECOMMEND INNOVATIVE CLEANING AND RESTORATION LLC. TO EVERYONE WITH A 5 ☆ RATING. they are great!"
---
Review by Matthew Bales
Rating

"Nick and his worker were fantastic in finding my burst pipes in the dry wall, cleaning the water damaged areas, and going above and beyond to take care of what needed to be done. He went to multiple stores to get needed parts and lit my pilot light in my water heater (which I didn't even think of as a necessary fix). Highly recommend their services."
---
Review by Callie Ingram
Rating

"Innovative cleaning & Restoration is a company in which you wish all companies were like to have work for you. Nick the owner, makes his clients feel like they are important to him. He is willing to go beyond to complete the job for you. He is honest and very considerate. He makes it a point to make sure his customer is satisfied and try to make sure that you understand what he is telling you and that you understand him. Nick welcomes the customer to call him anytime with concerns or questions. I highly recommend Nick to anyone who needs to hire someone in his field. You will not be disappointed and you will be glad that you chose to hire Nick. The work that he does is very thorough and to your satisfaction."
---
See All Reviews