To visitors of homes and businesses alike, the condition of the carpeting and upholstery can make a lasting first impression. Whether it is fair or not, we all make judgments about individuals based on the condition in which they live and work. These can have very minor or major ramifications based on the situation. That being said, it is also nice to keep carpeting and furniture clean for its own sake. For these reasons and more, we offer full carpet and upholstery cleaning services here at
ServiceMaster of the Shore Area
to homes and businesses in the Manasquan, NJ, and Brick, NJ, areas.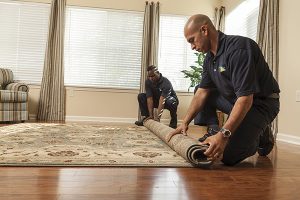 Most property owners are aware of the benefits of regularly cleaning carpeting and upholstery. Not only does it keep areas presentable, but it reduces allergens, and increases the longevity of the elements in question. Standard "do it yourself" cleanings are only beneficial to a limited degree. Over time, dirt, dust, and debris can become lodged deep within the fibers of fabrics, and they are very difficult to remove. If left alone, these foreign objects can cause discoloration and deterioration over time. This is why it is generally recommended to bring in professional cleaners roughly once per year.
The primary difference between your cleaning and our cleaning is our hot water extraction method. This process involves the injection of a powerful cleaning solution deep into the fibers of your carpeting and upholstery that will loosen dirt, dust, and debris that has become lodged. As these objects are dislodged, they are vacuumed up with the remnants of the cleaning solution. This alone can leave your fabrics looking as good as new, but we do not stop there.
When you choose to utilize our carpet and upholstery cleaning services here at ServiceMaster of the Shore Area, you can expect the following:
Timely Response and Initial Evaluation: We are available 24 hours a day to take your call, and will get a highly trained team of technicians to your property swiftly. When we arrive, we will perform an initial evaluation to formulate an optimal cleaning and treatment strategy based on your needs.
Pre-Treatment: Our pre-treatment consists of tackling spots and stains.
Hot Water Extraction: After we have executed our pre-treatment, we will proceed to our hot water extraction cleaning method. This will dislodge and remove hard to reach dirt, dust, and debris in your carpeting and upholstery.
Odor Removal: Unpleasant aromas can sometimes be given off by fabrics. We promptly eliminate them.
Scotch Guard Protection: We also offer an optional Scotch Guard Protection treatment.
Final Inspection: Once we have completed our cleaning, we will perform a final inspection to guarantee that your carpeting and upholstery is cleaned and restored to the fullest extent possible.
If you would like to utilize our professional cleaning and restoration services here at ServiceMaster of the Shore Area for your carpeting and upholstery needs, please feel free to give us a call at (732) 722-5858. Our representatives are available by phone 24 hours a day, and will direct a cleaning crew to your location promptly. We are proud to work with home and business owners in the Manasquan, NJ, and Brick, NJ, areas.
---
Related Carpet and Upholstery Cleaning Services
Carpet and Upholstery Cleaning in Ocean City and Egg Harbor Township, NJ
Carpet and Upholstery Cleaning in Wildwood, NJ