When to Replace Your Water Heater
Water heaters can become quite costly, ranging in the lower thousands if you want to have a quality appliance that will last for years. However, they can also pose a huge risk for water damage and in-home flooding if they are not replaced at the right time. In this case you would need to call a water damage restoration professional. It can also be very dangerous to handle as it is connected to the gas and power line in your home. You will know when to replace your water heater when you find it has rust and corrosion, it produces cold or luke-warm water, it is older than 10 years, you are constantly finding leaks, or you are not able to drain water through the valve. 
Look for these signs when determining when your water heater needs to be replaced:
Rust and Corrosion: This is the most important factor to identify as the rust will cause the tank to be weak and eventually burst to cause a flood in your home. One of the most common ways to find rust is to see it in your tap water. You can also find it by the pressure relief and temperature valve or the water inlet and outlet connections. If you have not noticed a leak yet, be sure to inspect all around the machine to see if there is a small puddle.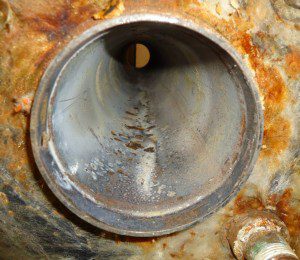 Producing Cold or Luke Warm Water: As soon as you notice that you can't get hot water out of your heater, be sure to inspect the unit right away. Although it could be a problem with the overall heater or even the thermostat, it is very uncommon for these issues to occur. Another possible problem could be that a dip tube is broken inside the tank, causing the water to be diluted to cold water. The final possible issue is that you may be using too much hot water too often and the unit is not able to keep up. You may want to consider buying another water heater to accommodate your needs.
Old Age: This is the most common sign; however, it can be difficult to determine just how long exactly it will last. Typically, water heaters will last anywhere from 8 to 10 years; however, 2 years is a long time to determine when exactly it will break. But as long as there is proper maintenance, you may be able double its lifespan. Be sure to have a technician monitor it and they will be able to tell you when it is time for a new one.
Finding Leaks: As soon as you notice big or even small puddles around your water heater, it is extremely important to have it replaced right away. As the small hole will only continue to grow bigger, it will be a matter of time before you find major flooding. This will not only cause severe water damage but is a major safety hazard as it is connected to your electricity.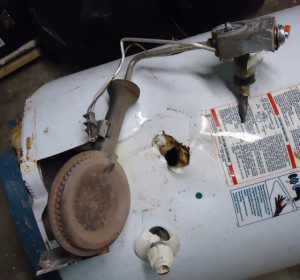 Not Able to Drain Water Through the Valve: Over time, there are sediments and debris that can become trapped within the bottom of the tank. If the unit is running on gas, it will usually make a popping sound as soon as the burner ignites. However, a buildup of the sediments is a problem for both gas and electric units. To avoid this problem, flush it once each year to prevent damage on the inside of the tank. It may actually extend its lifespan.
What to do When Your Water Heater Breaks
While being on the lookout for these signs now can save you thousands of dollars in repairs if it breaks, accidents do happen. For example, if you come home from vacation and find a pool in your basement, you should call for help as soon as possible. When a situation such as this occurs, do not hesitate to call a professional flood cleanup company.