What to Do After a Commercial Fire
Nobody likes to think of the possibility of a commercial fire. But unfortunately, they do happen as they leave many employees without work, business owners facing significant costs in damage, and property owners with significant losses and high repair costs.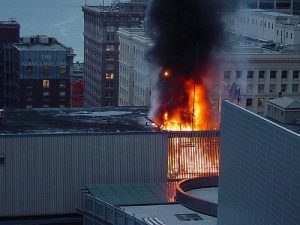 But while it can be difficult to react to such a large loss, taking action right away will save time and costs in the recovery process that will allow the business to resume operations sooner rather than later. You can follow these steps to get your business back on track after a commercial fire.
Contact Insurance Company
As soon as the flames are put out, your insurance company should be the first contact as they will need to come out, inspect the damage, and file a claim. They will then supply you with the money you need to start the fire damage restoration and content cleaning process. You may want to consider ServiceMaster, an emergency disaster restoration company that is available nationwide will also work with your vendor and coordinate with them during the claims process.
Call a Disaster Restoration Provider
After you have notified your insurance company of the loss, don't hesitate to contact a local disaster restoration provider. As mentioned previously, ServiceMaster has numerous professionals that are available 24/7 to respond to any emergency call for fire damage restoration. Each of their technicians undergoes frequent trainings and have years of experience in operating advanced equipment. Again, you may want to consider hiring them when conducting your search. They also offer content cleaning and pack-out services that will return your business assets to their original conditions.
Protect Yourself from Smoke Odors
Although the flames may be extinguished, smoke odors are extremely dangerous and will cause further destruction to building materials and personal contents. If the fire department has allowed you to re-enter the property, be sure to wear a breathing mask to prevent the smoke from getting into your lungs. In addition, it is best to wear gloves to prevent the oil from your hands from further compromising the fragile remains of the affected surfaces.
Assess and Document the Damage
Even in the case that you are not allowed to re-enter the building, it is important to document all evidence for insurance purposes. This includes valuable assets, such as: computers, machines, phones, building materials, and important documents. This will allow you to get the most out of your coverage check while providing the proof that is needed for them to cover the restoration costs.
Protect Equipment and Supplies
If it is possible to re-enter the building after the fire, try to salvage as many personal belongings and assets as possible, such as documents, photos, computers, and other equipment. It is important to be aware of the fact that the soot and smoke produced from the flames will settle into their affected surfaces and cause permanent damage if not treated. While content cleaning services will be able to treat all affected items, preventing additional damage will save significant amounts of time during the cleaning process.
Initiate an Arson Investigation
Regardless of the cause, it is always a good idea to hire a professional fire forensics team to conduct an arson investigation to determine where the fire started and what or who caused it. The information can also be used during the claims process. If the fire was started by an individual, you can even press charges to cover additional property repair costs.
Content Cleaning and Fire Damage Restoration

Taking action to have the necessary repairs made to your property is no easy task. There are many purchases to be made, claims to coordinate, waiting to move back in, documents to be signed, customers and vendors to call, and so many other details that are specific to each business.
ServiceMaster understands that this is a stressful and even traumatic process, but our technicians are professionals in disaster restoration. Not only will they work efficiently and effectively to restoring your building to its original condition, they will work with your insurance company to allow you to focus on other mandatory problems to be addressed. In any event that you have found yourself in this emergency situation, don't hesitate to call these restoration professionals right away.