What to Cook for Thanksgiving (Besides Turkey)
One of the best parts about Thanksgiving is that its best day to cheat on diet! Spice up your family celebration by trying out some new food ideas that are easy to make and everyone will love. Even if your family doesn't particularly like turkey, you can switch it out for a deliciously smoked ham instead.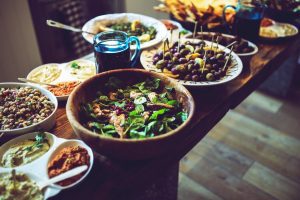 But before blindly hitting up the grocery store in hopes to find anything that looks good, check out these food ideas first and put together a shopping list. Not only will this be saving money, but you won't be missing any ingredients when cooking on the big day when all of the stores are closed.
Thanksgiving Fire Safety
While Thanksgiving should be spent being surrounded by family and laughing about what you used to do when you were little, don't forget that the majority of all home fires happen on Thanksgiving. With numerous distractions and using more heated appliances, it can be easy to forget to turn off the stove or overload a circuit.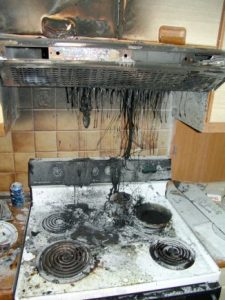 This is not to say that the holiday should be spent worrying about a Thanksgiving fire disaster, but simply to be cautious about additional fire hazards while having family and friends over. This includes keeping young children, pets, and combustible materials away from the stove, preventing candles from being knocked over, and properly covering fireplaces with mesh metal gates.
But just in case of an emergency, remember that ServiceMaster is available 24/7 to restore homes from Thanksgiving fire disasters. With experience, training, and cleaning products to provide all repairs and remove smoke and soot byproducts, their technicians will have the home back on track in a timely manner with fire damage restoration services.
Thanksgiving Food Ideas
Appetizers
Deviled Eggs. These are one of those appetizers that you have to show up early in order to get your hands on. But they're extremely easy to make if you want to bring/make extra for yourself.
Spinach and Artichoke Dip. Usually these are ordered at a restaurant, but they're actually really easy to make and would be perfect to add to the app table at home. Just using spinach, artichoke hearts, cream cheese, and 3 kinds of cheeses, you can have this ready to go in 15 minutes!
Sugar Coated Pecans. More of a grab-and-go appetizer, these sweet appetizers will go quickly before dinner; its highly recommended to make more than you think you will need!
Side Dishes
Grandma's Mac and Cheese. With so many recipes available, it's hard to mess up mac and cheese when there are so few ingredients. Instead of boiling a box of Kraft mac and cheese, go the extra mile and make it from scratch.
Cranberry Salad. Many families choose to buy the canned stuff, but if you have the time, try something new and make it yourself. With so many options available, you can add in pineapple, apple, berries, and even celery. Go crazy with it!
Mashed Potatoes…with Bacon. Don't be boring with mashed potatoes. Add the good stuff, like bacon, scallions, gravy, butter, and even cheese. If your family isn't a fan of these additions, leave it to the side and they can add them themselves.
Homemade Cornbread. This is a Thanksgiving staple, but it can be customized, adding honey, rosemary, extra sugar, brown sugar, and yes…even bacon. Surprise the family this year by bringing something extra to the table.
Green Bean Casserole. This Thanksgiving must-have can be made with fried onions, melted cheddar cheese, and of course, fresh green beans themselves. It's also extremely easy to make and you don't need many ingredients.
Sweet Potato Casserole with Marshmallows. This side dish is a favorite and adds another great option for those with a sweet tooth, so you don't want to skip out on this one. Make sure to use the small, fluffy ones from the grocery store, along with brown sugar, and cinnamon. For even more flavor, you can add a pecan streusel.
Desserts
Pie. There's always room for pie. Whether you choose to go the apple, pecan, or pumpkin route, spice it up for the fam!
New York Cheesecake. Instead of going to Cheesecake Factory and spending the money, try to make it yourself instead. This way you can take all the credit when everyone tries it after dinner!
Cookies. If some people are just different and don't like the traditional desserts, you can never go wrong with cookies. But if there is pumpkin pie, consider going the chocolate route instead of adding another pumpkin flavor (not everyone likes pumpkin).
Staying Safe in the Kitchen
Now that you have some ideas for getting crafty in the kitchen, don't forget about Thanksgiving fire safety. It can be fun to try out multiple new recipes, but don't overload yourself or work on more than 2 recipes at a time. This is how accidents and disasters happen.
If you or a loved one ever do experience a kitchen fire, even on Thanksgiving, you can rely on ServiceMaster to be there when you need it most. Arriving no later than 3 hours after your first call, they can restore not only the kitchen or damaged area, but the peace of mind to a Thanksgiving. With professional equipment and products, these technicians will remove all soot and smoke residue while handling the repairs to return the home to its original condition. Don't hesitate to give them a call during any fire emergency.