What Home Inspectors Will Not Look For
No home is perfect, which is why hiring a home inspector to examine the property before closing the deal is a prudent decision. During the two- to four-hour inspection, the home inspector will check a number of areas. However, home inspectors will not investigate all parts of a property.
Firstly, it's helpful to know to what a home inspector will pay attention. The home's attic, interior plumbing and electrical systems, foundation, structural components, windows and doors are commonly evaluated, resulting in a written report. A homeowner should be present to ask questions.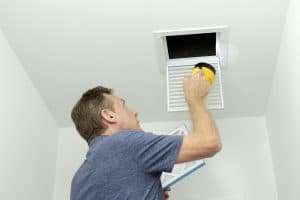 What a Home Inspector Won't Look For
A home inspector, however, will not investigate a number of components in the home, either due to a lack of specialized skill or simply convenience. Certain evaluations are best left to specialists. Other areas, like the rooftop, may be too dangerous for the home inspector to fully examine.
In general, the home inspector's primary responsibility is to check the structural integrity of the property. Anything outside of this scope requires the added expertise of professionals who specialize in the specific areas of concern. Plus, the home buyer should investigate the home himself.
1. Landscape Conditions
Seeing insects, rodents or other pests in a home indicates a potential pest problem. The home inspector's report will not point out pest control issues. Rather than rely on a home inspector to point out the pests, hire an independent exterminator to diagnose the problem.
Furthermore, dead trees in the backyard—while obvious—will not make it on a home inspector's written report. Broken sprinkler systems, likewise, are not on the inspector's radar. Landscaping conditions like these are ultimately up to the homebuyer to resolve.
2. Blocked Areas
A basic home inspection does not include heavy lifting, meaning the electrical outlets behind bulky furniture will fail to be inspected. Outlets blocked by a massive china cabinet, for example, will be bypassed by the inspector. The inspector will not risk a back injury to move heavy furniture.
The home inspector will look at areas that are in plain view. The furnishings in a home may obstruct areas, including electrical wires, areas behind walls and insulation. A solution is to request the homeowner to move large items in advance of the scheduled inspection.
When problems in these areas are noticed early on, they can be addressed promptly. In addition to the basic home inspection, schedule a specialized inspection. Doing so will likely prevent hundreds or thousands of dollars in repair or replacement costs down the road.
3. Plumbing

The average home inspector rarely holds the expertise of a licensed plumber. Without specialized training, the home inspector is unqualified to examine plumbing. He may identify visible problems, such as leaks or outdated systems; but, issues with plumbing behind walls will go unaddressed.
Exceptions do exist, however, based on the location of the home and the inspector's qualifications. Some home inspectors will investigate the pool or septic tanks. A homebuyer is advised to seek the services of a swimming pool pro if cracks or dents are noticeable in the pool.
The responsibilities of a professional pool inspector differ vastly from those of a home inspector. The former will run a series of tests, including pressure tests, to check for swimming pool leaks. Pumps, filters, safety covers and decking surfaces also routinely undergo evaluation by a swimming pool pro.
4. Rooftops
Damage to a roof can send repair costs through the roof. High-ticket items should be inspected—but a home inspector will only check the roof it is not too steep and less than three stories high. Plus, if it is raining, the home inspector will pass on climbing the roof.
Safety is a priority for home inspectors, so they will only access the rooftop to check for missing or torn shingles and inspect the gutter system. Inspectors may even examine the roof from windows using binoculars. For reassurance about the integrity of the roof, hire a specialized roof inspector.
5. Appliances
If the washing machine or dishwasher successfully completes a cycle once or twice, the inspector considers the appliance to be functional. Homebuyers who suspect issues with the refrigerator, built-in microwave or stove should consult an appliance technician for diagnostics and repairs.
6. Fireplace
Home inspectors perform only basic investigations of the fireplace and chimney. Opening the damper and visually looking into the chimney for obstructions sums up their process. For added peace of mind, hire a fireplace inspector to conduct an inspection for soot and creosote buildup.
7. Grounds
The land beneath the home can conceal natural catastrophes, like sinkholes, shifts, tilts and high water tables. A basic home inspection does not examine the ground under the home. Rather, to test the land's structural integrity, a homebuyer will need to consult a geotechnical or structural engineer.
8. HVAC Systems
Whether the HVAC system is inspected or not depends largely on the climate conditions during a scheduled inspection. The home inspector will not pressure the air conditioning and heating system, which could result in damage. Homebuyers have the option to hire an expert to inspect it separately.
Settling into a new home or commercial property should be a welcome experience. But when unanticipated issues arise, like flooding that results from sewage backups, call in the water damage restoration professionals. Skilled technicians promptly remove sewage contaminated floodwater.
Water Restoration
Trained to handle water damage emergencies, these specialists will work quickly to return your property to its pre-loss condition. Their proven techniques include water extraction, cleaning, and disinfection to eliminate hazardous microorganisms, odor and mold removal and complete drying.
Flooding is a critical situation, requiring an immediate response. Contaminated floodwaters pose a serious health risk to people and animals in the vicinity. Home and business owners who are confronted with flooding should call a flood cleanup professional immediately.