Tips for Cleaning Furnace Puff Backs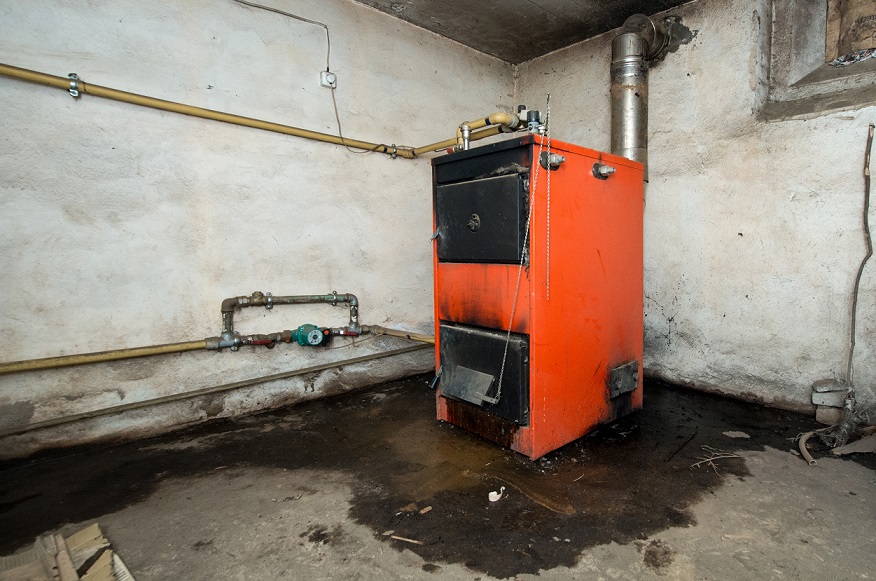 When a furnace is working correctly, oxygen and fuel are combined in a balanced manner and allow for controlled combustion. This proper combination creates a steady flame and will burn almost all of the fuel. When there is an incorrect mixture with excess fuel, however, a furnace will produce puff backs. This is also a sign that the furnace is malfunctioning and needs to be repaired.
What is a Furnace Puff Back?
A puff back is a sudden combustion of smoke and soot emitted from a furnace, resulting in a cloud of black, greasy petroleum-based gunk. Additionally, a puff back produces a strong odor and an explosive sound similar to the backfire of a car. The vibration allows soot within the furnace to become loos
e and enter your property. The residue will stick to furnishings, small crevices in your home, and even the clothes in your closet. Smoke will come out of the vents, and your home may be splattered with black goo, making it look as though it has been scorched by flames. If the puff back is powerful enough, it can not only damage your furnace but also your home.
Because of the soot involved in puff backs and the way the soot permeates a home, cleaning the mess puff backs cause can be a tough task to take on.
With cold weather approaching, furnaces will be put to use more often. Knowing that, there will be greater chances for puff backs to occur. If your home experiences a furnace puff back, it's helpful to know what to do in response to clean up the mess.
Ensure Safety First
Before you begin the cleaning process, prioritize safety. Make sure the furnace is turned off and completely cool. Wear protective gear such as gloves, safety goggles, and a dust mask to safeguard yourself from harmful soot and particles.
Ventilation is Key
Properly ventilate the affected areas. Open windows and doors to allow fresh air to circulate, helping to remove airborne particles and odors. Using exhaust fans and air purifiers can further assist in improving indoor air quality.
Contain the Affected Area
Isolate the affected area to prevent the spread of soot and smoke residues. Close doors leading to other rooms and cover any HVAC vents or ducts in the vicinity.
Cover Up the Vents
The buildup of soot in the furnace will cause it to move and spread throughout your home. To limit such movement, you can cover up the vents in your home.
Take a few sheets of cheesecloth, and place them over every vent. To ensure they're secure, tape the cheesecloth down around the vent cover. The soot will gather in the cheesecloth instead of being emitted into your home's air space.
Dry Cleaning vs. Wet Cleaning
The cleaning method you choose depends on the surfaces and items affected. Dry cleaning methods like vacuuming and dry sponging are suitable for walls, ceilings, and lightly soiled surfaces. For heavy soot on hard surfaces, use a wet cleaning method with a mixture of warm water and a gentle detergent.
Change the Air Filter
After your furnace experiences a puff back, it is likely that the air filter has been clogged up with residue from the puff back. Because of this, more debris can be blown throughout a residence, leaving behind more messes to clean up. To prevent this, switch out the old air filter with a new one. That way, the furnace will actually filter out debris when it is used again.
Cover Up Carpeting and Upholstery
To prevent further damage, cover up carpets, rugs, and upholstery with clean towels or linens. Taking such an action won't clean any soot damage that has already occurred. However, by doing this any remaining soot that affects your home will not gather on these materials but rather on the towels or linens. Also, do your best to avoid walking on carpeting that has been damaged by soot to prevent it from being further embedded into the material.
Seeking Professional Help
When your furnace experiences a puff back, it can create a mess that is difficult to tend to on your own. In fact, conducting do-it-yourself furnace soot cleaning can even worsen the mess created from puff backs. For example, using standard cleaning products on affected surfaces may not be effective at removing smells or residue and can create more damage. More importantly, sometimes puff back damage can be so significant that it isn't safe for you to be in your home.
The best course of action to take when your home's furnace has experienced a puff back is to contact a professional that can provide soot damage cleaning services. These professionals will have the proper equipment and cleaning supplies to thoroughly clean and restore any materials that have been damaged from puff back-sourced soot without causing additional harm.