6 Important Steps to Take Immediately After a Fire
House fires are a common occurrence throughout the United States and they can cause a life-changing amount of damage to your home very quickly. They always happen without warning, resulting in heavy losses, serious injury, and death. When a fire strikes your home, it can be easy to become overwhelmed with the situation and lose sight of the right actions to take afterwards.
The following are important steps every homeowner should take once the fire is extinguished to keep yourself and your family safe and begin the fire damage restoration process.
1. Safety for Yourself and Your Family
The absolute top priority following a fire, regardless of how severe, is to make sure you and everyone in your home are safe. Fires can cause injuries of all kinds and it is important to check on the safety of your family and make sure anyone injured receives medical attention before dealing with your home or property. It is also wise to find a place for your family to stay temporarily as your home goes through the fire damage cleanup and restoration process.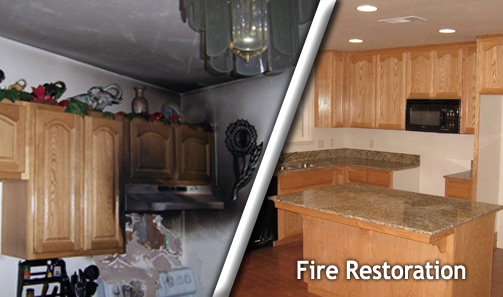 2. Inspect the Damage
Once the flames are out and you have ensured the safety of your family, it is time to inspect the damage. You should get permission from the firefighters before entering your home to make sure it is safe. Once you get clearance to enter, the first to look for are your important documents such as birth certificates, social security cards, identification, and others. Try to inspect the fire damage to your home as much as possible without putting yourself in danger. If your home is deemed unsafe following a fire, avoid your property and call your insurance provider to inspect the damage.
3. Contact Your Insurance Provider
On your initial call with your insurance provider, inform them of the fire and ask them what steps you can take to help the fire damage restoration process. This may include making a list of your items that have been damaged along with their values and keeping all relevant receipts as proof of your loss. An adjuster will explain your benefits and options to you according to your policy and help you through the claims process.
4. Contact a Fire Damage Restoration Expert
Service providers specializing in fire damage restoration and cleanup can help you salvage your property and restore your home following a fire. The corrosive byproducts that are left behind after the fire can cause the damage to continue to spread and fire damage restoration professionals have the proper training and equipment to safely and effectively mitigate and restore the damage. They can remove damage and odor from soot and smoke and help repair or rebuild the structural elements and personal belongings in your home.
5. Document the Restoration Process
You may be able to salvage some property and personal items following a fire but others will have to be replaced. If you are given permission to enter your home again after a fire, carefully document every item that is damaged and may need to be replaced. A public adjuster can be hired to help you document large losses.
6. Find Support from Family and Friends
Once you get the insurance claim and fire damage restoration process started, call your family and closest friends and tell them about your situation. It's difficult to recover from the loss involved in a house fire but knowing you have the support of your friends and family can help give you the encouragement to get through the process. You may also need to find a place to stay temporarily because the fire damage restoration process could take months. Getting in contact with your friends and family soon after the fire can help you find a loved one to take you in for the time being.
Fire Damage Restoration
When a fire strikes your home, the top priority should be to make sure you and your family are safe but once this is done, many homeowners are unsure of what to do after a fire. Following these tips will help you get the fire damage restoration and insurance claim process started so you can restore your home and get your life back on track. Make sure you contact a trusted fire damage restoration professional to effectively restore your home and help salvage your personal belongings.
They can also provide water damage restoration services to dry out any building materials affected from the fire hose. Finally, all smoke odors will be removed with professional odor removal technology. After the restoration process, you can look forward to a fully restored home.