Flooding Prevention: How to Prevent Water Damage in Your Garage
With spring just around the corner, the snow is melting fast. Is your property ready for this amount of water? And with the rain coming in, your garage and foundation are the first areas of your property to become affected by flooding. This can result in thousands of dollars in repairs if proper precautions are not taken. However, there are a number of steps you can take to ensure that you don't become a victim of water damage. Therefore, when preparing for rainstorms, be sure to follow these tips to save you a headache in the future:
Garage Flooding Prevention Tips
Install sandbags or flood barriers. As soon as that first rainstorm hits, the water will find every small crack, spreading the damage over time. Eventually, it will find its way to your garage and cause significant water damage to the drywall. However, you can prevent this before it starts by placing flood barriers or sandbags around the cracks between the doors and garage. When coming into contact with water, the barriers will expand to create small dams and prevent the water from seeping into your home.
Install a flood vent. Guaranteed, we will have at least one severe thunderstorm this spring. Is your foundation prepared? As long as you don't mind the water running through your garage, you can prevent water damage by installing flood vents. While the water flows through the garage, the pressure is taken off of your home and property to eliminate the risk of flood damage. Finally, with significantly low water levels, you can be sure your living space is not affected.
Install proper forms of drainage. While the street is equipped with storm drain systems to protect your home against flooding, they can easily become overflowed during flash floods. It is up to you to protect your property from becoming surrounded in a pool of water, especially if the yard slopes downward toward your home. The answer to this worry would be to install a French drain (or trench drain), either in front of your garage or along your driveway. With these trenches, it will allow the water to safely flow away from your home.
Just be sure that the drain does not lead the water towards your neighbors' homes, a sidewalk, or a dirt slope without protective plants to soak up the water.
Inspect your foundation for cracks or damage. Be sure to check for every crack within the cement as even the smallest ones can become more damaged as they come into contact with more water. Eventually, water will accumulate within these spaces, increasing the chances of flooding over time. To avoid this problem in the future, you can seal the crack properly with a fresh coat of waterproof paint or vinyl concrete patch. However, you might want to think about hiring a professional for the larger damages.
Install weatherstripping under the garage door. As the name is self-explanatory, weatherstripping will effectively prevent against rainstorms, snow, and sleet.  As long as it is durable and in good condition, it provides a tight seal between the garage door and cement floor to disallow water from flooding into the property. As long as the storm is not severe, it will prevent against minor flooding.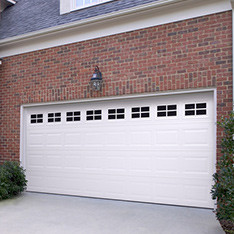 If you already have weatherstripping around your garage, you will want to inspect its current condition for cracks and dryness. If it does need replacing, it is recommended to install a replacement weatherstripping instead of self-adhesive tape, rubber, or vinyl stripping; these materials are cheap and will not effectively protect against friction or flooding.
Create an effective plan for landscaping. While a landscaper's job is to make the yard look beautiful, they can also coordinate the flow of underground water by planting the appropriate vegetation in specific areas. As bushes, grass, and trees will absorb a certain amount of water, the slope of the yard will determine where excess water will flow.
In addition to mowing the lawn and planting vegetation, hire a professional to install grass barriers, retaining walls, and berms to safely direct the water to the streets.
Flood Restoration – Hiring a Professional
While these steps will certainly help prevent against a flood, there is no guarantee that they will work 100% of the time. If flooding occurs in your garage, foundation, or any other area of your property, be sure to hire a team of professionals as soon as possible. ServiceMaster by JTS provides professional water damage restoration services in which their technicians have years of experience in effectively extracting water from numerous properties. Finally, do not hesitate to call Rainbow International Restoration Serving Hickory Hills in the event of a flood, limiting the spread of the damage, and restoring your property to its original condition.