Flooding and Types of Contaminated Water
Floods do more than just make things wet, there is a good chance that flood water is also contaminated. There are three categories of contaminated water, each with their own challenges for cleaning. The one thing they have in common is that they must be cleaned up quickly because they can become dangerous to your family's health.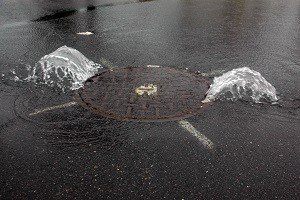 Category One water is white or clear water. It comes from an overflowing sink, broken water supply line or damaged faucet. Anyone whose toddler has let the bathtub overflow has experienced a clear water flood. This type of flooding is more of a nuisance than health hazard. It's only a short-term nuisance, as standing water becomes Category Two water after 48 hours if not cleaned up quickly.
Category Two water comes from bathtubs, showers, sinks, dishwashers, and washing machines and is often known as greywater. This kind of flooding usually happens when an appliance leaks or a hose becomes kinked. It hasn't come into contact with animal or human waste but has other contaminants that can be hazardous, such as soap, bleach, grease, or food residue. Category Two water becomes Category Three water within about 48 hours due to bacteria and mold growth.
Category Three water is also known as blackwater and is the most hazardous type of floodwater because its main source is sewage (human and animal waste). It may contain dangerous chemicals, disease causing organisms and debris. Exposure to Category Three water can cause serious illness and even death. Floods from natural disasters can bring blackwater into your home, as can a sewage backup. Never enter an area contaminated with blackwater or attempt to clean it yourself; leave it to the professionals.
If you find any category of water on your property in Houston, TX, call the professionals at ServiceMaster Restoration and Cleaning for flood damage restoration. Our certified technicians work hard to ensure the highest levels of quality cleaning and restoration and we apply an anti-microbial to prevent mold and mildew growth so you can be sure your family is safe.
Flood restoration costs vary, depending on the extent of the flooding and the category of the water. According to HomeAdvisor.com, the national average to remove standing water is $2,658.00.