Hurricane Safety – Impact Windows FAQ
Florida is a state known for sun and fun. However, Florida is also known for being a hurricane-prone state, and hurricane season — which begins in May and lasts until November — jeopardizes more than just enjoyment in the sun, these storms threaten your property and put you in danger. With severe high-speed winds and excessive water-related weather conditions, hurricanes can cause serious damage to homes, businesses, and other buildings. The wind and flooding caused by hurricanes is so severe they can jeopardize people's safety and well-being.
Hurricanes, at a minimum, include 74-mile-per-hour winds. That said, even the weakest hurricane can damage components of your property, such as your roof's shingles or windows. Stronger winds can also snap tree branches off and knock over powerlines that can crash into your building or vehicle, causing even worse damage. There's also the water damage that your property can sustain from the excessive rain and flooding that is typical of hurricanes.
With hurricane season approaching, it's important for those in hurricane prone areas to prepare for potential damage. One of the ways to do this is to install hurricane impact windows.
As with installing any replacements, people can be hesitant to install hurricane rated windows in their home or business because of the cost and belief that their current windows are good enough. When living in a hurricane-prone state, it's best to spend the money and take the precautionary measures which can prevent more costly damage.
Continue reading to learn more about hurricane windows and the frequently asked questions concerning these products.
What are hurricane windows?
Hurricane windows are windows specially designed to better withstand the strength and force of hurricanes and other high-impact threats. Also known as hurricane impact windows, impact windows, hurricane rated windows, and hurricane-resistant windows among other names, these windows are stronger than standard windows.
The laminated glass used for hurricane windows is a safety glass comprised of an interlayer that better keeps the glass together upon impact. Instead of glass breaking into large shards upon force, laminate glass features "spider web" cracking. The interlayer holds the two glass panes and keeps them together. However, this doesn't mean glass used for hurricane windows is protected from breakage. With enough force, the laminated glass will break into small, rounded pieces instead of large shards. The interlayer helps the glass break in a controlled manner.
Why should I replace my standard windows with hurricane impact windows?
The short answer is to provide better protection in the event of a hurricane. Hurricane impact windows hold up better to the high-speed winds and high-impact forces that hurricanes present. If you reside in an area prone to hurricanes, it's smart to spend the money to protect your residential or commercial property and to keep you and others safe. The amount of damage that hurricane rated windows can prevent makes them worth the cost.
Can I just add shutters instead of installing hurricane windows?
Simply adding shutters to your existing windows is not recommended because you don't get the same level of protection as you would from hurricane windows. You simply get an extra layer of protection from the shutters, but it isn't as effective. If the shutters are torn off in the storm, then you're still left with your standard windows, which can easily break into large glass shards from the wind.
Do hurricane impact windows affect my home's value?
Yes, adding hurricane windows can drastically increase your home's value. That said, when you sell your property, the upgraded hurricane windows will be a great selling point.
What are other benefits of hurricane windows?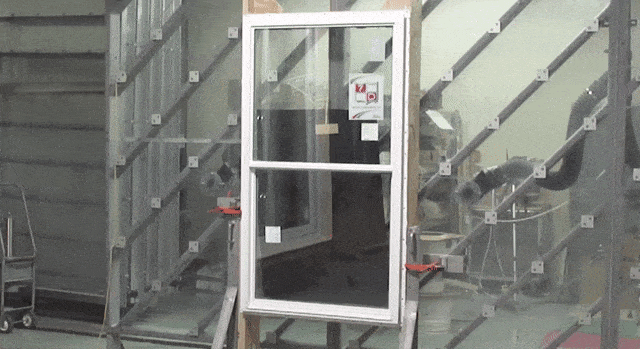 Aside from providing protection against hurricanes and its effects, hurricane windows have numerous other benefits. When you install hurricane windows in your home or building, you increase its value. These windows also make your home or business more energy efficient because your property is better insulated. This will save you money on heating and cooling costs.
Because of the protection they offer, hurricane windows also protect you from home intrusion. Burglars cannot penetrate the glass of hurricane windows like they can with standard windows. And even if they manage to break the glass, the glass won't shatter apart into large shards, which can make the situation more dangerous.
Should I Get Hurricane Windows for my Business?
It is highly beneficial to install hurricane windows for your business to help prevent large losses.  Hurricanes can result in immense damage that can be devastating for businesses as they may experience damage to the building, lose inventory, and be forced to shut down business operations while the damage is repaired.  All of this adds up to major losses.  Installing hurricane rated windows will limit the damage from a hurricane and reduce the losses to your business.
There are many different types of hurricane impact windows available that can protect commercial buildings.  If your business has a drive-thru or transaction window, there are hurricane rated windows available for these applications as well.
When June approaches, many people are excited for the warmth and sunny days. Students look forward to summer vacation and having a break from school. Many families will make their way somewhere near the Atlantic coast for a vacation. But all this can be threatened by the hurricane season, which begins in May.
If you live in a hurricane prone area, you're aware of the threat that hurricanes pose to you, your family, and your home or business. You need to be more than just aware; you need to take action as well. This includes preparing your building for any potential damage that may come as a result of a hurricane and its effects. One of the most important things you can do to protect your commercial property from a hurricane is to install hurricane rated windows. It can be costly, but it'll be worth spending the money to protect your property.
In case of hurricane damage to your property, call the disaster restoration professionals at ServiceMaster.