How Professionals Handle Black Water Damage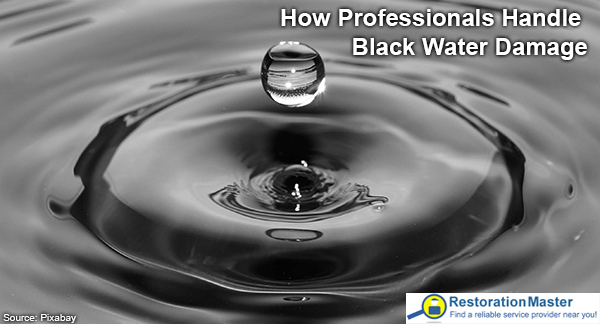 Water damage is a common occurrence in homes and buildings and if it is caused by outside flooding, there is a chance that the water could be black water. Flood water often contains contaminates such as bacteria and viruses that are picked up from sewage overflows or natural bodies of water, and when flood water contains these harmful materials, it is referred to as black water. Black water must be dealt with more carefully because the contaminants in the water can cause illness and infection if they are not properly cleaned up. It is best to hire a water damage restoration professional that has the experience and specialized equipment to safely remove black water and dry and sanitize the building.
Many of the professionals that provide water damage restoration services are also trained and equipped to handle potentially harmful biohazard materials that can be found in black water from sewage backups. If you suspect that any flooded water in your home or office may be black water, you should avoid contact with the water, make sure everyone in your home or building is safe, and immediately call a professional. You can expect the following from a professional when confronted with black water damage:
Technicians will wear personal protective equipment (PPE) such as boots, waterproof coveralls, and eye protection to stay safe.
An assessment of the damage is done to help determine the best course of action for the restoration.
The excess water as well as the sewage and other contaminants are quickly removed along with porous building materials contaminated by the water. Professionals use specialized equipment and cleaning products to clean and sanitize the affected areas as well as to prevent the contamination from spreading to other areas once the water is removed.
Once the black water and contaminants are removed, the area is dried using specialized drying equipment including air movers and dehumidifiers.
Flooding in your home or building is already a serious issue and if the excess water is black water, this can complicate the restoration effort. Contact a flood damage restoration professional immediately if you have flood water in your building that may also be black water. The contaminants in black water can cause infection and disease without proper removal and certified professionals will ensure that these materials are removed safely to protect your property and your health.