5 Tips on What to Do After Finding a Leak in a Commercial Building
Commercial properties have an increased likelihood to experience water leaks. The greater chances of leaks occurring in the building are due simply to the fact that commercial spaces utilize far more water than residential properties.
All of the following areas are common for water leaks in commercial buildings:
Roof Leaks
Plumbing Leaks
Commercial Basement Leaks
Plumbing Fixture Leaks
Roof Leaks
Leaks are bound to spur in commercial buildings for numerous reasons. Roof leaks are one common problem source in buildings with flat roofing.  A nonfunctional drainage system is usually the culprit. Roofs are under extreme pressure when water ponds, since one square foot of water on the roof is equivalent to five pounds per inch of water. If the drainage system fails, property owners should seek commercial roof repairs to reroute the standing water.
Flat roofing systems with damaged flashing also lead to leaks within a commercial property. Flashing undergoes continual expansions and contractions as the temperatures fluctuate, leading to potential tears in the flashing as the roof deteriorates. Regular roof inspections are critical to catching leaks before they cause extensive damage.
Roofing membranes can split, blister, crack or shrink as the roof ages. The purpose of a roofing membrane is to act as a seal against water infiltrating into the interior. At first sight of a puncture or other visible damage to the roofing membrane, a roofing contractor should be contacted. When caught in the nick of time, minor damage to the roofing membrane will necessitate a roof repair rather than an immensely costly roof replacement.
Gas lines, HVAC units, vents, drains and pipes penetrate through rooftops, requiring proper securing to prevent leaks inside the commercial property. Property managers should continually observe each roof penetration to ensure a watertight seal. Rain collars, flashing, pipe boots and field wraps are effective mechanisms to thwart leaks.
Plumbing Leaks
Water pipes are frequently found inside the walls of commercial properties. Some plumbing pipes are located underground. In either case, a burst pipe will spur an unexpected leak. If the leak goes unnoticed for an extensive time period, long-term water damage or flooding will result.
Property managers should be aware of the first signs of plumbing pipe leaks. Underground plumbing bursts create spongy and unstable flooring as well as continually wet soil. Pipe leaks behind walls can be identified by bulging walls, plaster on the verge of crumbling, observable water stains and loose tiles.
In addition to noticeable increases in the water bill, water leaks should be suspect with the presence of lingering, musty odors and visible mold growth.
Hidden water leaks like these may be detected by water leak sensors. Ideally, all commercial properties should be equipped with water leak detection technology, which are readily available on the market. Once the leak has been located, flooring may have to be removed to access the pipes for repair or soil may need to be dug up to reach underground pipes.
Commercial Basement Leaks
Cracked foundations are responsible for leaking water in the commercial basement. Foundation leaks are likely to be undetected until the minor leak explodes into a massive, sudden water issue in the guise of floods and structural damage.
Once the basement has sprung a leak, the matter cannot be solved with band aid solutions, like plugging the cracks. A professional waterproofing contractor should be contacted to pinpoint the exact cause of the leak and resolve the issue at the source.
Plumbing Fixture Leaks
Plumbing fixtures in commercial buildings, such as toilets and sinks, receive extensive use, more use than residential homes. Given the heavy use of toilets and sinks in commercial properties, these fixtures are likely to spring a leak.
Puddles of water along the floor, water stains near the fixtures, continually damp carpeting, and equipment damaged by water are all telltale signs that a plumbing fixture has sprung a leak.
Property managers can test for leaks around plumbing fixtures. Run water through the fixtures by turning on faucets and flushing toilets. Carefully observe the areas surrounding the sink handles, toilet tanks, and drain pipes for leaks. If noticeable leaks are discovered, a professional plumber will be able to solve the water issue.
Property Insurance Coverage
Fortunately, the majority of commercial property insurance policies cover many types of water leaks. Exclusions exist, however. Backed up sewers or drain pipes are not typically covered. Sewer backup coverage can be purchased separately. Sudden pipe ruptures or appliance breakages that spur water damage are generally covered by property policies. Property mangers who also have building coverage will be able to replace water damaged floors.
Tearing out a wall to access the faulty pipes behind the walls and start repairs is also covered by property insurance policies. Coverage includes the cost of tearing out the wall and replacing the wall after repairs are complete.
Certain types of water leaks, such as leaks that continue for 14 days or more, are not covered by property policies. Leaks that result from poor maintenance are not covered. Rather, sudden and unexpected issues are eligible for coverage. For example, exclusions related to inattentive upkeep may include not only continuous pipe leaks, but humidity, vapor and moisture condensations that lead to water damage.
Water Damage Restoration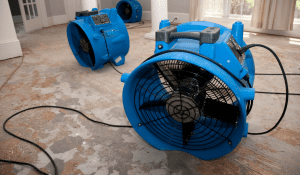 When water damage infiltrates your commercial property, contact the area's most reputable water damage restoration company. Skilled technicians arrive onsite within two to three hours of your initial call to assess the damage and develop a water damage removal and restoration plan. Specialists utilize advanced technology, such as moisture meters and thermal cameras, to locate the moisture source. The property undergoes extensive water extraction processes that follow the Advanced Structure Drying Guidelines and IICRC procedures. Property managers can expect their compound to be free of excess moisture within a short span of two to five days.
RestorationMaster reliably serves the business and residential communities in Dallas, TX. The skilled technicians work with property insurance companies to ensure claims are filed for all water leaks. Free estimates for water damage restoration services are readily available from the team at RestorationMaster.