Steps to Prevent Commercial Kitchen Fires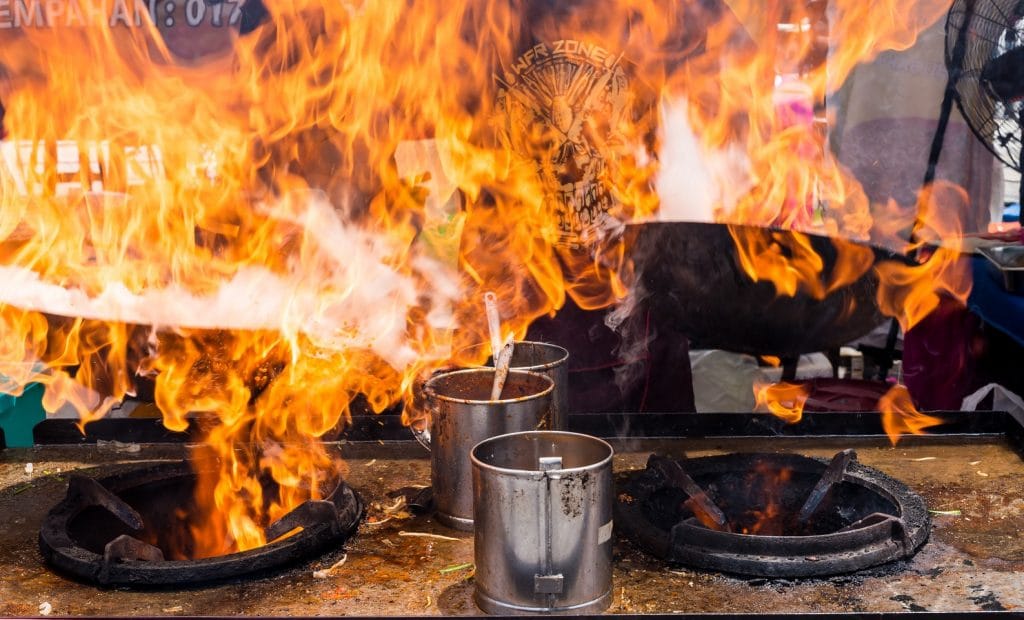 Kitchen fires cause plenty of chaos in a home, but it's one of the worst things that can happen to a restaurant. Not only do commercial kitchen fires put lives and property in danger, but they also force businesses to be closed for an unknown length of time, putting jobs and the future of the restaurant at risk. That's why it's vital to take kitchen fire safety seriously.
What are the most common causes of commercial kitchen fires?
Fire accidents can happen while cooking due to problems with kitchen appliances, including ovens, hobs, microwaves, toasters, kettles, and electric stoves. The number one appliance that causes fires is the stove. In fact, electric and gas stoves account for about 62% of kitchen fires, with more fires being caused by electric stoves. The most common reason for these fires is leaving cooked food unattended. Whether something goes wrong within the intended cooking time or the cook leaves the kitchen and forgets to return, leaving food unattended is a major cause of kitchen fires.
Other common causes according to the USFA include combustible materials, heat sources too close to combustibles, misuse of unclassified materials, failure to clean, and unintentionally turning equipment on or off. While unattended equipment is responsible for 20% of kitchen fires, each other factor accounts for only about 7-10%, individually. When using a stove, another common cause of fires is overheating the oil, causing the grease to burn. This can start a grease fire and if you don't know how to put it out, it can spread very quickly. Similarly, when fires occur in an oven, microwave, or toaster, mishandling the situation can make things much worse.
How can I prevent commercial kitchen fires?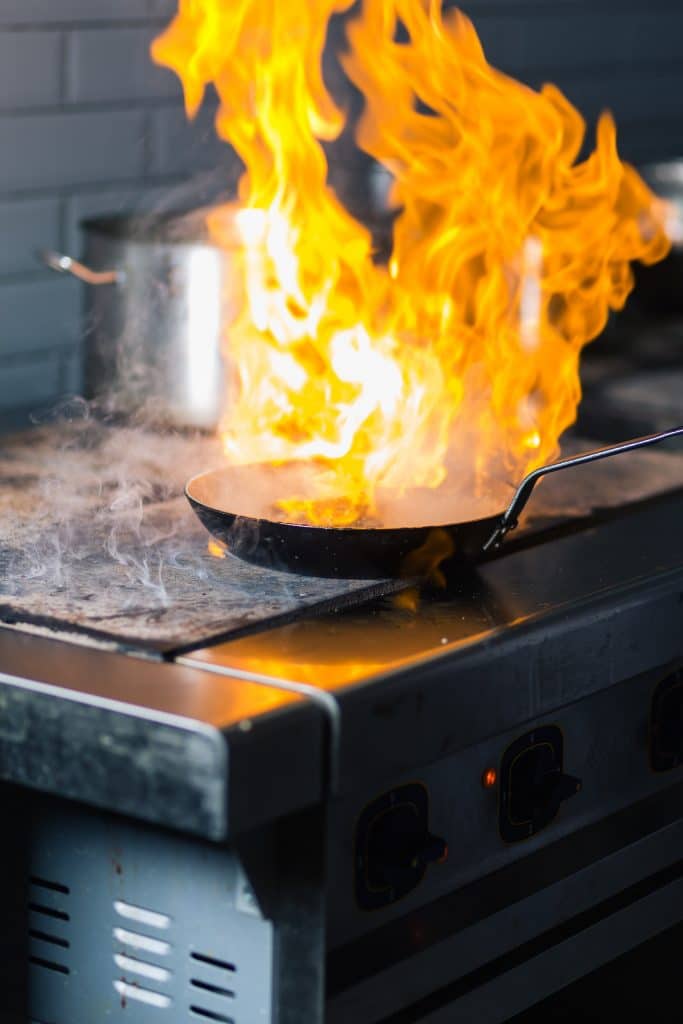 The following tips will help you reduce the risk of fires in your commercial kitchen:
Check your cooking equipment. According to the National Fire Protection Association, an estimated average of 7,640 structure fires in eating and drinking establishments per year between 2006-2010 caused around $246 million in damages. Three out of five of those fires involved cooking equipment. Be sure that all equipment, from fryers to ovens, is cleaned on a daily basis. Schedule regular professional inspections to check for problems and don't use equipment that's no longer safe to operate.
Pay attention to objects around the stove. Wipes, fingerless gloves for cooking, utensils made of flammable materials, and even curtains can catch fire easily if placed near a burning stove. Flammable items must be kept away from the stove and you must be careful when removing things from the hot stove with a towel. Using fingerless gloves is most appropriate. If you must use a towel, be careful not to let the towel fall to the bottom and touch the hot stove.
Clean grease frequently. It's easy to wipe up oil on a cooktop, but don't forget that it accumulates in hoods and grease traps as well. If these areas get too hot or the buildup is too great, a fire can easily result. Regularly scheduled cleanings from the companies that installed the equipment will keep these hazards from developing.
Do not pour hot oil into the trash. Do not heat the oil at too high a temperature as it can cause a fire. You should also never pour hot oil in the trash. Even if the oil is no longer burning, it can still ignite other things in the garbage. It would be best if you waited for the oil to cool and store the used cooking oil properly so it can be collected and recycled.
Always keep an eye on what's cooking in the kitchen. The most common reason for kitchen fires is not paying attention to the food cooked on the stove. Don't leave the kitchen while you're cooking. Turn off the stove and put aside the pots and pans if you need to go out.
Change the batteries for smoke detectors regularly. Of course, it helps if you have a smoke detector in the kitchen. But, buying a smoke detector is not enough. You must ensure the device is always working properly by regularly checking and changing the battery about every six months.
Check your clothes: Sleeves that are too long and loose or baggy clothing can accidentally catch fire. Therefore, you should dress neatly, choose properly fitting, short-sleeve shirts and tie aprons tightly.
Be sure the sprinklers work. Automated sprinkler systems can be the difference between a small fire that keeps you down for a few days and an inferno that destroys your business. The system's pipes and heads can erode over time, so it's important to have them inspected regularly. If you do any work at your business, such as remodeling, repairs, or buildouts, have the sprinkler system checked to ensure that the system's integrity hasn't been affected.
Verify your suppression system's UL compliance. UL 300 compliance has been the safety benchmark since the early 1990s. Some restaurants still use older systems, but the newer technology boasts an impressive 95% reliability. If you don't know how old your system is or who manufactured or installed it, ask at your next inspection. Consider an upgrade to a UL 300 system if possible.
Train your staff. Even with the best preventative equipment, fires can happen, and it's crucial that the kitchen crew has the training to know what to do in an emergency. Have meetings and drills about fire prevention, evacuation of patrons, and how to use extinguishers. Make sure new hires are brought up to speed.
What should I do when a grease fire occurs?
Step 1: Remove the heat source by turning off the burner.
Step 2: Cover the pan or pot with a metal lid or baking sheet. If you don't have a lid or baking sheet, use anything that can put out the flames, such as a towel soaked in water or a baking tray. Use only metal lids or baking sheets, not glass, as the flame will break the glass.
Step 3: Soothe the flame with baking soda. Once you've covered the primary source of the flame, there may still be embers, or even flames, coming out of the pan if the lid isn't completely tight. Use baking soda to dissolve smoke from the fire. It takes a lot of baking soda, so use as much as you can.
Step 4: Only use a Class B dry chemical fire extinguisher as a last resort to extinguish a fire if previous steps have not worked.
Step 5: Evacuate the residence and call 911. Do it right away if the fire has grown large and out of your control. If you encounter a grease fire, do not under any circumstances use water. It will only spread the fire.
If you see a fire start inside an oven, microwave, or toaster, you must take immediate action. First, close the appliance door to prevent the fire from spreading and turn off the heat source. Next, have the professionals check the device before using it again, as open flames can damage internal components and make it dangerous to use. Finally, replace smaller, less expensive appliances like microwave ovens after a fire.
How to find a Fire Damage Restoration Professional

If your home or business experiences the devastating effects of a fire, call a professional fire restoration company around you. They will arrive quickly to stop the spread of soot, smoke, and other corrosive products and begin the restoration process so you can get life back to normal.
The costs to repair fire and smoke damage vary, depending on the extent of the damage. According to HomeAdvisor.com, the cost of fire damage restoration typically ranges from $2,867 to $32,777.