5 Steps to Prevent the Spread of Water Damage
Experiencing water damage within a home can be an eye-opening experience. The effects can also be daunting as the building materials and personal content are soaking in the water. However, there are steps you can take in order to limit the spread of damage yourself. With these measures, you can get a head start in the restoration, allowing the process to run smoother and faster. However, be sure to only take these measures and avoid using any electrical machinery, disturbing visible mold, and enter any rooms with standing water while the electricity is on. Keeping these in mind, you can follow these pre-water damage cleanup steps: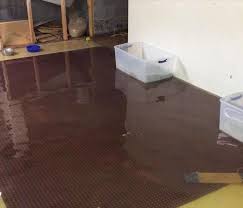 Eliminate the source of the problem. This one seems obvious, but there is definitely no point in taking the steps listed below if the source of the problem is not handled. As this is most important, you will need to search the house and find out where the water is coming from: a burst pipe, broken water heater, blocked gutter, etc. Also, be sure to turn the water completely off during this process to avoid another problem from starting. Sometimes even cutting off the main line will take care of the source.
Extract the Water. Before reading on, be sure that this water is clean and not contaminated by any dangerous contaminants. When dealing with sewage water, for example, you should always wait for the professionals to arrive as it poses a large risk for illness. This step also depends on the amount of water in the affected area. If it is over two feet, the extraction process can take forever. In this case, it is best to wait for the water damage restoration professionals. However, if it is only a few inches, you can safely extract the standing water with a pump or a push broom and a bucket. It is never recommended to use a shop vac as it poses a huge safety risk by turning on the electricity.
Remove all personal items. By removing all materials that are damaged and not attached to the floor or walls, you can prevent additional damage. The sooner this is done, the higher the chance they can be repaired by the team of professionals. As long as you are physically able, be sure to remove all content made up of porous materials – such as wood, fabrics, and paper – as soon as possible, as they pose the highest risk for permanent damage. Common items can include wooden chairs, tables, pictures, couches, etc. Not only will they be pulled from the standing water before the technicians have arrived, the drying process can run smoother as the floors and walls will not be blocked by any r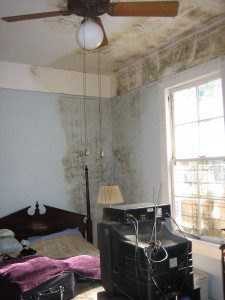 emaining objects.
Provide proper air circulation. After all of the standing water has been extracted, it is important to remove as much moisture from the air as possible. As this step plays a vital role in the drying process, you can use any dehumidifiers or large fans you may have as well as open the windows. Just be sure that the outside conditions will allow for proper drying of the area. It is also very important to keep the air moving as mold and bacteria will start to grow within 2 days if the damaged materials are left to sit in an area with high moisture content. Finally, doing this right away can save lots of money in damage repairs from mold growth down the road.
Sanitize. In order to further prevent mold growth, be sure to clean the entire area with a disinfectant. Proper sanitation will largely cut down on the percentage of bacteria in the affected area. Just be sure to use warm water with the chemical, wiping down all surfaces thoroughly. Also, look for any cracks as they are one of mold's favorite spots to develop. However, if you do see any visible mold, do not try to clean it yourself. Mold removal requires the use of personal protective equipment (PPE) and special cleaning products used by a team of mold removal specialists. Instead, focus on the areas that are most prone to grow mold.
Licensed Water Damage Cleanup Services
Any job that is left over will need to be handled by a team of certified water damage repair professionals. This can include moving any heavy furniture, extracting sewage water, removing water-damaged carpet, or even large amounts of water from the affected area. They can also help with the insurance claims process, to give you an extra hand during times of distress.