Mold doesn't require a natural disaster to grow. Small leaks or excess humidity can be enough to start a small growth; but without proper cleaning and eliminating, it can spread throughout your entire building. Even in small amounts, mold can cause severe damage to your surfaces and even your health. RestorationMaster are the leading professionals in providing mold remediation services in Uniontown, PA.
Mold is a fungus that can grow virtually anywhere, from walls to flooring and pipes, it allows for severe destruction. However, our specialists are experts at locating and cleaning mold sources. Our technicians are also certified in preventing future growth, and handling current damages without damaging affected surfaces.
Mildew Mold Cleanup
Mold is a small organism that packs a big punch when it comes to damaging your home and furnishings. It can start easily in moist and humid areas of the home, such as bathrooms and kitchens. Normal cleaning may not be enough to destroy the entire colony, and regrowth can be quick and unseen. Once it is established, it releases spores into the air that allow it to travel and adhere to other surfaces.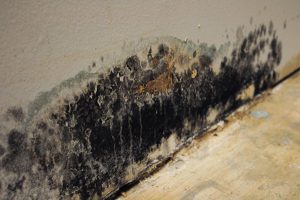 This can cause detrimental damages to your furnishings, structure, and even carpeting.
Mold Growth Causing Health Effects
Mold can also cause serious health effects as well as depreciate the value of your home.People with asthma, newborns, or those with allergies and weakened immune systems are the most affected. If not treated in time, it can cause breathing problems and may even require hospitalization.
That is why RestorationMaster uses professional equipment to identify sources, find other problem areas, and prevent future growth. We use advanced technology to identify areas that are affected in addition to those that require immediate attention.
Mold Cleanup – What to Do
Call RestorationMaster immediately upon noticing mold in order to limit the spread of the damage.
Provide proper air circulation throughout the affected areas by turning on the fan or dehumidifier.
Wear protective equipment, including glasses, gloves, and a mask when present around the mold.
Wipe down any unaffected walls that are wet or contain condensation to prevent the mold from spreading.
If outside conditions are humid or wet, close all windows and doors to prevent moisture from seeping in.
Mold Restoration – What to Avoid
Do not try to clean the mold yourself with home cleaning products. Doing so will only cause it to release its spores and retreat further within the affected surface.
Do not touch any visible mold.
Do not point a fan directly towards visible mold.
Do not try to cover the mold with paint or caulk.
We offer many steps to our mold removal services, including:
Mold inspection
Mold removal
Water damage restoration
Flood restoration
Mold and mildew growth should always be taken seriously. If you suspect mold or mildew growth, call RestorationMaster at 888-915-8868 for all your mold removal needs. We are ready 24/7 to dispatch quickly throughout the Uniontown, PA area for all levels of mold emergencies.