Fires are a unique type of disaster because they can start very quickly, cause extensive damage to your property, and immediately put those inside at risk of injury or worse. The resulting damage is quite complex as the heat creates corrosive byproducts that, along with soot and smoke, continue to linger and spread damage after the fire is out. Getting the home or building evacuated and the fire put out is always your first priority in a fire, but you must immediately turn your attention to the restoration after the fire is out to help contain the damage. Our experts at RestorationMaster of Orange County Florida provide complete fire and smoke damage restoration services in Orlando, FL to clean, restore, and repair damage to homes and commercial buildings that have experienced a fire. We can effectively clean soot and residue from damaged materials as well as severe damage from the flames.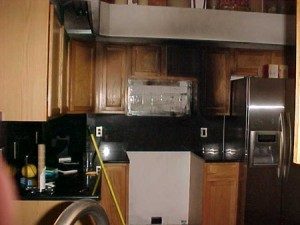 There is no denying the destructive power of a fire as it burns through a home or building. Yet in most cases, the secondary damage caused by soot, smoke, and corrosive byproducts is more extensive than that caused by the fire. This is why we stress the importance of calling for fire damage restoration as soon as you possibly can. The soot and corrosive byproducts still hanging around after the fire will settle in new areas and cause damage to surfaces and materials that can quickly become permanent. The smoke is also damaging because it can create harmful soot and residue as well as spread odors throughout your home.
Trusted Fire Damage Restoration
At RestorationMaster of Orange County Florida, we provide complete fire damage restoration that includes cleanup of soot damage, odor removal, and reconstruction to repair severe damage. Our technicians arrive as quickly as possible to contain the damage and begin the cleanup effort before your materials sustain permanent damage. You can expect the following steps with our fire and smoke damage restoration services:
24/7 emergency response to contain the damage
Immediate evaluation of the damage and an estimate for the work
Emergency board up and stabilization services
Cleaning of soot and corrosive byproducts with effective and environmentally friendly cleaning methods
Odor removal and air purification
Content cleaning and pack-out services to clean and restore personal possessions
Removal of water from extinguishing the fire using water extraction equipment and dehumidifiers
Reconstruction of the damaged areas
Cleaning and restoration with disinfectants and anti-microbials to prevent mold growth.
Evacuating from a fire and getting it put out is only half the battle, you need to start the restoration process immediately to prevent more extensive damage. Our technicians are available 24 hours a day to limit the spread of the damage and salvage as much of your property as possible. You can reach us for emergency fire damage restoration in the Orlando, FL area.
---
Recent Reviews
---
Review by Greg Hogancamp
Cleaning
Rating

"Phil came out at night after a water pipe burst behind my wall. Set everything up quickly. Explained the whole process. Made sure the job was done correctly and then came back to check on everything. Really great experience considering how bad the night started out. Would recommend to anyone who has a similar issue."
---
Review by Darro Willey
Cleaning
Rating

"Used Philip White Painting and Restoration for some interior painting and exterior pressure washing. Arrived schedule and did a thorough job at a fair price. Would use again."
---
Review by Bill Dalton
Cleaning
Rating

"I couldn't be more grateful for how quick and efficient they were at saving my hardwood floors"
---
Review by Kenneth Ridge
Cleaning
Rating

"Heading into my weekend my place had a pretty significant leak about 2 weeks after a major plumbing project. Most of my unit is carpeted, so MAJOR stress!!! Philip White came over pretty quickly with his equipment, did some initial checks and set up. He helped me find where all the water came from (which was a pretty tucked away location. I literally felt like I was standing on my head to see it). He was patient with all my questions, and helped to turn a horrible situation into something more tolerable."
---
See All Reviews