In addition to physical damage, floods, fires, mold growth, and other property-damaging events can lead to a variety of unpleasant odors lingering on your property. Even after repairs are made, these odors can linger if not properly treated. At ServiceMaster Fire and Water Restoration, we utilize advanced odor-removal equipment and techniques to eliminate problem odors following any property-damaging events. We offer our smoke and odor mitigation services to residential and commercial property owners in the Lone Tree, CO, area.
More on Lingering Odors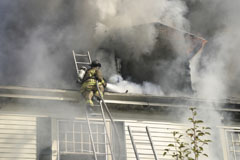 There are a number of situations that can lead to lingering odors on your property. This is because, in many cases, the odors become absorbed by porous building materials and belongings. They can also hang around in your airspaces for surprisingly long lengths of time. In several cases, a single object is the source of an unpleasant smell. Some of the most common causes of odors that we address include:
Mold Growth
Fire and Smoke Damage
Pets
Water Damage
Unwanted Pests
Dead Animals
Unattended Deaths
Removing Odors from Your Property
At ServiceMaster Fire and Water Restoration, we effectively remove odors from building components, furniture, airspaces, and other belongings. We do this through the utilization of professional-grade, odor-removal treatment methods and equipment. This includes:
Nano Carbon Technology
Ozone Technology
Thermal Fogging
Hydroxyl Technology
In essence, we will treat affected surfaces and airspaces to eliminate odors and prevent them from returning in the future. We do this through the following process:
Locate and remove odors at their source
Treat affected structural elements, furnishings, and belongings
Treat affected airspaces and provide air-washing services
Seal porous surfaces to prevent odors from returning in the future
Provide you with thorough documentation of the deodorization process
Deodorization Services Following Natural Disasters
Natural disasters can cause widespread damage, and lead to a number of odors plaguing your property. If you need restoration assistance, we can provide it through some of our other services; however, we can also focus solely on deodorization services. Some of the more damaging events that we respond to include:
Large Fires: Following a large fire, we will leverage our equipment and resources to fully deodorize your property. We address all aspects of fires, including smoke, soot, water, and other elements.
Flooding: Major water damage can lead to a number of musty odors. We address all odors that are caused by excess water and moisture, as well as mold and mildew.
Biological-Based Odors: Biohazard materials are hazardous to your health and they have unpleasant odors. We treat areas affected by bodily fluids, dead animals, etc.
Utilizing Our Smoke and Odor Mitigation Services
To learn more about how our smoke and odor mitigation services can help you, contact our representatives at (303) 800-3404. Our ServiceMaster Fire and Water Restoration professionals will respond rapidly to remove lingering odors from your property. We currently assist property owners in the Lone Tree, CO, area.
---
Recent Reviews
---
Review by Tjty James
Disaster Restoration
Rating

"Cassie and her crews were incredible. She truly made me feel like the patient who finally meets the doctor who can cure his or her ailment. She was prompt, knowledgeable, friendly and professional. Servicemaster is very fortunate to have such a wonderful employee."
---
Review by Courtney Clark
Disaster Restoration
Rating

"Super professional and on time. Recommend them to anyone."
---
Review by Joseph Steffens
Disaster Restoration
Rating

"Was moving out of my home and called ServiceMaster to clean our carpets. They did an amazing job and their technician was very detailed and a true expert! Would highly recommend this company."
---
See All Reviews